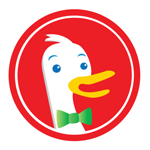 On Wednesday, May 7th, 2014, DuckDuckGo, the privacy-focused search engine, just released a new beta interface focusing on smarter answers, easier access to image, local places, video search, auto-suggest, and more.
The company has updated the home page of DuckDuckGo with a new design that features a simpler search bar with a few extra buttons. And it also has significantly improved the overall design of the search results page.
"Over the past year, as our userbase and community have grown substantially, we've heard great feedback from new and long-term users," said DuckDuckGo in an announcement. "Now, we'd like to show you how we've incorporated your feedback with a reimagined and redesigned DuckDuckGo."
DuckDuckGo emphasizes protecting searchers' privacy and avoiding the "filter bubble" of personalized search results. The search engine has long been known to distinguish itself from others by not profiling its users and by deliberately showing all users the same search results for a given search term. DuckDuckGo also emphasizes getting information from the best sources rather than the most sources, generating its search results from sites such as Wikipedia and from partnerships with other search engines like Yandex, Yahoo! Search BOSS, Bing, Wolfram Alpha and its own dedicated web crawlers (DuckDuckBot and others).
DuckDuckGo that skyrocketed in size following mass-surveillance leaks, will soon complete its major redesigns. DuckDuckGo introduced a new design with contextual information similar to other notable search engines. The overhauled design can also now return information similar to Knowledge Graph - dubbed "instant answers" - when users search for topics, all provided via an attractive image-driven carousel at the top of the results.
While Google is busy with innovations, DuckDuckGo with its distinguished personality can be a formidable Google Search competitor. By having its users' privacy as a main concern, DuckDuckGo and its added mainstream features is a potential adversary that can put a dent in Google's and Bing's search marketshare.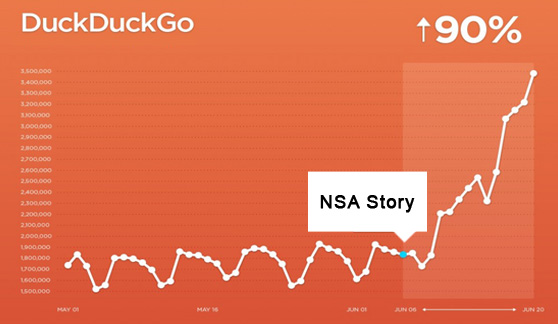 When it was first launched, DuckDuckGo executive, creator and founder, Gabriel Weinberg, investigated search privacy after getting questions from the new users and discovered a couple of things. First, people turn to search engines (often first) with their personal problems, and as a result search histories are the most personal data sets on the internet. Second, this personal data was getting increasingly handed over to marketers and lawyers/law enforcement. Since search engines actually don't need to track people to make money in web search or make good results, Weinberg decided to just not track people as a component in an overall better search experience.
Even before the revamp, DuckDuckGo is growing at an impressive rate, and somehow manages to be in Google's shadow. So far in May 2014, the search engine has averaged more than 5 million queries per day. Still very far from Google's daily search queries, but outstanding for its growth in the past few months for a search engine only service that is relatively unknown to most people.
The new version of DuckDuckGo focuses on smarter answers and a more refined look. However, in its beta phase, it still has several known issues. Some of them are:
Not all settings work and the setting page itself is getting an overhaul.
Not all instant answers work and some have not been redesigned.
Internet Explorer 8 is functional though not fully cleaned up.
According to a blog post from Weinberg, the search engine will relaunch in June 2014 with much-requested features such as image search, place search, and auto-suggest. Weinberg says he hopes to relaunch the service depending on user feedback.
DuckDuckGo provides 'Give Feedback' button where users can submit anonymous feedback with optional query, and a forum, where the community can discuss their ideas.
Few months ago, DuckDuckGo celebrated its 1 billion searches in 2013. The company is now averaging nearly 5 million queries per day. The search engine became an alternative for those that are seeking anonymity in a post-PRISM world.
DuckDuckGo said it hopes to make the new design the default version of the search engine, "but that timing really depends on what we hear from you."
Although its name still evokes the memories of childhood playtime, DuckDuckGo is finally reaching maturity. Still defining its service as "the search engine that doesn't track you," the company is aiming to deliver a better quality service by keeping users far from prying eyes.