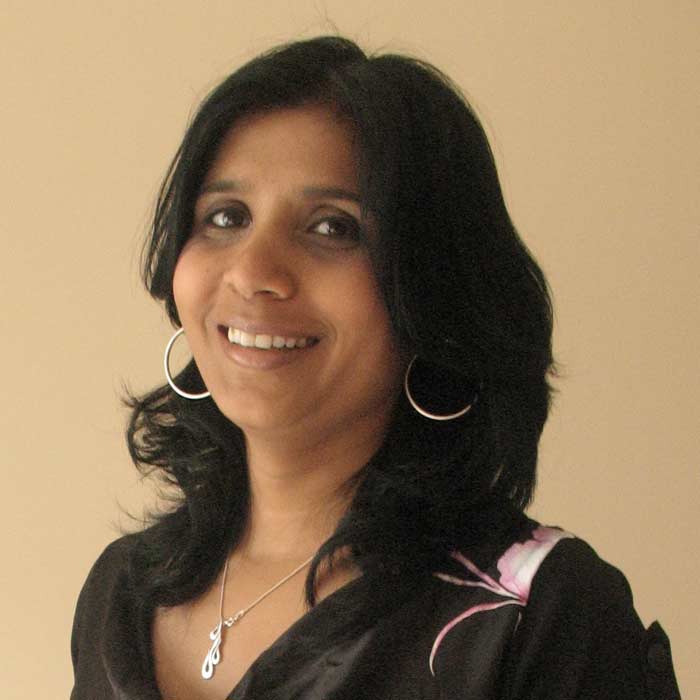 If you spend too long thinking, you still might make a mistake, but you have invested so much time.

- Rashmi Sinha
An entrepreneur, designer and scientist. Rashmi Sinha was trained a scientist before getting interested in designing technology and have started multiple companies.
She did not set out to be an entrepreneur an entrepreneur in the first place. She calls herself "an accidental entrepreneur" because, she says, being an entrepreneur was far from her mind as a student.
"I had no idea or ambition that I wanted to be an entrepreneur. I never thought of it." But when she eventually became an entrepreneur, she realized that "it's just the easiest way to make an idea come alive."
Early Life
Rashmi Sinha was born in Lucknow, India. She grew up in Kolkata (formerly Calcutta) and then Allahabad until her early 20s. Sinha comes from a large family with four brothers and sisters.
She did her undergraduate in the fields of cognitive psychology, literature, and history, and then graduated from University of Allahabad with the title of Bachelor of Arts (B.A.) in Cognitive Science. She then moved to the U.S. to continue her studies. In 1998, she got her PhD in Cognitive NeuroPsychology from Brown University in 1998.
Sinha has a long dream to become a journalist. But when Sinha was in Brown, the ambition changed to being a fulltime laboratory researcher. But somewhere down her educational journey, things changed dramatically.
Merging Psychology With Technology
After moving to UC Berkeley for a PostDoc, Rashmi Sinha became interested on the web. She realized that that there are many issues that web technologists think about are actually problems of human psychology.
"I came to love the fact that we would build something, put it out on the web and next day we would find out whether the product that we have done had an impact or not. The world of building software for people was so exciting," she said.
At first, Sinha taught Human Computer Interaction and Statistics at the Information School, but then decided that she wants to become an entrepreneur by co-founding Uzanto, a user experience consulting company where she worked on projects for companies like eBay, Blue Shield, AAA, etc.. Her first foray into products was with MindCanvas, a game-like software for customer research, released in November 2005.
With her well-developed mind, Sinha never wanted to work in a big company. She just wanted to do things on her own. Sinha was passionate "about building cool things. It is not really being an entrepreneur in particular; it's about doing something interesting that makes a difference in the lives of people."
She also admits that hers is a bit of a non-traditional career, given her background, and it strikes Indian parents as incongruous.
Creating SlideShare
Rashmi Sinha believes that a good software comes from a true collaboration between developers and designers. Coming from social software and interface design background, Uzanto was what made her venture into creating SlideShare.
After 6 months of development process, on October 4th, 2006, SlideShare was launched. The site's service was first considered to be similar to YouTube, with slideshows feature as the main differences. Unlike the other ideas Sinha and her husband, Jonathan Boutelle, had before, Sinha knew SlideShare was going to be a hit. She knew it as soon as her husband pitched it to her.
It was a simple idea with an obvious need. The husband and wife noticed that at conferences, there wasn't an easy way for presenters to share their presentations online. Since the idea was to build a site that makes this procedure easier, the couple saw the opportunity to succeed.
SlideShare that was founded by the couple and Sinha's older brother Amit Ranjan, originally meant to be used for businesses to share slides among employees more easily, but it expanded to also become a host of a large number of slides that went beyond business. Although the website is primarily a slide hosting service, it also supports documents, PDFs, videos and webinars. SlideShare users can interact with the contents by rating them, commenting on them, and sharing them to other places.
Holding her place as co-founder and CEO of the San Francisco-based, Web 2.0 slide hosting website company, Sinha is responsible for partnerships and product strategy. Her husband is the CTO of the company.
SlideShare's list of investors includes Venrock, David Siminoff and Dev Khare.
Since the inception, SlideShare has expanded considerably in a fast rate, and has became one of the largest slide hosting sites in the world. With its popularity, the website gets over than 16 million new registered users a month, adding to its already massive number of registered users: most notably Hewlett Packard, IBM, O'Reilly Media, The White House, NASA, State of Utah and the World Economic Forum.
In 2010, SlideShare was called to be the World's Top 10 tools for education and e-learning, and Rashmi Sinha, was enlisted among the world's top women influencers.
In May 2012, SlideShare was acquired by LinkedIn for reportedly $119 Million. Sinha retains her position as co-founder, and become the head of the acquired company.
Personal Life
Rashmi Sinha is married to Jonathan Boutelle, also an alumnus at Brown University. Boutelle is a software engineer by training and was also Sinha's work partner at the consulting firm Uzanto. The couple resides in Mission District, San Francisco, about 10 minutes from office. As a husband and wife, they like hiking and watching movies, while she admits that they don't listen to enough music.
As a woman working in an office, Sinha likes to put some feminine touch to the interior of her office by choosing yellow and orange for the walls. "I hate that minimalist white and steel." She also deliberately chose an open office plan, a contrast to their early office where it was big set up with people facing each other's back, which she thought was alienating.
At her office, Sinha do have a private room for herself to work, but she rarely use it. She prefers to be in the center of things, and usually work at a desk near her employees.
In 2008, Sinha that speaks English, Hindi and Bengali, was named one of the World's Top 10 Women Influencers in Web 2.0 by Fast Company. And in 2009, Playboy Magazine named her one of America's Top 10 "Sexiest" CEOs.
Sinha that hates writing in the third person, is an active blogger where she share her thoughts about people, technology and running a company. She's also a frequent speaker at conferences like FOWA, Web 2.0 Expo, Future of Web Apps. SXSW and WebVisions.
Coming from a design background, Sinha that also serves as a Venture Advisor at 500 Startups, has mentioned that her guilty pleasure is design, in which she tries to find time for on the weekends. Unlike many entrepreneurs, Sinha tries to make it a point to take off on Saturdays.
SlideShare has two offices, one in San Francisco and one in Delhi, India. With about 12-hour time difference, Sinha is basically working around the clock.
Sinha originally comes from India and think of both San Francisco and Delhi as home.