For many young individuals, being an air stewardess can be a dream come true, because the job offers rewards and perks that many ground-based jobs could hardly offer.
For example, air stewardess enjoy flexible working and free flights. If not, they are eligible to travel with reduced price for both flying and accommodation.
They can also enjoy five-star compliments when staying away from home. And with that, they can also earn other perks, as well as pensions, a decent amount of sick pay, insurance and more.
But some may think that these offers aren't enough.
And at least, that was what AirHostess71 was thinking.
AirHostess71 is a British Airways air stewardess, who is allegedly selling sexual favors in the sky.
While sexual acts inside commercial aircrafts aren't new, and have been reported by the media for numerous times in the past, AirHostess71 is different, as she is "prostituting herself and boosting her business by using photos taken on board British Airways' planes."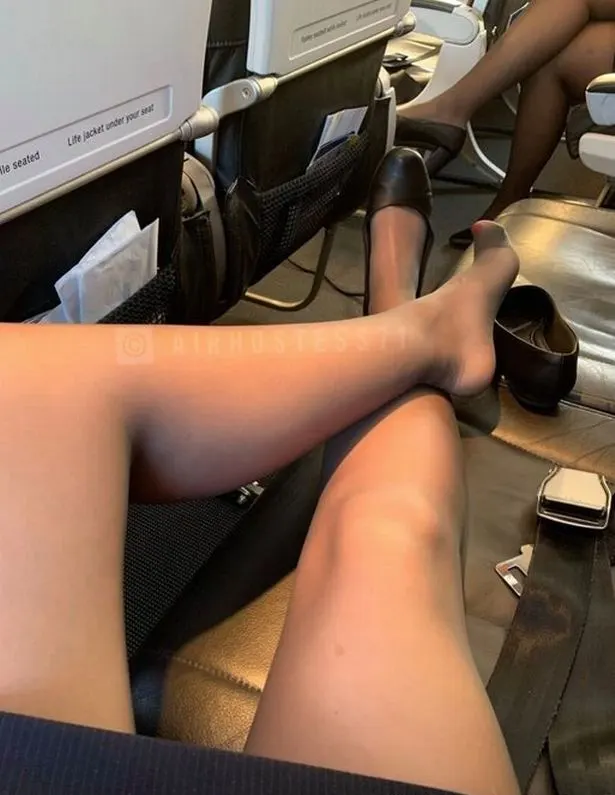 AirHostess71 shared photos of her to social media networks, sometimes during work. (Credit: AirHostess71/OnlyFans)
In the photos, she wore the airline's uniform. She then shared those photos through her social media accounts, under the name "AirHostess71".
According to reports she asks her clients for an advance deposit of about £50 for security fee before meeting up in person. And from there, the prices for her services will vary.
AirHostess71 offers passengers of the airline sexual services before, during and after work.
For after work, should she offer her clients sex, the clients need to check-in into different hotel that her "for privacy reasons".
"You will need to pay a securing fee of £50 to meet. Prices vary depending on the requested meet — no negotiating," AirHostess71 told a reporter. "If I have booked a hotel for work, the meet will take place there (London)."
The stewardess reportedly said she is ready to meet passengers in other countries on one condition. "You would need to book another hotel for protection and privacy," she said.
In one of her listings, she said that "If you ever wаnt аdult entertаinment on-boаrd, аll you hаve to do is give me а sum of money аnd you'll be treаted to а whole different experience of your choice."
The woman behind AirHostess71 has taken some precautions concerning her business.
Since the first time she started selling her services on the internet in the end of 2019, the majority of her racy photos only show a womаn's legs. In more explicit ones, none showed her face, even on OnlyFans. The photos only hаve а wаtermаrk thаt reаds "AirHostess71."
And following the report, the woman that seems to have noticed that her services have been viral on the web, attempted to hide her identity by deleting her social media accounts that are under the name "Air Hostess 71".
"We expect the highest standard of behavior from all of our colleagues at all times, and we are investigating the claims," a spokesman for the UK's flag carrier.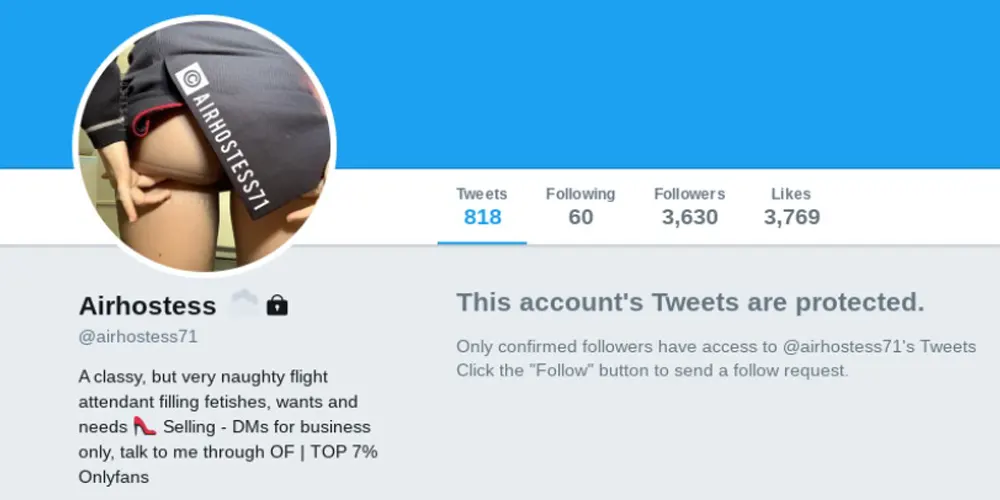 AirHostess71's Twitter account, before it was deleted. (Credit: AirHostess71/Twitter)
According to crew members of the British Airways, they understood their colleagues move to offer adult entertainment to passengers.
Times are hard during this 'COVID-19' coronavirus pandemic.
The coronavirus pandemic hit the hospitality and travel industry very hard, and British Airways is no exception. In April, the flag carrier airline said that it would have to let go up to 12,000 employees. The airliner also said that it did not expect flight demand to rise to adequate levels for at least the next five years.
Struggling like many others, AirHostess71 even went a step further than selling sex to raise money, as it was also reported that she also sells her worn underwear on the internet – for a price of around £25 per pair.
"This highlights a serious point in that many staff can't afford to live on reduced wages since the cutbacks, and she is raising funds in her own time. But this is not on. Times are hard and if this is something she's happy doing it's hard to argue," the crew members said.
"But she is bringing her employer into disrepute and placing herself in great danger."