It was in a one cold night in Seattle, U.S. that hundreds of people were queueing.
The many people seen wearing their sleeping attire, flocked to get COVID-19 vaccines after the Kaiser Permanente hospital's refrigerator that was chilling 1,600 doses broke down due to malfunctioning.
Without proper cooling and in room temperature, the Moderna vaccines only had 12 hours before they become less effective or needed to be thrown away because of expiration.
Because the hospital had to quickly distribute the doses, it reached out to Swedish Health Services and University of Washington clinics, and made an urgent call at around 11 p.m. local time.
Swedish Health Services and University of Washington split the doses and began administering them.
This then led to a frenzied overnight inoculation drive.
"We've got to get these 1,600 doses into people's arms in the next 12 hours," Susan Mullaney, Kaiser's regional president for Washington, said at a virtual news conference.
Within minutes of the call to action by the hospitals, there were long queues of people waiting outside at least two of the medical centers, and by about 3:30 a.m., the vaccines had all been administered, hospital officials said.
In interviews with local television stations, the arriving patients said that they were relaxing at home, washing dishes or watching the news. After all it was rather cold that night.
Then suddenly, they heard that they had a chance to get a shot.
One elderly couple for example, said that their daughter called them after they were in bed to say that she had signed them up for an appointment at 1 a.m.
"We didn't have time to dress up, so I just came as I am," the mother said, motioning toward her husband, who was wearing a bathrobe.
Seattle hospital officials told local news outlets that they had tried to prioritize older patients and others who were already eligible for vaccines in the state. But due to the incident, they shifted their priorities, and focused on giving out all of the vaccines before they expired.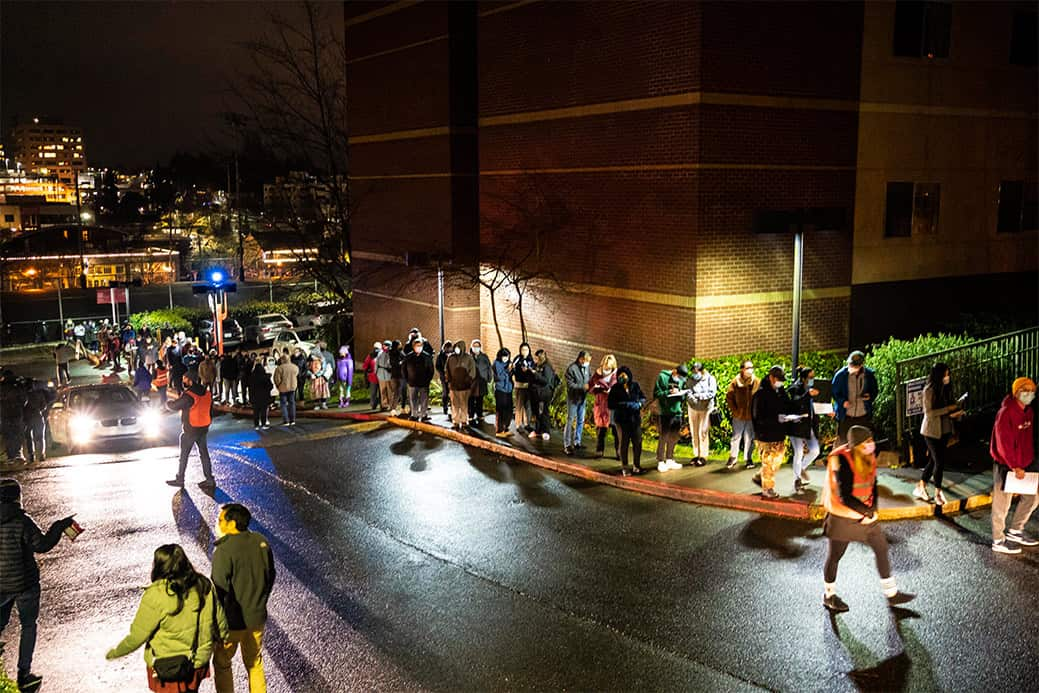 Hundreds of people wait in line for a last-minute COVID-19 vaccine event at Seattle University after a freezer the Kaiser Permanente hospital experienced a malfunction on January 29, 2021 in Seattle, Washington. (Credit: David Ryder/Getty Images)
"We are tired, but we are inspired," said Kevin Brooks, the Chief Operating Officer of Swedish Health Services, one of two hospitals that administered the vaccines, in a statement. "It was touching to see grandmas in wheelchairs at 2 a.m. being vaccinated."
"Teams worked vigilantly and in close partnership through the night and early morning to ensure all doses were used and no vaccination lost," a Kaiser Permanente Washington representative said.
Some COVID-19 vaccines should be kept cold.
According to the U.S. Centers for Disease Control and Prevention (CDC) about Moderna COVID-19 Vaccine Storage and Handling Summary, the vaccines should be frozen at -25°C and -15°C (-13°F and 5°F)
Vaccines can be stored in a normal refrigerator at 2°C and 8°C (36°F and 46°F), and can only last 30 days before vials are punctured. But if stored in room temperature, the can only last under 12 hours before they go bad.
And once thawed, they should not be refrozen.
Because of this, when devices that keep the vaccines cold broke down or malfunctioned, the vaccine doses have to be administered as soon as possible.
As of January 26, 2,315 vaccine doses have been wasted in Washington state, according to Danielle Koenig, a Department of Health spokeswoman. 1,000 of the doses were lost due to improper handling or storage.