Sponsoring through advertising with us allows you to put your company in front of targeted individuals and technology enthusiasts that helps build top of mind recommendations.
Other advertising methods such as Pay per Clicks, places your advertisement in front of random people generating revenue, and traffic, with little results. You will find that many of our visitors are educated, and our members informative. Thus making them very influential.
Influential people are the people that creates an impact and move people, it's very different from a Pay per Click advertisements where people are shown advertisements where you pay for their interest, not the impact. We create the impact at Eyerys for technology enthusiasts, web developer, web designers, business owners, and so forth.
And if you're wondering how, we're the source of influence for technology information where most of our visitors are leading educated players.
Eyerys has seen a stable growth since it was first founded.
With more educated visitors from different backgrounds, we simply provide a one place where you can get targeted audience.
Eyerys has developed from a business website for delivering services, to a technology dedicated community. We're bringing players in the industry together. We believe our greatest asset is our happy customers and contributional members that makes Eyerys a great community.
1. Front Page Advertisement
Having the ability to put marketing messages straight in front of the audience where they are expecting them the most, should be one of the best thing a brand can experience.
Here at Eyerys, we believe that a community exists for a reason, and for that we maintain our relationship with our clients, working with them towards fulfilling their needs. We believe that others should too as well, and this is why we are opening ourselves to companies/businesses/organizations and others to put their messages with us.
And here, we're offering an advantage in size. In other words, bigger is better.
No, not that usual sized banners that are mostly found on the web. With Front Page Advertisement, we offer you a whole page to put your message in.
We are offering you an exclusive way to reach deliver your marketing message, by making it appear in our home page at Eyerys.com and at our members' login page at Eyerys.com/user.
Here is one we've made with OPPO Find X in our home page: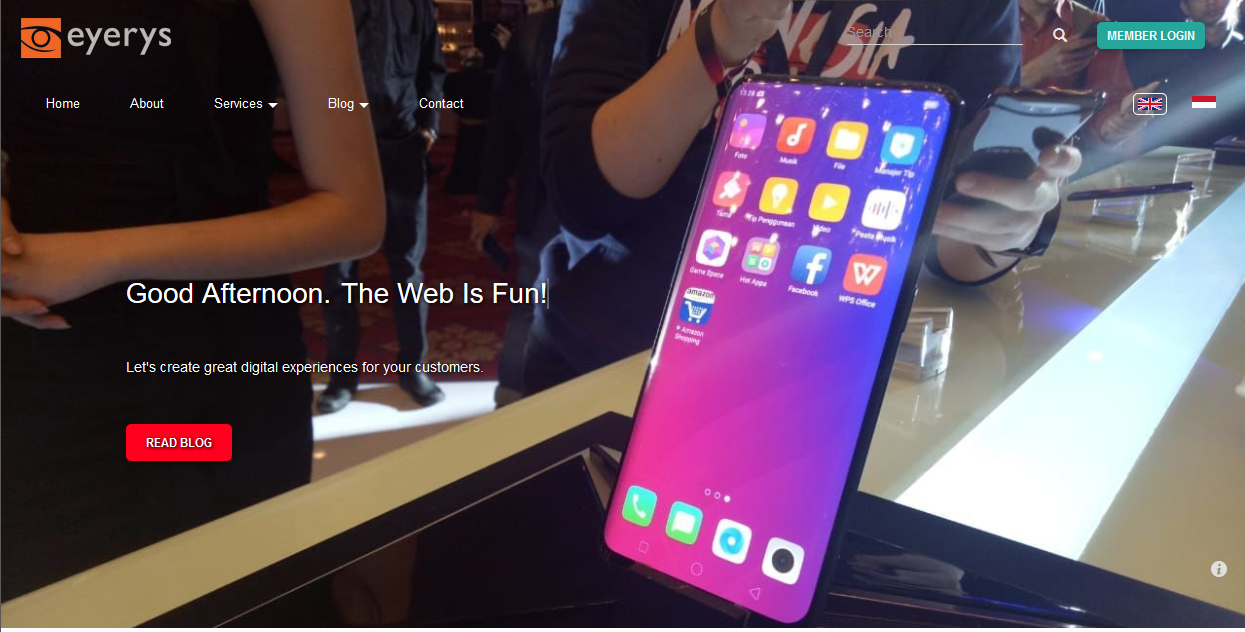 The

icon located at the bottom right of the image, when clicked/tapped, will show a sidebar pop-up that displays your marketing message.
There is also a button where you can link to your own web page: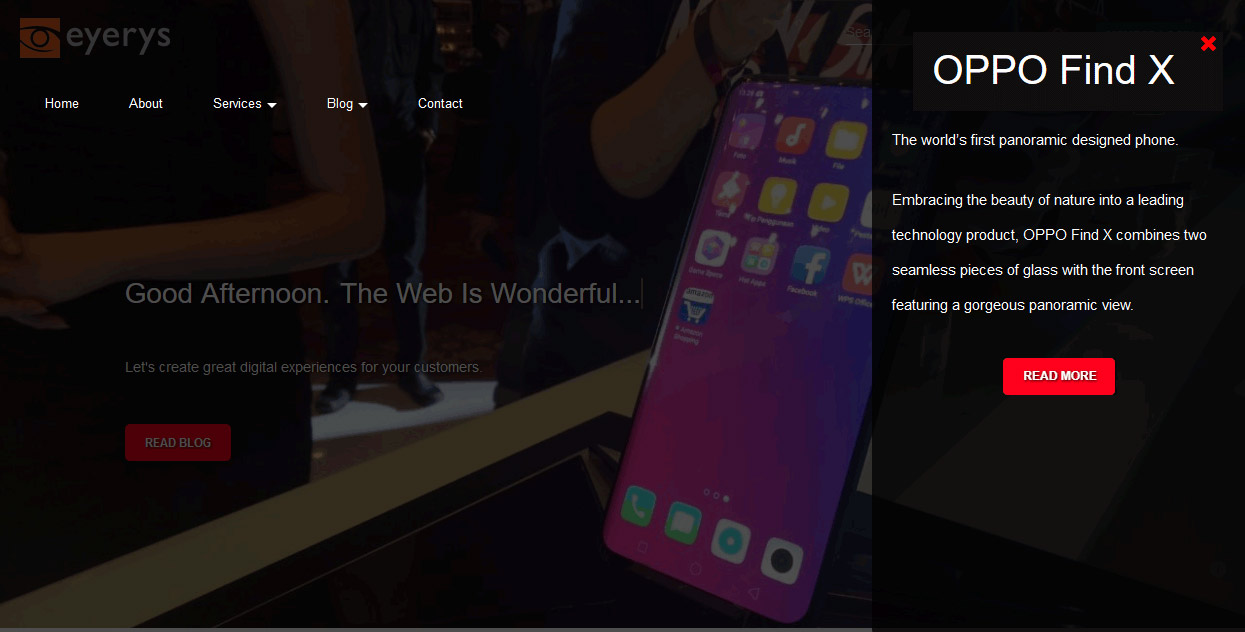 And here is the login page: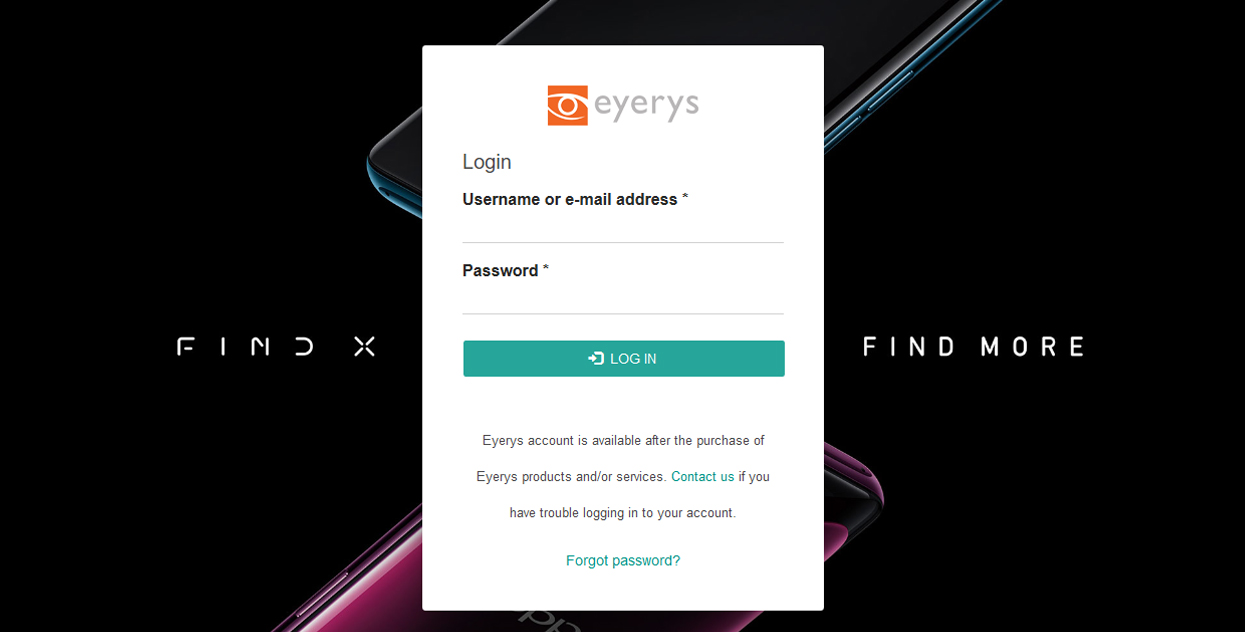 Front Page Advertising also allows you to have your ad banner showcased on all of our Articles pages. On desktop, your ad banner will be shown on the right-hand side of the screen.
2. Sponsored Post
We can expose your business/product/service to a diverse group of aspiring entrepreneurs, business owners, internet tech enthusiasts, as well as their collective audiences across a broad spectrum.
At Eyerys, we believe that a community exists for a reason, and for that we maintain our relationship with our clients, working with them towards fulfilling their needs. We believe that others should too as well, and as for that, we are opening ourselves to companies/businesses/organizations and others to put their message with us.
Through Sponsored Post, you can put your marketing message front and center to our visitors. Depending on your marketing message, you may choose to put your Sponsored Post at our:
News section: When you have time-sensitive content, or a news from your company you want to promote, this section should suit you best.
Articles section: Do you have something to teach the audience? Maybe some how-to's, or tutorials? Showcasing your products can also be done here.
Timeline section. Not time-sensitive to showcase lists of events. This can be your perfect place to tell your company's history and what it does over the years.
With Sponsored Posts, we're opening a whole range of possibilities for you to get noticed, but without the huge investment. And here, you have the whole width of the page to begin with! So no right-hand sidebar.
If you have an article post ready, let us know and we're going to put in on our website. Considering its length? No, we don't mind, as long as it's not too long. Average would be nice, as it will keep the audience occupied without overwhelming them.
You can put your own links too!
If you have a call-to-action page, we'll put that link appear on your article. And not to mention, if you want your social media handle present, please do let us know.
And if you don't have one article ready, we can write a compelling one for you.
All Sponsored Posts run indefinitely, but advertisers as the owner of their respective ad, are in control. So if you wish, you can tell us to put down you ad at anytime.
Sponsored Post is our way of providing "Guest Post" to advertisers.
Refer to the Sponsored Post guidelines for more information.
3. Direct Ads
We publish posts on a daily basis. If you find a post that is relevant to your product/service, you can put your ads there.
Direct Ads can be a banner, text, video or link that are put on the page of your choice. The pages you can put Direct Ads on, include any of our posts on our Articles pages.
We believe that exposing your brand alongside our posts can help you reach our diverse group of viewers and readers that come from aspiring entrepreneurs, business owners, internet tech enthusiasts, and more.
4. About Our Website
Eyerys is an Indonesian company based in Jakarta that offers web services, graphic designing and inbound marketing. We are people working together to deliver the ultimate customer satisfaction while also helping businesses, other companies and organizations to achieve their unique goals.
Now, as a team of passionate and experienced designers and engineers, we laid our missions and values that would guide our way. Over the years, we changed, but our values will always remain the same.
With clients and returning readers, we are confident that we can all build a community that deserves the best.
Currently, our website is ranking well in Google and other search engines with plenty of our articles made as references on Wikipedia, Reddit, YouTube, Quora, multiple forums, blogs, Q&A and how-to websites. We are also active on social media networks, posting new things for just about everyday.
Our website, according to Ahrefs SEO analytics and MOZ analytics, has a respective score on Domain Authority and Domain Rating, indicating an authoritative site considering its age and its frequent activities. Eyerys also ranks well on Alexa analytics tool.
Our website is mobile-friendly with responsive design that suits well on various screen sizes. This will ensure that your message is there where you want it, to any people no matter what device they are using.
And have we mentioned that our website is bilingual? Eyerys has posts written in English and Bahasa Indonesia. What this means, advertisers can have their post to be written in two different languages, if requested. If so, advertisers will have two pages (one for each language) from one purchase!
With thousands of visitors per day reading our quality posts that are published everyday, we ensure consistent activities to make everyone that involves with us, a great day and a great play.
If you think your valuable message can be for our crowd, we are welcoming you to join our Advertising program. You may contact us directly using our Contact form and we will see how we can put out the best in you with us.
Read more about us here.
By accepting your ads with us, you are agreeing with our Advertisement Policies.