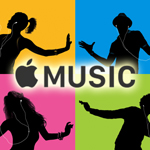 Apple launched Apple Music on June 30th, 2015. The music streaming service allows users to select music to stream to their device on demand.
Apple Music is the company's first attempt to rival Spotify, by creating the first un-Apple product.
The service includes the curated internet radio station Beats 1 and the blog platform Connect for artists to share media with fans. With music recommendations based on user tastes, Apple Music is closely integrated with iOS devices and Siri.