The Australian Competition and Consumer Commission (ACCC) released a report that detailed the extent of the nation's problem with fraud.
And here, the country saw a surge in reports of scams involving cryptocurrencies in 2018.
In its tenth annual "Targeting Scams" report, the country's consumer watchdog said that in 674 cases victims reported to the ACCC and other government agencies, cryptocurrency had been used to pay scammers in 2018, with reported losses of AU$6.1 million ($4.3 million).
The figure is 190 percent higher than the reported AU$2.1 million (US$1.48 million) lost to cryptocurrency scams in 2017.
Online scammers generally tricked consumers into buying various cryptocurrencies through fake platforms, but when consumers tried to cash out their investments, scammers "made excuses or were no longer contactable," explained the ACCC report.
Some investment scams also asked victims to pay in cryptocurrency for forex trading, commodity trading or other investment opportunities, asking victims to visit bitcoin ATMs to convert fiat into the cryptocurrency and then transfer it to them.
Of the total cryptocurrency scam reports in 2018, almost half of them were made by men between the ages of 25 and 34, the commission said.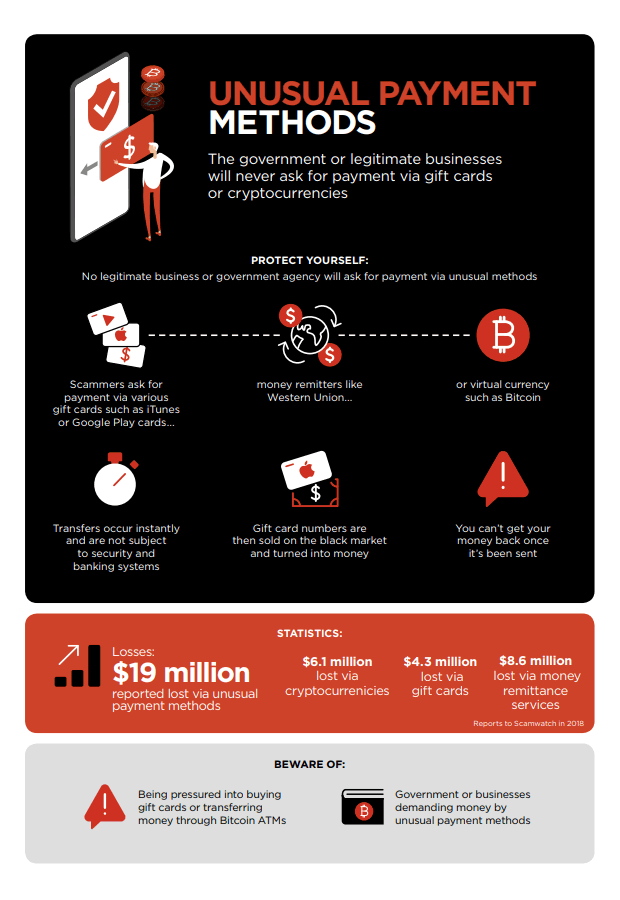 In 2018, Scamwatch received 177,516 scam reports, which was a 10 percent increase from the 161,528 scams reported in 2017, and a 94 percent increase compared to 2013.
The increases are a reflection of a growing scam problem as well as a better awareness by Australians of where to report scams, the ACCC said.
Besides cryptocurrency scams, hacking scams was also on the rise, accounting for 8,625 of the scam reports received by Scamwatch in 2018, and over AU$3.1 million worth of reported losses. Compared to 2017, this was a 49.8 percent increase year on year.
Meanwhile, online shopping scams and ransomware accounted for 9,691 and 4,356 Scamwatch reports, respectively.
The two resulted in AU$3.3 million and AU$151,000 of reported losses, respectively. Popular items the scammers use to trick victims, include shoes, Apple and Samsung phones, puppies, and cars.
Australians in 2018 also experienced a rise in telephone scams, accounting for 46.9 percent of Scamwatch's reports; followed by emails, at 23.2 percent; text messages, at 14.4 percent; and social media, at 3.8 percent.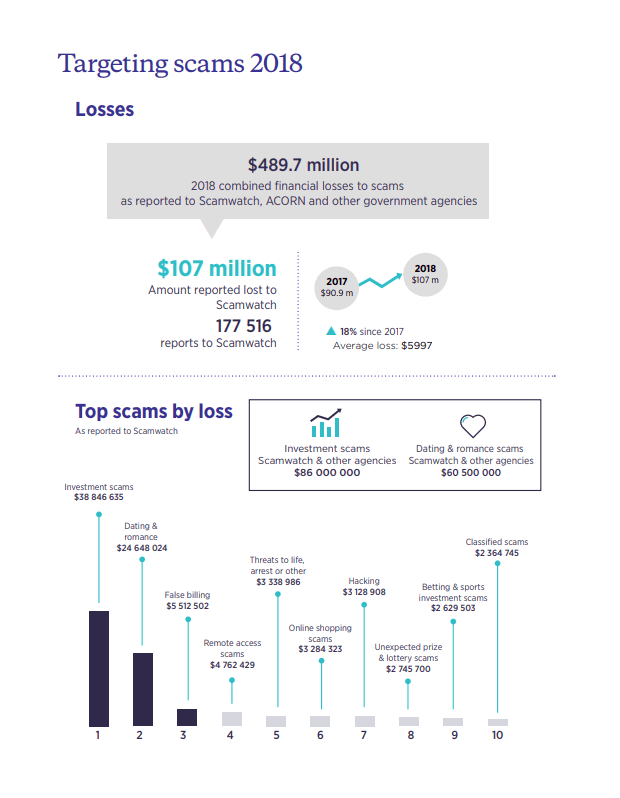 There was also an increase of scammers employing automation in telephone communications, the ACCC said, which resulted in tens of thousands of phone calls and voice messages with the majority of these communications being impersonation and Chinese authority scams.
"Scammers are adapting old scams to new technology, seeking payment through unusual methods, and automating scam calls to increase their reach to potential victims," said ACCC deputy chair Delia Rickard.
People aged between 55 and 64 were the most prone to losing money from this kind of scammers, if compared to any other age group, reporting total losses of AU$24.8 million.
For businesses, there were 5,846 scams reported, and AU$7.2 million in reported losses. The primary victims which were micro- to medium-sized businesses, accounted for over 90 percent of the reported losses.
In a separate statement, Rickard, said that total combined losses reported to the ACCC's Scamwatch program and other government agencies were over AU$489 million (US$345 million).
That is AU$149 million ($105 million) more than in 2017.
But the real number could be much bigger. According to Rickard. "these record losses are likely just the tip of the iceberg. We know that not everyone who suffers a loss to a scammer reports it to a government agency."