South African model and beauty pageant, Miss Universe 2019
She may not be a tech person. But as the 68th Miss Universe, she does know how to properly deal with internet trolls.
Zozibini Tunzi is a beauty pageant from South Africa. She was crowned Miss Universe in 2019, after receiving the title from outgoing titleholder Catriona Gray of the Philippines, besting first runner-up Madison Anderson of Puerto Rico and second runner-up Sofía Aragón of Mexico.
After previously been crowned Miss South Africa 2019, Tunzi is the third woman from South Africa to win the title, the first black woman since Angolan Leila Lopes was crowned Miss Universe 2011, and the first to do so with her afro-textured hair.
With her achievements, she has lots of followers and fans, as well as haters.
It's those trolls who seem to post negative comments on social media networks, both on her social media posts and others'.
Speaking in an interview with Fox News, Tunzi shared among others, how she dealt with those trolls.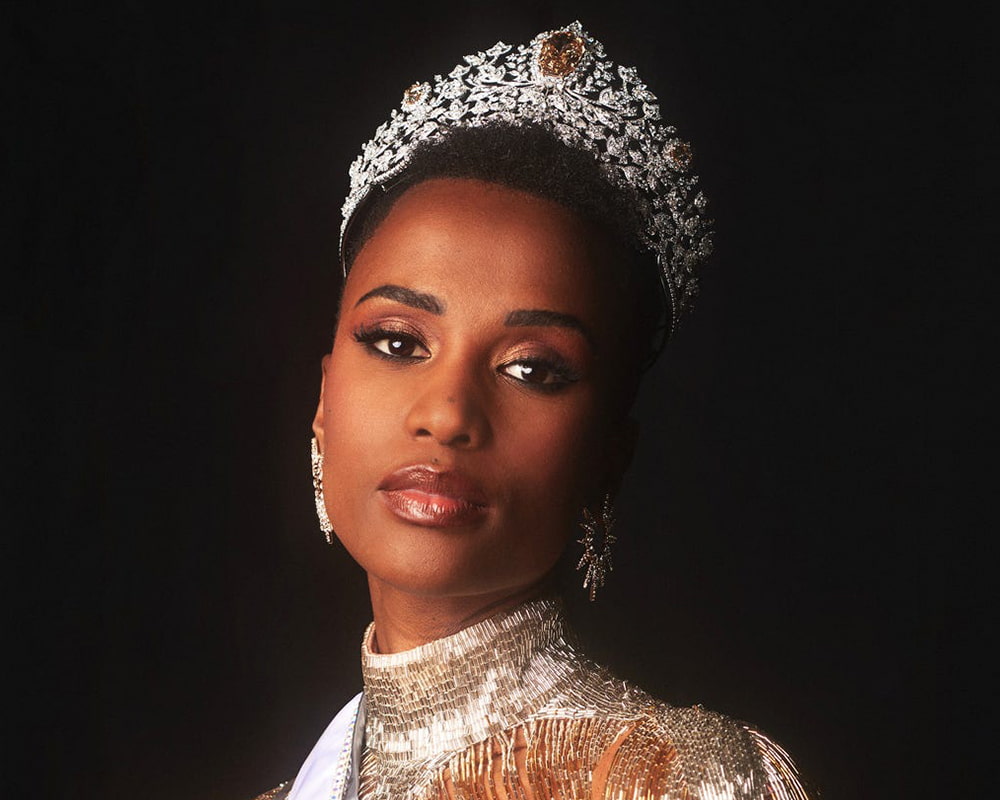 Zozibini Tunzi.
When asked about how she coped with criticisms, Tunzi said that:
"Yes, the word was that there were certain people who weren't as accepting [of my win] because I guess they were used to a certain type of woman that they thought was beautiful. So I think when I came in, it was very uncomfortable for them to accept this change because it wasn't something that they were used to. It was difficult at first because I am strong, but I'm still human. So certain things, at some point, get to me."
"At first, those negative comments really bothered me. But at the same time, it was those negative comments that kept me going. Because I thought to myself, 'These people don't think I belong here. And if I stay here and do my best, they will get used to seeing me. And then that means more women who are different… will be able to come in as well.'"
"When you enter a space, you need to open the door, even if it's just a little, so that other women can come after you and occupy the space. Then eventually, it won't be so new and shocking to people. Some trolls did want to push me back because they felt I'm not supposed to be here."
"But that's exactly why I am supposed to be here. I belong here as much as anybody else."
"And as much as I had trolls, I had even more supporters."
"So I had to remind myself that I was making an impact and there were so many people who appreciated my being here. That's what really kept me going during that time, reminding myself why I started, why I wanted to be Miss Universe."
In other words, as Tunzi interacted on social media networks, she faced criticism. Many criticized her appearance and more.
Tunzi admitted that the negative comments bothered her. But instead of letting those comments dragging her down, she used that negativity as motivation to continue with her work.
With her stance, Tunzi managed to make use of the situation, and made it a pivotal point for South African women.
Tunzi's as Miss Universe represented black women on a global stage, where she stood proud in her own skin and her shaven head.
It's because of the pandemic that Tunzi held the Miss Universe title for more than a year.
"It's a bittersweet feeling," she said.
"I've been Miss Universe for a year and a half now, the longest-reigning Miss Universe. And so I feel like this title has been with me forever. It started feeling like it's a part of me. Therefore, I'm feeling like I'm letting go of that part. So that does feel a little sad. But I'm also excited because now I get to move on to the next chapter of my life. It's like putting a period on the end of this chapter and jumping onto a fresh page and doing something new. It is bittersweet but I'm more excited than I am sad."
Tunzi officially passed the crown to Mexico's Andrea Meza during the 69th Miss Universe competition on May 16, 2021, at Florida's Seminole Hard Rock Hotel & Casino Hollywood.