Technician, Programmer, Hacker, Author of ILOVEYOU
It started on May 2000, when users of Microsoft Windows operating system started receiving emails with a malicious attachment.
The emails came with a subject line of LOVE-LETTER-FOR-YOU and an instruction to read the attached document, supposedly a love letter, from the sender.
Within just ten days, some 50 million computer systems were reported infected around the globe, including those from the U.S. and UK intelligence agencies.
At the time, as many as 10% of all internet-connected computers in the world were ultimately infected by the ILOVEYOU.
As a computer worm, ILOVEYOU can self-replicate, and can propagate itself by spreading multiple copies of itself across a network without any further event activation or human intervention.
Not only was ILOVEYOU one of the first major computer virus outbreaks, it was also one of the first to demonstrate how spam can be far worse than just a time-wasting annoyance.
The economic impact of the worm was that, it required the world to spend an extra $10 billion for developing an antivirus, removing the worm, restoring backups, and improving security.
Two decades later, the creator of this deadly computer worm was traced back to a small phone repair shop in the Quiapo, a district of Manila, Philipinnes.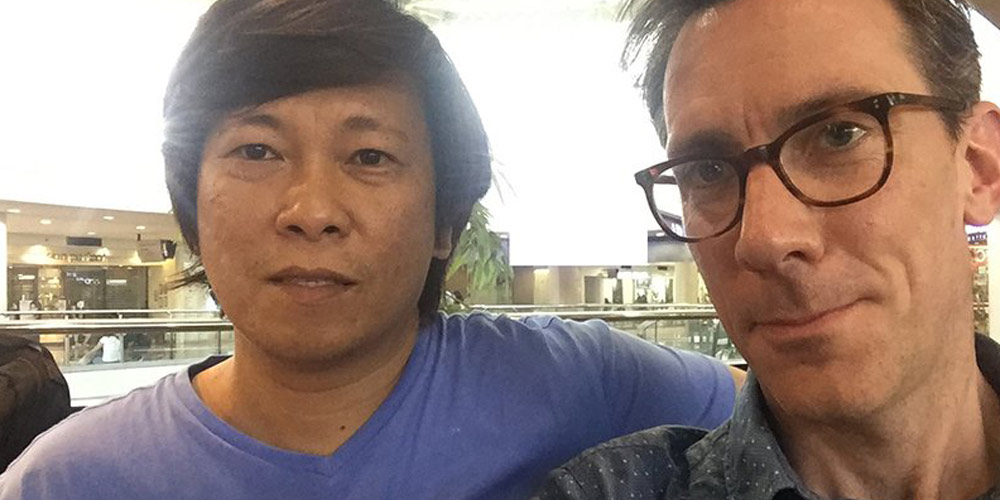 Onel de Guzman (left), pictured with journalist Geoff White (right). (Credit: Geoff White / Computer Weekly)
His name is Onel de Guzman.
Proven guilty for the world's first major computer virus outbreak, de Guzman said that his first intention to unleash the Love Bug computer worm was to steal passwords so he could access the internet without paying.
The ILOVEYOU bug, he said, was a revamped version of an earlier virus he had coded.
At the time when he created the worm, the world was still living mostly with dial-up internet connections. Passwords were needed to get online, and de Guzman said that he could not afford to pay for one.
He claimed that he never intended to make it spread globally, saying that he regretted the damage his creation has caused.
"I didn't expect it would get to the U.S. and Europe. I was surprised," he said in an interview.
He said that he only spread the worm to people in the Philippines, with whom he communicated in chat rooms. He targeted only those people because he only wanted to steal internet access passwords that worked in his local area.
When Guzman was asked whether he may have released the worm accidentally, de Guzman said: "It is possible."
He said that it was possible that the worm was unleashed accidentally because he claimed that he once sent the worm to someone in Singapore by accident, just when he was drunk after drinking with a friend.
It was possible that the person opened the attachment, and the ILOVEYOU bug ran on his computer system, overwrote some files, stole passwords, and automatically sent copies of itself to all contacts the person had on his Microsoft Outlook address book.
This auto-spreading feature was added later in the year 2000, using a flaw he said was present in Microsoft's Windows 95 operating system. He added a title to the email attachment to entice people to open it.
"I figured out that many people want a boyfriend, they want each other, they want love, so I called it that," he recalled.
The first time he realized of the global chaos he had unleashed, was when his mother told him that the police were hunting a hacker in Manila.
His mother quickly responded by hiding de Guzman's computer and all related equipment.
Unfortunately for de Guzman, his mother didn't hide the diskettes containing de Guzman's classmates' names, including Michael Buen, which were later found by the police. De Guzman insisted Buen had nothing to do with the worm and that he was its only creator.
ILOVEYOU worm showing its attachment. (Credit: F-Secure)
According to an article written by investigative journalist Geoff White, who had found de Guzman working at a mobile phone repair shop in Manila.
"I set out to finally lay to rest the mystery of who was behind the virus by tracking down Onel de Guzman. There were rumors he had moved to Germany, to Austria or to the U.S.. Others said he had been recruited by Microsoft following the outbreak. All proved to be wide of the mark."
De Guzman regretted for ever creating ILOVEYOU, and with the notorious things it has brought him.
"Sometimes I get my picture on the internet," he said.
"My friends say, 'It's you!' I'm a shy person, I don't want this."
When the worm was first unleashed, and de Guzman was first apprehended, the authorities had no idea on how to charge him. It was only suggested that de Guzman should be charged with violating Republic Act 8484 (the Access Device Regulation Act).
Since Philippines had no law covering computer hacking, so neither de Guzman nor anyone else was ever prosecuted.
Decades later, the Philippine authorities finally dismissed all charges, saying that the evidence against de Guzman had been insufficient to substantiate the charges filed against him by the National Bureau of Investigation.
The officials even thought of using the publicity surrounding de Guzman's case to advertise Philippines's inexpensive computing talent to high-technology companies abroad.
The Love Bug may have faded into history, but its story has, and will always echo in the ever-changing, virus-afflicted world.