CEO of Alphabet and Google
Humans are polluting the Earth at an increasing rate. Tech companies for example, require huge amount of electricity to power many parts of its networks, including its array of computer systems, servers and more.
Realizing how much they pollute Earth, a number of tech companies have began reducing their dependence on fossil-fuel energy.
While an increasing number of those companies have managed to offset their carbon emissions, it's extremely difficult for one to go entirely free of carbon.
Not only that it's extremely difficult to move away from fossil-fuel energy sources to renewable energy due to the amount of investments needed, the switch can also affect businesses to an extent. As a result, not many are willing to take the bold step and try.
Alphabet is the tech giant that owns Google. Sundar Pichai as the leader of the companies, is setting an example, by trying to make Google a company that is not only carbon-neutral, but also to become the first major tech company to operate free of carbon emission in a decade.
There will be "sacrifices," he said to Bloomberg. "It may lead to some services we can't build."
Read: Google Announced Ambitious Plan To Run Entirely On Carbon-Free Energy By 2030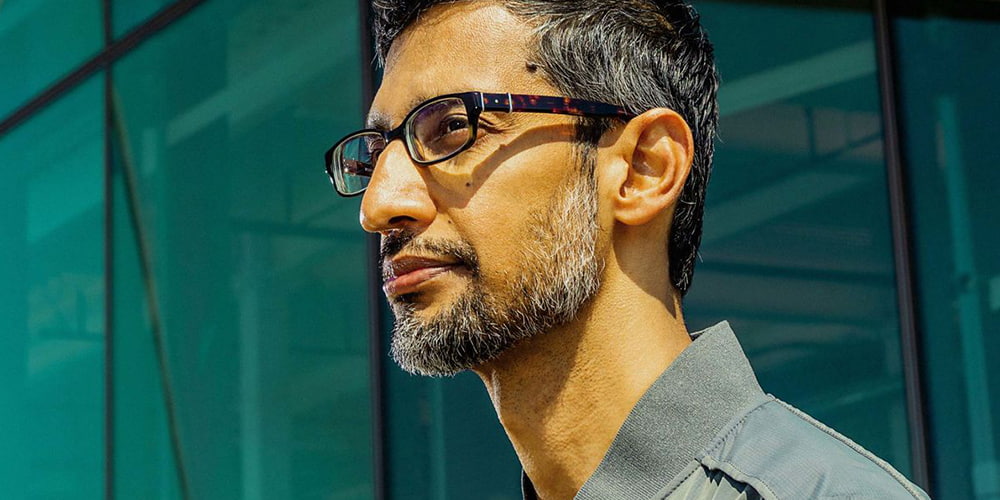 Sundar Pichai, at Google's Bay View campus. (Credit: Kelsey McClellan for Bloomberg Green)
Alphabet and Google operate a long list of products and services, ranging from the flagship Google Search to Gmail, YouTube and Google Maps, to Android and Pixel, its cloud offerings, online ads, DeepMind, moonshot projects and lots more.
By running and maintaining those products and services, both Alphabet and Google require a humongous amount of resources to power its vast data centers. Let alone the computers that run throughout its offices, the companies' hunger for energy guzzles electricity like its nothing.
In 2020, the companies' data centers consumed at least 15.1 million megawatt-hours. Not only that the bill is expensive, as the source of this energy partly come from fossil fuel, which pollutes the Earth.
And this number increases year on year.
But the thing is, Google makes a lot money from running and maintaining its long list of products and services.
With the money. Google reported that it has been carbon neutral since 2007, and was the first tech giant company to achieve 100% renewable energy.
The company does this through initiatives like purchasing carbon offset (covering its energy usage by buying credits to purchase emission-reducing projects, for each ton of emissions the company makes), as well as using renewable sources, like installing megawatts solar array atop of its headquarters, using windmills, and more.
Other projects include developing novel technologies, such as lithium-ion battery storage, algorithms that predict wind patterns, and geothermal wells that drill into the Earth's crust.
But to go entirely free of carbon, requires more than just that.
Google's Bay View campus' roofs contain 50,000 solar panels. (Credit: Kelsey McClellan for Bloomberg Green)
Pichai used the moment to introduce one of Google's campus, which consists of three squat buildings near the San Francisco Bay shoreline.
Located a few kilometers east of its headquarters in Mountain View, California, the campus has unique roods that curve down from their pinched peaks, just like circus tents.
The roofs are equipped with solar panels, glisten with brushed metal sheen. The roof panels were constructed with a unique textured glass to prevent glare and with canopies that emit a soft, glowing light into the inside. Beneath the buildings, thousands of concrete pillars plunged into the ground to act as a sort of geothermal battery, in order to store heat to warm the building and water supply. This should help eliminate the use of natural gas.
Google envisions this campus as the embodiment of a grander ambition to run its operations entirely free of carbon.
Pichai added that the tech giant's ambitious goal to eliminate carbon usage entirely and shift to 100% renewable energy is more just about climate change, as it's also a recruitment tactic.
"If you don't do this correctly, you won't be able to attract talent. When I look at the younger generation, people who are teenagers now, I can't see them making the choice to work for a company which they feel is polluting."
Our new Bay View campus will run on 90% carbon-free energy, with a mix of solar, wind, and geothermal. This is part of our moonshot to run 24/7 carbon-free by 2030. Thanks @mhbergen for the in-depth look at our sustainability efforts. https://t.co/0I626k2heb

— Sundar Pichai (@sundarpichai) October 18, 2021
Pichai predicts that the future of workforce will look and consider working at companies that have sustainability practices.
And younger generations who are aware of global warming, are also pursuing career paths that address climate changes, more than their older generations do.
So Google in going entirely free of carbon, is also an investment to embrace the trends that will happen years and decades ahead.
Pichai pledged that Google's climate work can create more than 20,000 clean energy jobs and help hundreds of cities reduce their carbon footprints.
Pichai however, admitted that Google doesn't "fully have all the answers."
Despite having to spend a lot of money, Pichai called the big dream's timeline "a bit stressful."
"I wish we were at this moment a decade earlier," he said. "I'm worried and very anxious we're losing time."
Money isn't a major concern for Google, which has about $135 billion of cash on hand. What Google need, is time and more ways to offset things, and a change in the laws.
To embrace the future of work that is green, it will take far more than money to achieve.
Google has to face hard choices ahead if it wants to be anything more than just an example of an unattainable dream.
Electricity consumption figures in 2020. Maine electricity consumption is for 2019. (Credit: Company sustainability reports; Energy Information Administration)
"We've always, as a company, cared about our spaces. Early on, we had this view that designing great spaces can really affect productivity and culture. So a lot about this building is making sure we get this right—this nice, open space, nice lighting."
"But as part of that, we wanted to set an example on sustainability. In some ways, you can think about technology as open source. Once you put out open source software, all of us build on it. So we're doing visible things and sharing everything about how it's done. I think it will get replicated and adopted, and we will learn a lot, too. The fact that you can build a nice building in a cost-effective way, which has tremendous energy savings—and showing that it can all be done—was a big, big part of it."
It should be noted that Google's environmental record isn't flawless.
The company has received many criticisms about it funding politicians who deny global warming, accepting green-washing advertisements, and boosting climate conspiracies on YouTube. Employees have condemned its cloud-computing deals with oil companies. Google server farms use considerable amounts of water, and more.
Google also ranks poorly on governance and social impact, due to its numerous competition lawsuits.
But if compared to its peers, like Amazon, Apple and Microsoft, Google doesn't have fulfillment centers. Google also has less employees.
And this is where things are an advantage to the search giant.