Co-founder and CEO of Twitter, and the Founder and CEO of Square
Just like other social media networks, people on Twitter also hunger for interactions. They seek comments and Likes (Hearts); they want retweets and followers; they also want that verified checkmark.
But unlike other social media networks, Twitter is known as a place where influential people gather. On Twitter, high-profiled figures, celebrities and influencers can easily reach their audience and speak their mind. And this includes politicians, whose words can change the fate of a country.
On top of them all, was Donald Trump.
Using his @realDonaldTrump account, Trump was able to communicate with his fans and his more than 88 million followers.
The problem was, Trump's executive position as the President of the United States allowed him to continue posting tweets that should have banned any other users on the platform. Twitter admitted that in the past, it was easy on Trump.
But when Trump's tweets managed to gather people that then stormed and raided the U.S. Capitol Building on January 6, 2020, Twitter had enough.
@realDonaldTrump got kicked from Twitter, making Trump the first country leader to have ever been permanently banned on the platform.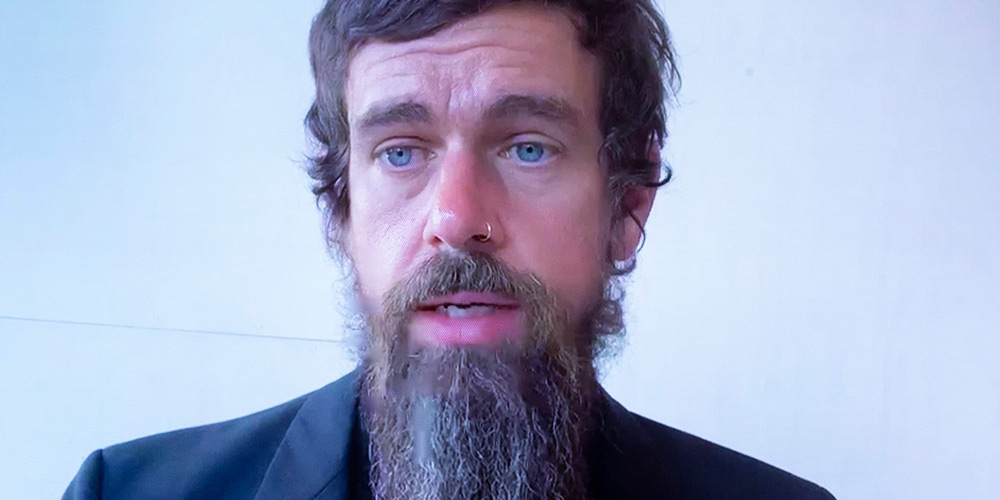 Jack Dorsey, when testifying before the U.S. Congress in a virtual call on October 2020.
Later in a leak, it is said that founder and CEO Jack Dorsey has plans to go even than that, suggesting that the company's policy enforcement actions should go far beyond banning just Donald Trump.
As first reported by James O'Keefe, the founder of the right-wing guerilla news outlet Project Veritas, it was said that a purported Twitter "insider whistleblower" secretly recorded remarks by Dorsey to staff, and published it on the internet
"You should always feel free to express yourself in whatever format manifestation feels right," Dorsey said in the clip.
Dorsey who has addressed the controversy for banning the President, told his staff in a virtual meeting that Twitter will do a "full retro" that will "take some time," but drew focus to Trump, who was the platform's former most high-profile account.
"We know we are focused on one account right now, but this is going to be much bigger than just one account, and it's going to go on for much longer than just this day, this week, and the next few weeks, and go on beyond the inauguration," Dorsey said.
"So, the focus is certainly on this account and how it ties to real-world violence. But also, we need to think much longer-term around how these dynamics play out over time. I don't believe this is going away anytime soon."
"You know, the U.S. is extremely divided. Our platform is showing that every single day," Dorsey later said.
"And our role is to protect the integrity of that conversation and do what we can to make sure that no one is being harmed based off that. And that is our focus."
Twitter is the popular microblogging platform, where people can share their thoughts for the world to see and hear. It's a platform known to be 'friendly' for those who seek 'free speech'.
But when things go beyond out of control, internet platforms that host the communication of people, have to take bold and radical steps to curb misinformation, malinformation and disinformation.
In a lengthy Twitter thread, Dorsey said that he isn't celebrating "or feel pride in our having to ban" Donald Trump from Twitter.
He said that Twitter's decision to ban the President could set a "dangerous" precedent, highlighting "the power an individual or corporation has over a part of the global public conversation."
But he also pointed to other companies who have the same attitude as him.
"This moment in time might call for this dynamic, but over the long term it will be destructive to the noble purpose and ideals of the open internet," Dorsey said of Apple, Google and Amazon's decisions.
"A company making a business decision to moderate itself is different from a government removing access, yet can feel much the same."
Seeing how much power tech companies have and the realization of the companies' executives who can take drastic action when necessary, and seeing that the precedent is set, these platforms may never again encounter a situation as dire and extreme as the one they faced with Donald Trump.