CEO of Microsoft Corporation
Google is embroiled in an antitrust case in which the tech company began squaring up against the U.S. Department of Justice.
It's argued that Google is the primary search engine amongst the public, in part, because its parent company Alphabet is paying big tech companies like Apple, Samsung, and Mozilla to place the product as the main and default search engine in their devices and browsers.
These payouts, the U.S. Department of Justice argues, are anticompetitive as they discourage other tech companies from developing their own search engine in a marketplace where a multibillion-dollar cash reserve is necessary to play the game.
As the tech giant Alphabet faces a massive antitrust lawsuit, it's the U.S. versus Google.
And Satya Nadella, the CEO of Microsoft, is one of the most prominent figures who testified.
Satya Nadella, CEO of Microsoft, arrives at federal court on October 2, 2023 in Washington, DC, U.S.
During the hours-long of questioning, the executive explained in detail how and why Google Search has an advantage over Bing and other competing search engines, and why in certain terms, Google is indeed better than Microsoft.
Most people, especially CEOs, will never acknowledge the weaknesses of their companies, or the flaws in their products.
They will certainly market their products as the best, superior, and the better one when compared to their rivals.
Never will they agree that competitors are better.
But Nadella is not some ordinary CEOs.
When Google's lawyer John Schmidtlein argued that Microsoft's products were just not as good as Google's, Nadella as the CEO of Microsoft, was expected to fight back.
But instead, he mostly responded with a "Correct," or a "Sounds right."
Schmidtlein even said that Google Chrome is the dominant browser on Windows computers, even though they come with Microsoft's browser pre-installed.
"Microsoft was caught sleeping when Google introduced Chrome, which was a far superior browser," Schmidtlein said.
Instead of arguing, Nadella seemed to nod, and once responded with:
"Google did a good job of innovating in the browser."
Read: U.S. Versus Google: The Internet Is Really Just The 'Google Web,' Said Microsoft CEO
These words don't always come out from people who lead huge influential companies. But for Nadella, things are more than just that.
Things go a lot deeper.
Nadella's testimony, which refuses to corner Google by utilizing the time and moment to grab the judge's attention to defend the quality of Microsoft, puts him in an advantage in focus.
Whether Google's agreements with other companies to be the default search engine on their web browsers and devices create an unfair advantage no competitor can overcome, Nadella shows its support towards the U.S. government, but by playing Google's game.
Nadella knows that his position to defend Microsoft is similar to what had happened way back in the 1990s, when Bill Gates defended Microsoft through a similar antitrust suit, in what is considered the first-ever browser war.
At that time, the government made a similar argument about Microsoft pre-installing its own browser on Windows computers.
So here, to defend his cause, Nadella shows support by also acknowledging that Bing has a tiny market share, even when it's Google Search's closest competitor.
Nadella basically said that Google Search is a better product, because as more searches go through a search engine, the more data that search engine has and the better it becomes at guessing what searchers are looking for.
In the end, the search engine will show results which will interest them most.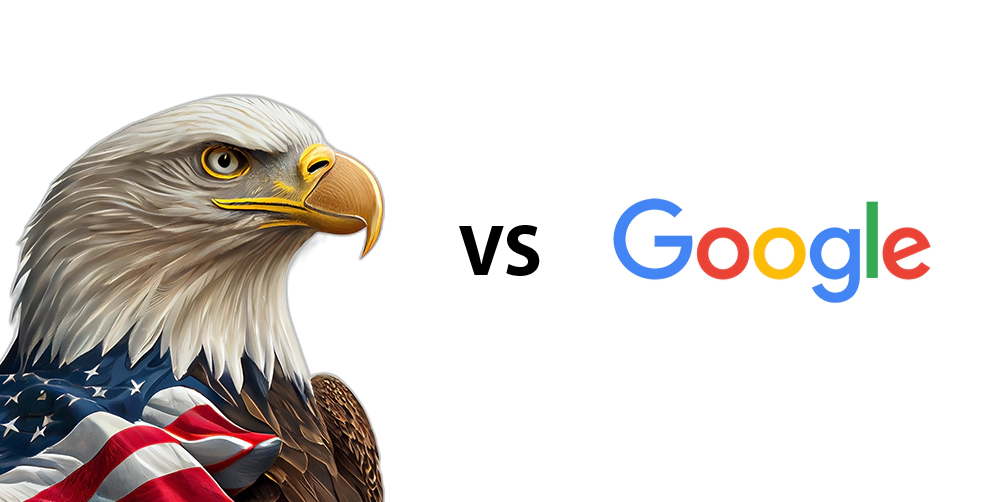 Another way of saying this, Nadella indirectly said that Google Search's dominance only happens through self-reinforcement.
"It's a vicious cycle," Nadella said.
The stakes are very, very high, and Nadella cannot risk it by going all out, heads-on against Google, especially in front of the government.
Nadella simply played the game, Google's way, in order to not provoke anything.
Nadella also knows that Bing has an advantage, especially in terms of generative AI, in which it utilizes ChatGPT's technologies, which are still considered superior to Google's. Then, there was the botched Google Bard introduction that wiped out $100 billion from Alphabet's valuation.
Nadella certainly knows that Google doesn't like that fact.
After all, OpenAI already struck fear into the heart of Google, so hard that Google CEO Sundar Pichai had to summon both Google founders for help.
Read: 'Code Red': OpenAI's ChatGPT Forces Google Founders To Leave Their 'Retirement'