A logo is a perspicuous glyph or symbolic, identifying mark that conveys origin, identity, or ownership. The main function is to elicit recognition. The object of a logo is to act as a mnemonic device and identifier, to communicate a desired thought or feeling, and to generate a desired emotional response. A thought-provoking can strengthen your brand image and corporate identity, giving you a psychological advantage over your competition.
Your logo is the core of your corporate identity, defining and symbolizing the character of your company or organization.
There are three basic types of logos:
Iconic/Symbolic/Abstract
Icons and symbols are uncomplicated yet compelling images that are highly distinguishable. They use imagery that conveys a literal or abstract representation of your organization. Symbols are less direct than straight text, leaving room for broader interpretation of what the organization represents.
Iconic/symbolic logo is one of the most effective type of logo since it is:
Memorable.
Instantaneously recognizable.
Clarity when reproduced in small sizes.
Can be illustrative in many forms.
Logotype/Wordmark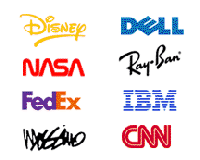 A logotype, commonly known as "word mark" in the design industry, incorporates your company or brand name into a uniquely styled type font treatment. Type fonts that are used come in thousands of possible variations, shapes, sizes, and styles, each conveying a slightly different impression upon your intended audience.
Font treatments can also include hand-drawn letters, characters or symbols that have been rendered in such a way to capture the eye of interests. Images can also be integrated into a logotype to create a great visual effect.
This type of logo is also commonly used in internet-related businesses where logos should represent direct messages without any possible distractions.
Script fonts imply a sense of formality and refinement.
Thick fonts proclaim strength and power.
Slanted type fonts impart a sense of motion or movement.
Combination Marks
Combination Marks are graphics that consist both a symbol/icon and text that signifies the brand image that you wish to project to your intended audience. Concise text can complement an icon or symbol, providing supplemental clarity.
Combination Mark is one of the most popular and common category for several reasons:
Offers the best of both worlds.
Able to create a memorable logo graphic that tells the story.
Showing a high visibility with explanatory.
Speaks the services with graphics, while using text to increases the recognition.
Easier to copyright and protect than a symbol-only logo, automatically making it individually unique.
By having the advantages of both worlds, Combination mark can be highly configured to fit any taste that ranges from simple to highly complex design implementations and color combinations.
This type of logo can also feature an insignia by placing the symbol of the message in an emblem to make it highly recognizable, and a character figure for a common public identity (mascot) by using its ability to combine complex mixture of elements.
With its almost endless possibility, Combination mark logo is the most exclusive and unique type of all.