Big or small, companies operate a limited amount of fund. If something global is disrupting the economy, they too can be affected.
Grab and Gojek are two competitors, originally rivals at the ride-hailing business. But since the two have developed and became 'super apps', the two companies are also competing in other businesses, including food delivery.
The companies that are regarded the duopoly in Southeast Asia, reported a downward trend in their passenger transportation services during the 'COVID-19' coronavirus pandemic. However, they saw an uptick in food and grocery deliveries during the social-distancing period.
Users are ordering things online, more than ever before.
This trend has paid off as the two companies' demand for ride-hailing services are plummeting.
Southeast Asia online transport and food delivery market size (Credit: The ASEAN Post/Temasek, Google)
With the demand in Southeast Asia surged to $5.2 billion in 2019, according to a report by Google, Bain & Co. and Singapore state investment company Temasek, ride-hailing companies like Grab and rival Gojek, through GrabFood and GoFood, respectively, have jumped into the business to reap additional revenue from cloud kitchen rent and delivery fees.
The coronavirus is said to have accelerated this trend. The report forecasts that the market would be reaching $20 billion in 2025, on a par with online transport services.
Globally, the online food delivery market is predicted to be worth around $365 billion by 2030.
Grab, which jumped on the trend relatively early, has set up more than 50 cloud kitchens across the region, including in Thailand, Singapore and the Philippines. It has expanded aggressively in Indonesia, opening over 40 locations over the past year. Indonesia-based Gojek has launched 27 cloud kitchens in the country, as it readies to battle Grab.
The company has seen online food delivery services becoming a lot bigger than its most frequently used motorbike-hailing services, generating $2.5 billion in annual transactions in Indonesia alone.
Both GrabFood and GoFood get a commission between 15 to 30% per transaction.
In some countries in Southeast Asia, Grab and Gojek are also competing with an array of services, like Line Man delivery services from Tokyo-based company LINE, and food delivery "pure-plays" like Deliveroo and FoodPanda.
While food delivery business is benefiting Grab and Gojek handsomely, a number of employees from the two companies has been laid off, as the startups were forced to reassess their pursuit as super apps.
Starting their businesses as ride-hailing applications, both Grab and Gojek have been racing to become apps that meet all users' needs. They offer various services from passenger transportation and food and goods delivery to financial services and hotel and ticket booking.
But because the pandemic is yet to see its end, the two companies are forced to also retire some of their non-core businesses, experts said.
"The COVID-19 pandemic will force both Grab and Gojek to reorganize and focus on three core services: ride-hailing, food/grocery delivery and financial services," Fitch Solutions wrote in a research note.
Grab, which is valued at $14 billion, announced that it would lay off 360 of its employees, or about 5% percent of its workforce. As for Gojek, the decacorn from Indonesia founded by Nadiem Makarim said that it is laying off 430 employees amid the pandemic impact, or around 9% of its total workforce.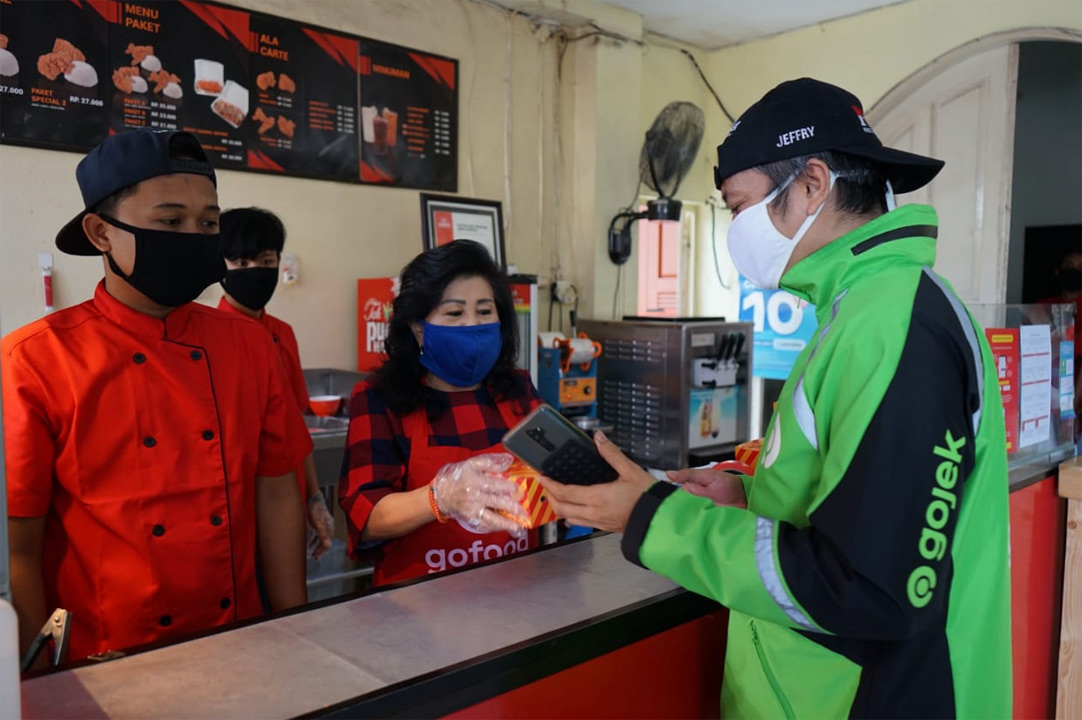 A Gojek driver orders food from a restaurant for his customer amid coronavirus pandemic. (Credit: Redaksi9).
Indonesia ICT Institute executive director Heru Sutadi said that their decision to lay off employees was part of the companies' survival strategy. This happened wile the two were evaluating their services as the COVID-19 pandemic severely affected their core ride-hailing business.
"In normal times, start-ups do aim to become an all-in-one service provider, but along the way they will evaluate which services are not relevant to their consumers," he said, adding that "there is a possibility that Gojek and Grab will re-hire some of their teams once the economy is stable."
Fitch Solutions projected the decacorns would gradually exit low-margin services.
"We expect Grab and Gojek to also scale back on discounts in order to become profitable, especially so as investor funding could potentially slow amidst weaker global economic activity," researchers at Fitch Solution wrote in the note, adding that despite rapid growth, both companies were unprofitable in 2019.
Because of this, and also because of the pandemic, Investors might grow skeptical about business growth and profitability trajectories.
But since the two companies would still receive funding from their regional and international backers, the decacorns are still considered agile enough to plan for strategic growth in the foreseeable future.