Humans have yet to see AIs really capable of doing things better than them, but they have at least employed AIs in multiple fields.
From robots inside factories to aiding humans in researches, real-time translation and more. And this time, Microsoft has decided to sack around 50 journalists in order to replace them with AI software.
The said staff employees that were contracted through staffing agencies Aquent, IFG, MAQ Consulting and PA Media (formerly the Press Association) were tasked to maintain the news homepages on Microsoft's MSN website and its Edge browser.
They have been told that their services would no longer be needed beyond June 30, because computers can do their jobs.
Using AI, Microsoft can stop employing humans to select, edit and curate news articles on its homepages.
By deploying AI-powered algorithms, the company's news division can identify trending news stories from dozens of publishing partners, and to help optimize the content by rewriting headlines or adding better accompanying photographs or slide shows.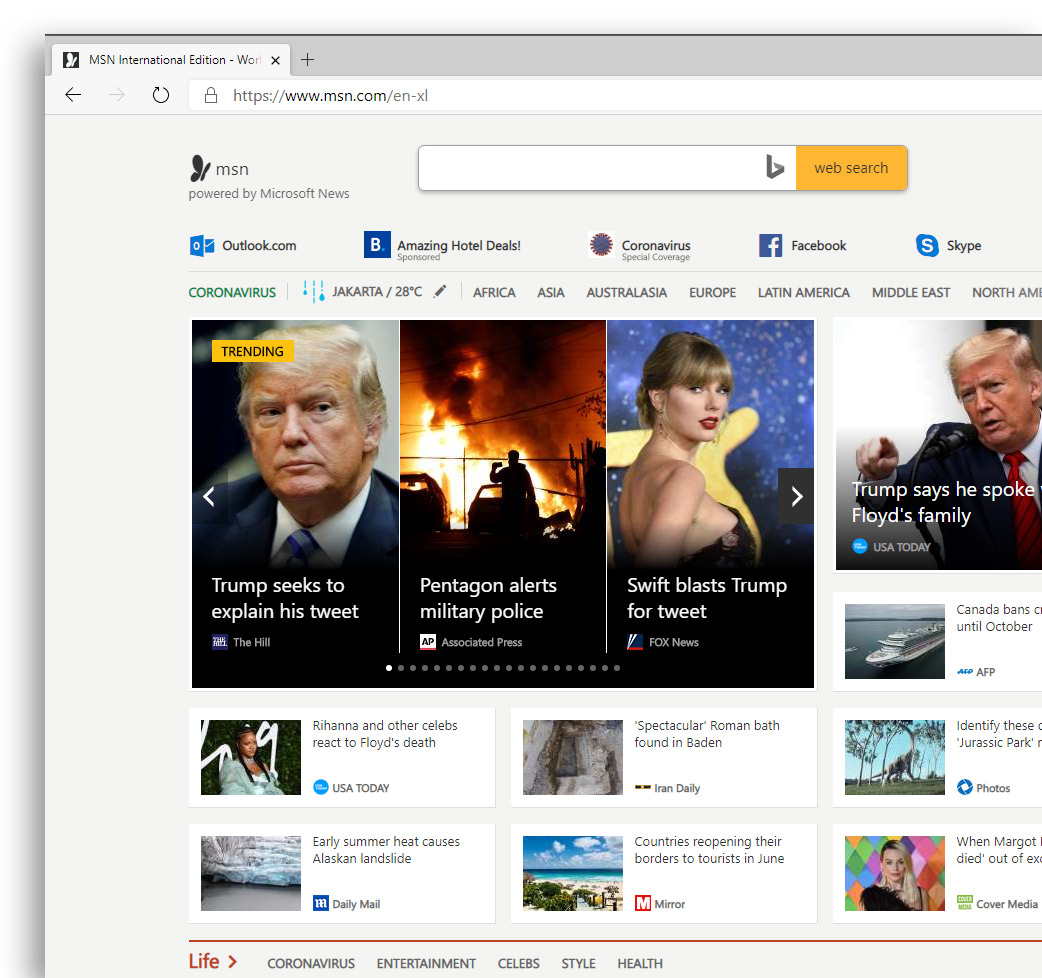 Opening MSN.com on Edge web browser.
One staff member who worked on the team, said that:
"I spend all my time reading about how automation and AI is going to take all our jobs, and here I am – AI has taken my job."
"It's been semi-automated for a few months but now it's full speed ahead. It's demoralizing to think machines can replace us but there you go.''
The staff said that Microsoft's decision to replace humans with AI is risky.
While the journalist team who were working for Microsoft don't actually report original stories, they still exercised editorial control, selecting stories produced by other news organisations, and editing the content and headlines where appropriate to fit the format.
The articles were then hosted on Microsoft's website, with the tech company sharing advertising revenue with the original publishers.
Manual curation approaches by humans are more careful in picking up the best headlines, and are more careful in sticking to Microsoft's "very strict editorial guidelines" which ensured that users were not presented with violent or inappropriate content when opening their browser.
This is particularly important for younger users of MSN and Edge.
"We are in the process of winding down the Microsoft team working at PA, and we are doing everything we can to support the individuals concerned. We are proud of the work we have done with Microsoft and know we delivered a high-quality service," said a spokesperson for the company.
"Like all companies, we evaluate our business on a regular basis. This can result in increased investment in some places and, from time to time, re-deployment in others. These decisions are not the result of the current pandemic," added a Microsoft spokesperson.
Having their jobs taken by computers, the team members are facing an increasingly difficult challenges to get jobs elsewhere, when most industries are struggling to survive amid the novel 'COVID-19' coronavirus.
Full-time news producers employed by Microsoft should still be retained by the company, despite they perform functions similar to those being let go. But all contracted news producer jobs have been eliminated.
Following Microsoft's decision, other teams around the world are expected to be affected by the company's decision to automate the curation of its news sites.
In the past, tech companies have experimented with using AI in journalism. But most of their efforts to automate the writing of articles have yet to be adopted widely.
Related: How Coronavirus Forces Internet Companies To Rely More Heavily On AI To Get Jobs Done