There was a time when people were crazy about cryptocurrencies. That time, people started mining them, acquiring them, buying them, and even stealing them.
But far later, the craze swerved a bit. Still involving blockchain, the technology behind cryptocurrencies, people at this time, are into the hype of NFTs (non-fungible tokens).
After Elon Musk's partner, Grimes, managed to sell some of her artworks for million of dollars by making them NFT items, the NFT craze continued with a bunch of others. It also gained the attention of Jack Dorsey, Twitter founder and CEO, when he made the first-ever tweet as an NFT item for sale.
Among other NFTs that went up for sale, some cryptocurrency enthusiasts even went as far as burning a real art piece, to make its NFT worth higher.
And if the many NFTs for sale that break records aren't enough, this JPEG here is sold for almost 70 million on auction house Christie's.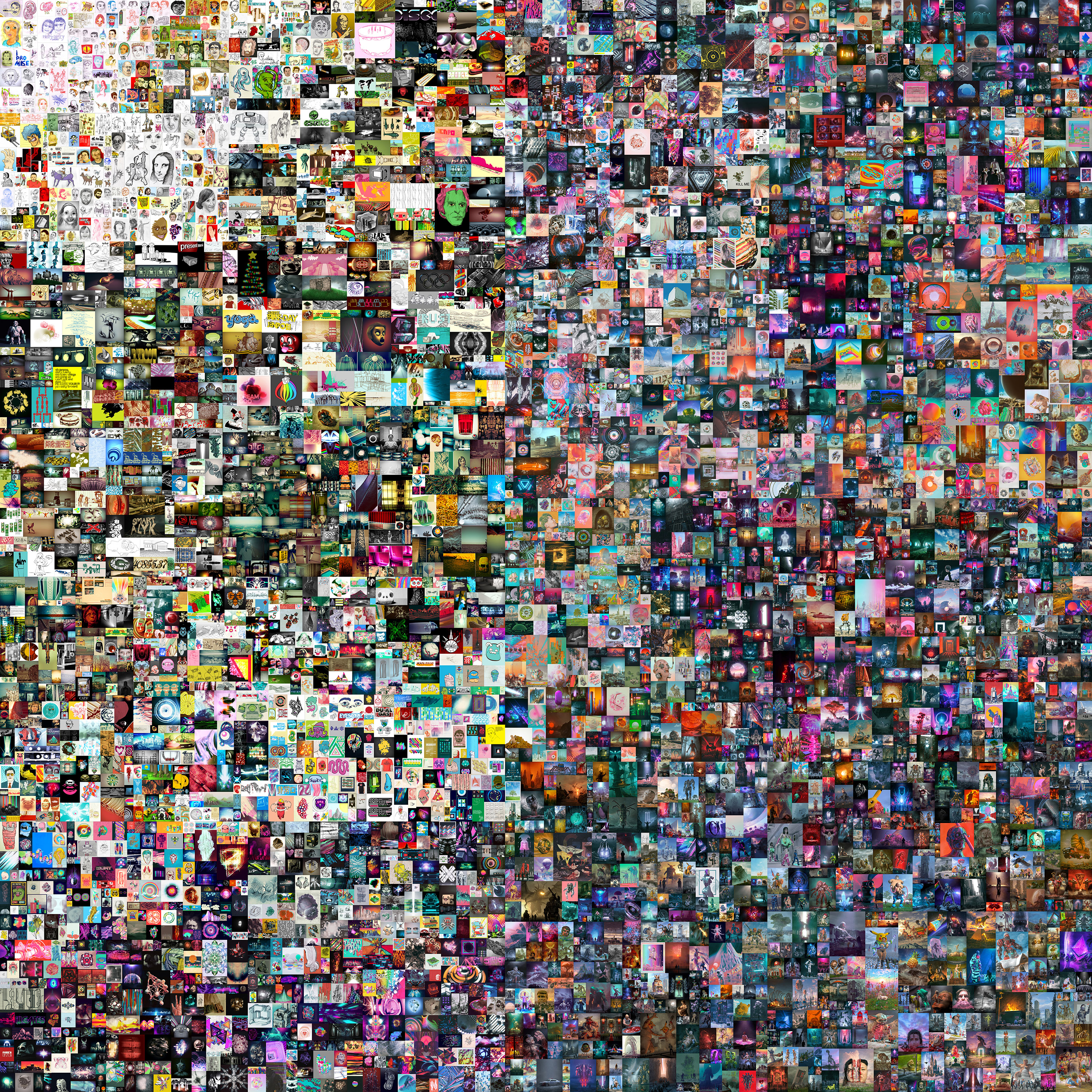 "Everydays — The First Five Thousand Days" by Beeple.
The digital collage that is called "Everydays — The First Five Thousand Days" was created by the artist Beeple.
The graphic designer from South Carolina in the U.S., made the artwork in 2007, when he started stitching his artworks together to create one single but huge piece.
It took him more than a decade to complete the project, which comes as a 319-gigabyte JPEG file with an image resolution of 21,069 x 21,069 pixels.
The image was put in an auction after being tokenized, or "minted" in February 2021.
Christie's that accepted payment on both conventional currency and Ether cryptocurrency, managed to sell the item to an undisclosed winning bidder.
Sold at at a record-breaking $69.3 million, Beeple's response to the sale was tweeting: "holy fuck."
"Artists have been using hardware and software to create artwork and distribute it on the internet for the last 20 plus years but there was never a real way to truly own and collect it," Beeple, whose real name is Mike Winkelmann, said in a statement. "I believe we are witnessing the beginning of the next chapter in art history, digital art."
The artwork is the most expensive NFT to this date.
As a matter of fact, the piece is at this time, the third most-expensive work sold by a living artist at auction, according to a statement by Christie's.
The only two artworks that were priced higher, were pieces from Jeff Koons ($91 million) and David Hockney ($90 million), said the 255-year-old auction house.
"The potential for it to disrupt the traditional art auction model is humongous," said Noah Davis, the specialist in charge of the first NFT auction at Christie's.
Beyond the record-setting sale of Beeple's "Everydays — The First Five Thousand Days", he said that NFTs' "lack of objecthood" meant auction houses faced no costs required for storing, handling, cataloging, photographing and insuring a physical work of art, making a "really attractive opportunity" for auction houses.
"Will we be offering more NFT artworks? Definitely," Davis added.
"Does this mean they will replace paintings and sculptures at auction? Absolutely not."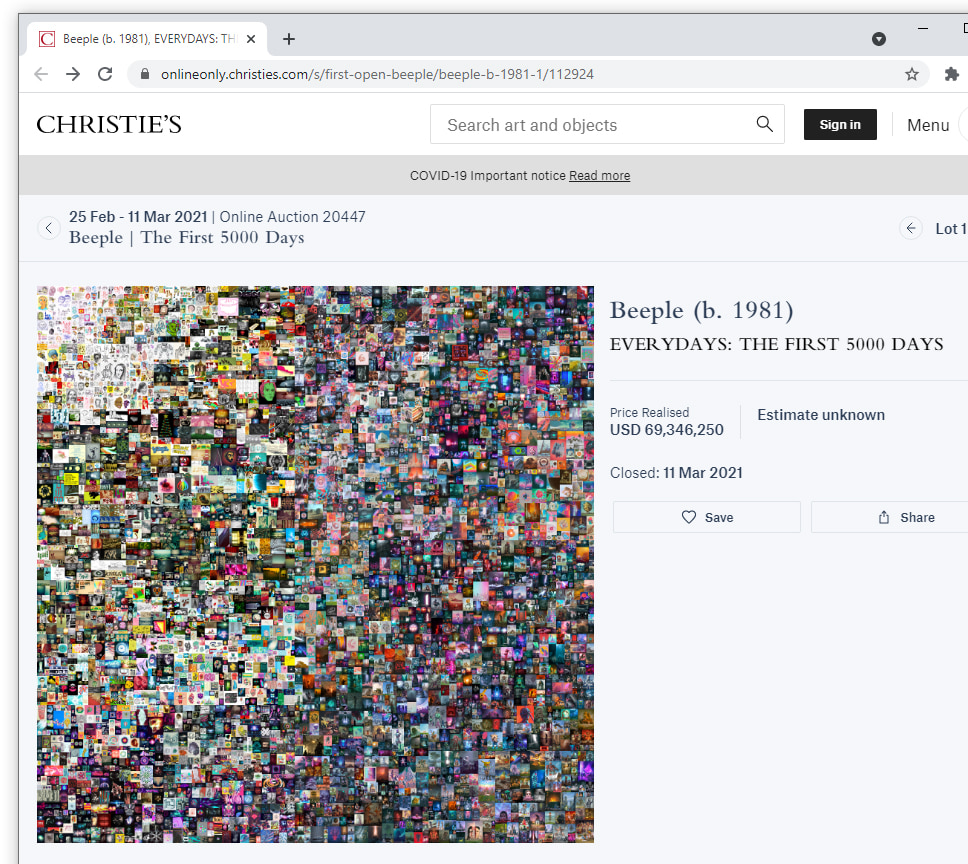 NFT, or non-fungible token, is a method of authentication for piece of digital content, by putting it inside a blockchain.
This certifies and tracks the ownership of a unique digital asset.
Because blockchains record cryptocurrency transactions; the records can be shared but not duplicated.
In essence, the owner of the NFT gets the rights to "brag" to an "original" version of a digital item. That, event through the piece of the digital content can be reproduced and viewed by millions of times over by others.
In this case, the digital artwork by Beeple, received more than 180 bids in the final hour.
Until 2020, Beeple was selling his artworks for as little as $100. But with the sale of "Everyday," his work has become one of the most valuable artworks in the art world.
By setting a new price height, beating auction records for physical paintings by museum-valorized greats like J.M.W. Turner, Georges Seurat and Francisco Goya, NFTs are setting the pace for others to sell their digital artworks, expanding the NFT market.
The buyer of the artwork is not disclosed, at least at this time. But many speculated that the buyer was Justin Sun, a cryptocurrency enthusiast that is the founder of the cryptocurrency platform TRON and CEO of Rainberry, Inc. and the mobile social app Peiwo.
Further reading: Cryptocurrency Trader Bids $37,000 For A Satoshi Nakamoto Digital Artwork