Twitter is no stranger to trolls, haters and violent or harsh comments. To get rid of them, sometimes, strict measures should be made.
After Twitter, for the first time, added warning links to two of U.S. President Donald Trump's tweets, inviting readers to "get the facts", the President signed an executive order threatening Silicon Valley social media firms with new regulations over free speech.
Trump told reporters at the White House that he acted because big tech firms "have had unchecked power to censor, restrict, edit, shape, hide, alter any form of communication between private citizens or large public audiences."
"We can't let this continue to happen," Trump said.
Trump's directive could set the potential for federal regulators to write new rules and issue new punishments for companies deemed to exhibit political bias. It may also create wide-ranging consequences for a much broader segment of the internet beyond just the social media, to also affect websites, apps or services where users congregate online.
Just hours after that, Twitter went a bit beyond the ordinary, by hiding a tweet from the President. The social media accused him of breaking its rules by "glorifying violence", after he tweeted that looters at protests in Minneapolis would be shot.
"...These THUGS are dishonoring the memory of George Floyd, and I won't let that happen. Just spoke to Governor Tim Walz and told him that the Military is with him all the way. Any difficulty and we will assume control but, when the looting starts, the shooting starts. Thank you!" Trump's tweet read.
When Twitter hid it, Trump message can only be read after clicking on the notice.
Twitter's decision to step in, came at a time of racially charged civil unrest in cities across the U.S..
Especially in Minneapolis, where peaceful rallies turned violent with arson that lit up the night sky, looting and vandalism, as protesters vented their rage over the death of George Floyd, a African-American man.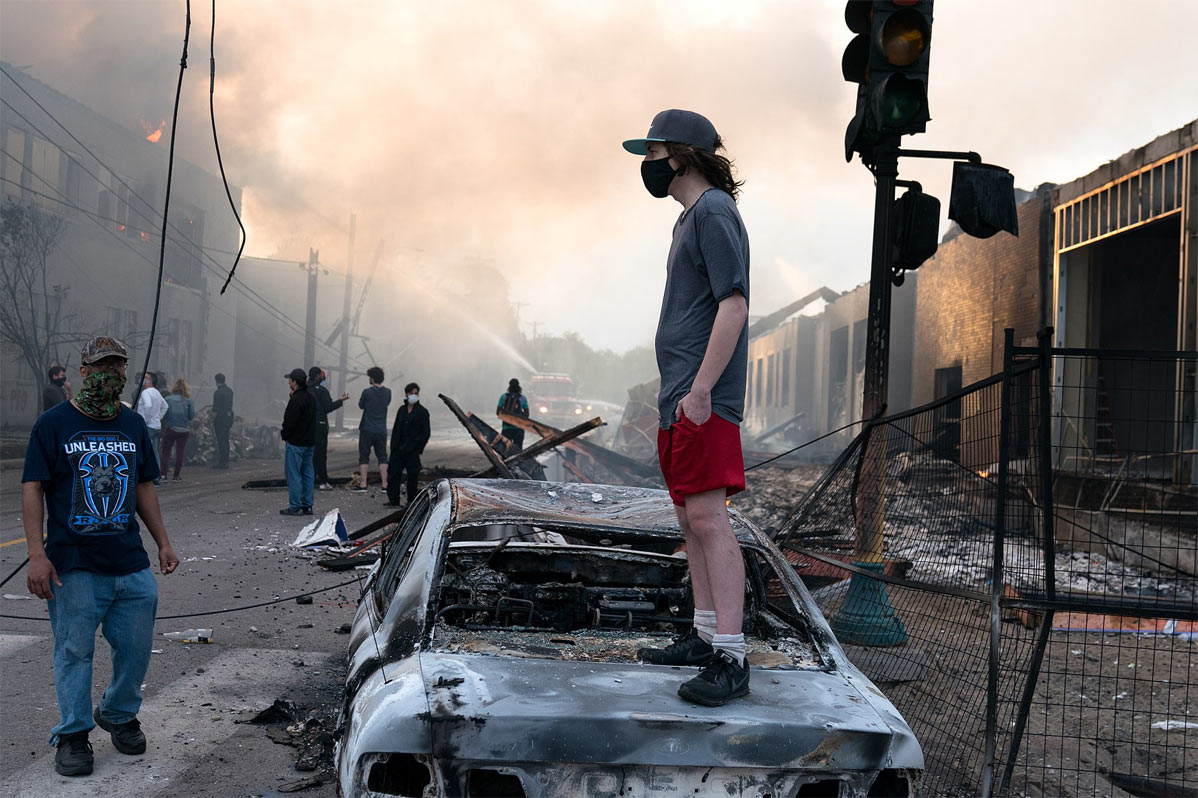 A man stands on a burned out car. Fires seen burning behind him at the Lake St area of Minneapolis, Minnesota. (Credit: Lorie Shaull)
Floyd was accidentally killed when he was running out of air, as Derek Chauvin, a white police officer, knelt on the right side of Floyd's neck for 8 minutes and 46 seconds, when he was handcuffed and had his face down on the road.
According to a video recording by a witness, the arrested Floyd repeating: "Please", "I can't breathe", and "Don't kill me".
The video was widely circulated on social media platforms and broadcast by the media.
It was at 2 minutes and 53 seconds of which occurred after Floyd became unresponsive, according to the criminal complaint filed against Chauvin.
With the FBI investigating, Chauvin, Thomas K. Lane, Tou Thao, and J. Alexander Kueng who were involved in Floyd's death have been fired participated in Floyd's arrest
The death of George Floyd occurred in Minneapolis, Minnesota, on May 25, 2020.
On May 29, Chauvin was arrested. He was then charged with third-degree murder and second-degree manslaughter for Floyd's death.
So ridiculous to see Twitter trying to make the case that Mail-In Ballots are not subject to FRAUD. How stupid, there are examples, & cases, all over the place. Our election process will become badly tainted & a laughingstock all over the World. Tell that to your hater @yoyoel

— Donald J. Trump (@realDonaldTrump) May 28, 2020
In a thread, Twitter said it had taken its action over the Trump tweet "in the interest of preventing others from being inspired to commit violent acts".
With Twitter hiding "violent" tweet, people can still "be able to retweet with comment, but will not be able to like, reply or retweet it."
Twitter's action came just hours after Trump said he would introduce legislation that may scrap or weaken a law that has protected internet companies, including Twitter.
Already, tech companies are discussing whether to fight back with a lawsuit challenging the executive order. And one of the ways for Twitter to fight back, is by hiding what it thinks innapropriate.
It has been for quite some times that Trump's opponents have pressured Twitter to take action against Trump's frequent, and frequently criticized, use of the platform.
Of the 18,000-plus false or misleading claims Trump has made as the President of the United States, it was said that more than 3,300 of them were made in tweets, that according to The Washington Post.
Fact check: there is someone ultimately accountable for our actions as a company, and that's me. Please leave our employees out of this. We'll continue to point out incorrect or disputed information about elections globally. And we will admit to and own any mistakes we make.

— jack (@jack) May 28, 2020
Read: Admitting Of Its Toxic Environment, Twitter Raises The White Flag And Asks For Help