Yahoo! was one of the internet pioneers. It was the successful tech company when many parts of the world were still not connected to the internet.
Fast forward, Yahoo! is like a gem of the past. And when considering it having experienced multiple data breaches, that already-dull 'gem' has its reputation cracked and stained.
And here, Yahoo! wants to make up for its mistakes.
To those Yahoo! users who had registered accounts between January 1, 2012 and December 31, 2016, and are residents of the United States or Israel, they can be eligible for the "Settlement Class Member." Those users can be entitled for compensation, as the tech giant looks to settle a class-action lawsuit against it.
A website (https://www.yahoodatabreachsettlement.com) has been set up for those who wish to enter a claim and see if they are part of the settlement.
If entitled, those Yahoo! users can obtain their part of the total $117.5 million settlement fund.
Below is a list of compensation Yahoo! is offering:
File a claim for credit monitoring services or alternative compensation. Deadline: July 20, 2020.
File a claim for out-of-pocket costs and/or loss of time. Deadline: July 20, 2020.
File a claim for paid user costs. Deadline: July 20, 2020.
File a claim for small business costs. Deadline: July 20, 2020.
Yahoo! users who are eligible, can also:
Object or comment on the settlement. Deadline: March 6, 2020.
Go to the "final fairness hearing". Deadline: April 2, 2020.
Exclude from the settlement. Deadline: March 6, 2020.
Or simply do nothing. No deadline.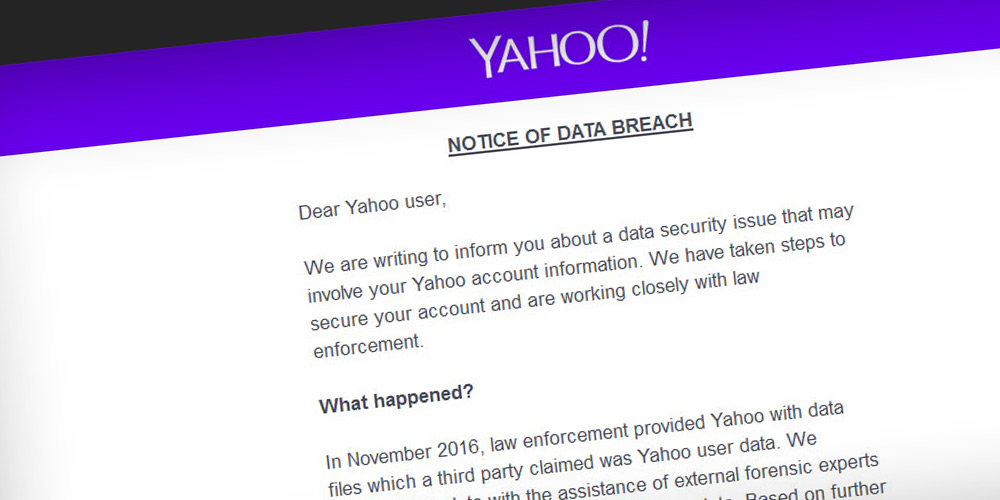 A screenshot of one of Yahoo!'s notices regarding its experienced hack
To benefit any of the above, users must see whether they are eligible for the settlement in the first place.
Here, they are required to have had a qualifying Yahoo! account between the specified dates, and must be associated with Yahoo! Fantasy Sports, Yahoo! Finance, Tumblr and Flickr, as well as Yahoo! email addresses.
If they are indeed eligible, they can select the compensation that fits them.
For example, users can get a minimum of two years of Credit Monitoring Services to protect Settlement Class Members from future harm. Or, they can get cash payments, if they can verify that they already have credit monitoring or identity protection, or experienced out-of-pocket losses.
For the latter, users can submit a claim for $100 instead of the credit monitoring service, though the website added "[p]ayment for such a claim may be less than $100.00 or more (up to $358.80) depending on how many Settlement Class Members participate in the Settlement."
There is also an option to get up to $25,000 in reimbursement costs if users have suffered expenses associated with the breach.
"As to documented lost time, you can receive payment for up to fifteen hours of time at an hourly rate of $25.00 per hour or unpaid time off work at your actual hourly rate, whichever is greater," the website adds. "If your lost time is not documented, you can receive payment for up to five hours at that same rate."
Yahoo! suffered at least three data breaches, where a total of more than 3 billion accounts were improperly accessed.
To make up for its mistakes, Yahoo! is offering compensations, hoping that the company can settle its case, and if possible, once and for all.