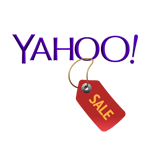 Yahoo! is inside the history of the internet. As one of the internet service giant, Yahoo! is one of the prominent entity to ever survive the ever-growing internet. At its peak in the year 2000, Yahoo! was worth a staggering $255 billion. But as the dot-com bubble bursts, Yahoo! never really recovered.
In a series of missteps, bets and six CEOs during the past nine years, everything Yahoo! is now, including it's cursed Alibaba share, is valued at $34 billion.
What's left is its core business. And it's thinking to sell itself, reportedly to ask for $10 billion.
Founded in 1994, Yahoo! was born when the internet standards are now considered ancient. At that time, the internet is still relatively young and the internet's advertisement business was small. Yahoo!'s presence was a solution to monetization by many. Yahoo! grew up to be one of the most powerful companies to ever exist on the web with a indisputable reputation and influence. But as the internet matures, young players grew up in a sudden: Google and Facebook are two examples that surpassed Yahoo! with their sophisticated algorithms that target ads to the most interested users.
With them around, Yahoo! is somehow left in the dust; struggling to keep up with the growing internet.
Yahoo! and its properties (Finance, News, Search, Mail, Tumblr and Flickr) are still the third-most trafficked on the internet. With billions of monthly unique visitors which is still significantly big for any web companies out there, Yahoo! is just unable to make its investors happy.
Yahoo! is now "old". This is like comparing an older generations to beat youths that have more fire in their spirit. Yahoo! is big and there is no denying it, but it is now slow, and it's slowing as it age. This however is not seen in Google of Facebook which become more powerful as they grow.
CEO Marissa Mayer is a talented computer scientists, one of Google's former and earliest employees. She played a role that made Google the Google we see today. But Yahoo! isn't Google. Even if she is at the peak in command at the company, after four years on the throne, Mayer can't solve Yahoo!'s ever-growing sufferings.
Yahoo! is addressing series of losses, cuts and layoffs. During it's midlife crisis, Yahoo!'s made some changes for restructuring. But with with lesser ability to convert those visitors to revenue, the company is not yet seeing what it wants.
Mayer and her team have spent a lot of time and efforts, and Yahoo!'s money to make company better. With some high-profile acquisitions, such as the acquisitions of Tumblr, still the wheel isn't moving up. Yahoo! is still facing the pit.
Yahoo! is expected to get more than $2.6 billion in ads revenue, but that number is only 1.5 percent of the online market. Google and Facebook which are two younger competitors, are controlling 40 percent.
With hundreds of million of users, Yahoo! is happy. But when asked about these users to what made them stay at Yahoo!, most are certain that what made them stick around is because they've been there for a long time.
To those younger generations who grew up from Google and Facebook, they aren't seeing Yahoo! as older generations do. Some may never even heard of "Yahoo!" before.
What Yahoo! can do, others can do (better/faster with a spirit). In short, Yahoo! is not anymore people's favorite.
Rejuvenation Or The End Of An Era?
The once-great internet pioneer is now sitting on a depleting cash. Marissa Mayer has struggled and so as everyone else in the company. But impatient investors are looking for ways to cash out, fast.
There has been debates over which companies are going to bid for Yahoo!. The sale is not expected to include Yahoo!'s most valuable assets, namely its share in Alibaba and Yahoo! Japan.
Potential buyers of Yahoo!'s other properties include Verizon, AT&T and Comcast. These companies have a way to reach people over the internet. Daily Mail, SoftBank, TIME, Google and Microsoft are also thinking about the same. Private equity firms General Atlantic, TPG and KKR are also widely reported to be considering buying Yahoo!.
Having offers from upwards of 40 suitors. Many of the bidders aren't yet singing the 14-page nondisclosure agreement required to view Yahoo!'s sale book.
On Yahoo!'s side, J.P. Morgan Chase is leading the process for Yahoo!, while Goldman Sachs GS and Evercore are working to defend the company against a possible raid by activist investors.
So here, the news is still skeptical.
If Yahoo! is up for sale, whoever buys must have a high interest in Yahoo!'s precious data called "user data". Users' information, their habit and anything attached to them are expensive. The data will help anyone who eventually owns Yahoo!, to further understand the behavior of users and their demographics.
Yahoo! is great on its own, but suffers from lack of innovations and aggressive approach the competitors are doing. With new owner(s) ,will Yahoo! thrives once again? Or will this be end of an era in the internet history? Time will tell. As anything in this world we've seen: what goes up, will come down. And what comes down, may again go up, or never will.