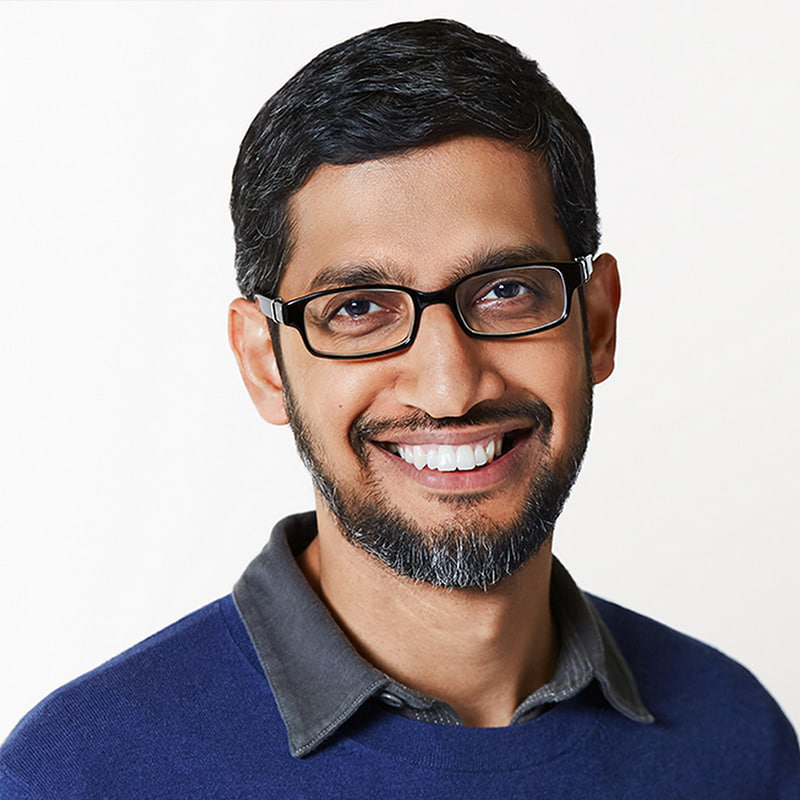 "One of the areas we wanted to focus on was to empower users more."

- Sundar Pichai
One of the things that made the world interesting is that how it changes and only a small number of people could see it coming. The internet was young and delicate when it was first born, but by the time it started maturing, the network is already occupied with big and powerful beings trying to provide more flexibility and better usage for everyone involved.
When scaling up is the thing to do, there is nothing better than becoming the best. And this is what Sundar Pichai is trying to show.
Pichai is an image of a passionate nerd without any of the sociopathic stand that most executives in Silicon Valley are representing. Shy since childhood and quietly spoken, Pichai's career meteoric rise to the top thanks to his skills and knowledge. As many companies change throughout their lives, so did Pichai when he became one of the most eligible executive by being pronounced the CEO of Google.
Early Life
Pichai Sundararajan (Tamil: பிச்சை சுந்தரராஜன்), was born in Madras (Chennai), India, on July 12th, 1972 to Lakshmi and Regunatha Pichai. He spent his young life living with his family in a modest two-room apartment, where he sleeps in the living room with his younger brother.
His parents always made sure that Pichai and his brother had the best education the family could afford. His father who worked as a senior electrical engineer for General Electric Company taught everyone to live modestly. Despite the family is in a middle class, it wasn't well off. His father even had to save three years to buy the family a new blue Lambretta scooter.
His father frequently talk to the young Pinchai about the challenges of work, and he believes that this has led his son's interest in technology. "Even at a young age, he was curious about my work. I think it really attracted to him to technology," recalled Regunatha.
Pichai is able to recall and remember every number he's ever dialed, and that was first discovered through a phone he got when he was 12. This was also the moment when he got his first computer. His photographic memory for number wasn't impressing to him at that time, saying that he didn't see how it was useful.
He was a brilliant student who devoted his times to study and rarely want to play with other children his age. He excelled in science but wasn't the brightest student because geography and history were pulling his grades down. He was never the top of the class as he always ended around the fourth.
When Pichai won a scholarship to Stanford, his father was so proud of him. He saw a bright future for his son and withdrew £1,000 from the family's savings. This was more money than his annual salary, and that he did just to make sure Pichai fly to the U.S..
"My dad and mom did what a lot of parents did at the time," said Pichai.
His Professors at IIT KGP recommended him to pursue Ph.D at Stanford University. Pichai declined to pursue MS from Stanford University in Material Sciences and Engineering and MBA from the Wharton School of the University of Pennsylvania.
Prior to joining Google, Pichai worked in engineering and product management at Applied Materials, and later as management consulting at McKinsey & Company.
Joining Google
Sundar Pichai joined Google in 2004. At that time, it was April 1st, the day Google first launched Gmail. When he was called for an interview and accepted, Pichai first thought it was a joke.
He was appointed to led product management and innovation efforts for a suite of Google's client software products. His job was to oversee the many products Google has in its offerings. In 2013, Pichai took over Android founder Andy Rubin's portfolio to run mobile platforms. He was entrusted by Google to get billions of users to use Android.
Pichai was first announced to be the next CEO of Google on August 10th, 2015 after previously being appointed Product Chief on October 24, 2014. He stepped into the new position upon the completion of the formation of Alphabet Inc., the holding company for the Google company family.
With this reorganization of Google/Alphabet, Pichai controls numerous Google's products and services that include: Search, ads, Maps, Play Store, YouTube, and Android.
"This new structure will allow us to keep tremendous focus on the extraordinary opportunities we have inside of Google," wrote Google's co-founder and CEO Larry Page in a blog post. "A key part of this is Sundar Pichai."
Although he was just appointed CEO of Google in 2015, Pichai has been responsible for day-to-day operations at Google since 2014. During his time, he has accomplished many things. Among them: he has been credited when he tried to convince Jan Koum to not sell WhatsApp to Facebook, despite he failed to prevent that from happening. He was responsible for Android One which is Android's solution for affordable smartphones. Pichai was also the one who helped Page in convincing Nest's Tony Fadell to merge his company with Google.
Pichai was also involved with Google Drive, Gmail and Google Maps. He was also leading product management for Google Chrome and Chrome OS.
His skills attracted many companies, asking him to work for them. Some of those companies were Microsoft and Twitter.
Pichai was on the Board of Advisors for Ruba Inc. and was a Director of Jive Software Inc..
In July 2017, Pichai joined the board of directors of Google's parent company, Alphabet.
Personal Life
Sundar Pichai is a character with a low profile. He's able to keep this attitude even with his numerous achievement. People outside the tech industry had barely heard of Sundar Pichai until he was suddenly announced as Google's CEO replacing Larry Page. Starting his life as a boy in the southern Indian town, he successfully made himself a hero from rags-to-riches by becoming one of the most powerful men on the internet.
His university friends even noted that Pichai's rise to Google CEO was possibly easier than "expressing feelings" to his love one.
Sundar Pichai is married to Anjali Haryani, a woman he dated when he was studying at Indian Institute of Technology Kharagpur before joining him in the U.S.. The couple has two children. Living a modest life, he was so devoted to academics that many people during his young years cannot remember him.
One of his former teacher noted that it was only the naughty ones who tended to stand out. And Pichai was nothing like them.
He's an image of a passionate nerd, and for that he has opinions for about anything. He tends to avoid political and drama things at work. As a thinker, it's not unusual for him to leave a meeting to wander away for a while, and later to return with a solution he thinks best to solve whatever the problem was. As one of the leaders in Google, he is one of the most popular bosses.
PIchai is known for his soft-spoken, personalized and diplomatic nature. His way of simplicity is reflected throughout his work. This has made other people to trust him when seeing his character. Pichai was Page's right-hand man for some time. He was frequently trusted by Page to accompany him during business travels.
Before becoming CEO of Google, he was reporting to Marissa Mayer, before she went to Yahoo! becoming its CEO.
Pichai was once rumored to be in active negotiations with Microsoft to become its third CEO. Google negotiated to retain Pichai for $50 million a year in stocks. He is reported to have a net worth of $150 million.
What Pichai has achieved surprised many people. But some of close relatives and friends of Pichai, including his parents, uncles, teachers and professors, were certain that Pichai will have a bright future. "I had seen this coming," said one of this professors.
Being on top didn't make Pichai forgot what he was and what his parents sacrificed to make him what he is. For that, he bought them a luxurious flat in Chennai. However, his parents said to prefer the simple life they were familiar with. They can be found for six months of the year when they're not in the U.S., in their modest two-room apartment where they once raised the future CEO of Google.
Pichai that was a Captain of his highschool cricket team, is a soccer and chess lover.