GameStop is a video gaming company from the U.S..
The company that is based in Texas, is known to sell consumer electronics, and as a gaming merchandise retailer. It is considered a relic of the pre-internet era, where people had to go to the shops to get the the games they want to play, instead of downloading them directly to their console or pre-order them for mail delivery.
Operating thousands of retail shops under different brand names throughout the U.S., Canada, Australia, New Zealand and Europe, the company unexpectedly experienced a huge surge in share price.
From between $3 to $4 per share, GameStop's shares surged to more than $75 per share in the stock market, and beyond.
As a result of this, GameStop isn't just a store that sells video games, as it also becomes one of the biggest bets Wall Street traders have made in 2020 and 2021.
With its stock price skyrocketed for no apparent reason, the moment could be traced back to a tug-of-war battle between Redditors and some short sellers.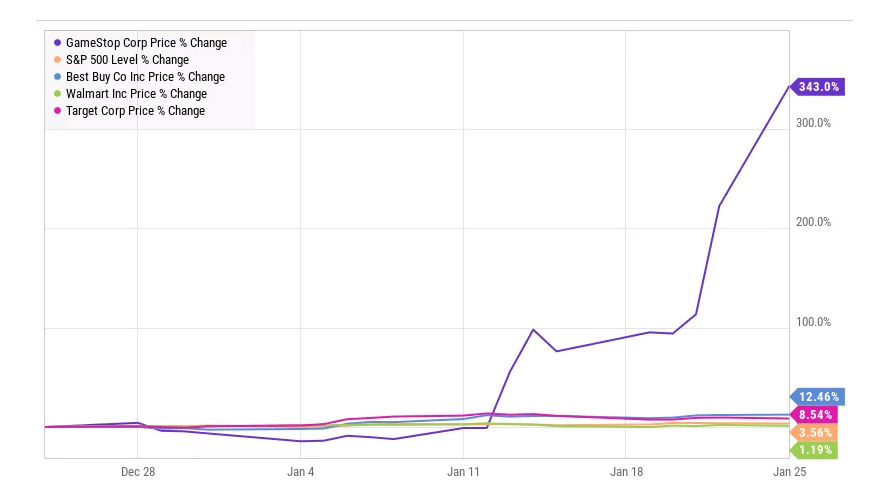 Surge in GameStop's stock price sees new height. (Credit: Investopedia).
As a business, GameStop that primarily sells video games and gaming consoles, has been on a slow decline for quite some time.
Because of the internet and the easiness of access to content and games, gamers who want to download game titles to their modern consoles aren't anymore required to pay a visit to the local shops. And because GameStop's shops are mall-based businesses, during this 'COVID-19' coronavirus pandemic, things aren't looking good for GameStop.
According to a Bloomberg report, the company planned to close more than 450 of its retail locations, and move its business online towards the end of 2021.
In other words, GameStop continued living on borrowed time.
But still, GameStop managed to sustain its business by revising its approach, as well as by selling used-games.
And because GameStop is along the few approved sellers of gaming consoles, the launch of Sony PlayStation 5 and Microsoft Xbox Series X/S consoles have indeed helped GameStop.
But the seeming inevitability of GameStop's demise made it a very obvious target for short sellers who want to earn some quick money.
A person wearing a face mask leaves GameStop after buying a new Sony PlayStation 5 gaming console on Black Friday, 2020. (Credit: Getty Images).
All of this began when short selling company Citron was scheduled to explain its stance on GameStop on a live stream.
The company however, had to cancel the event because of too many hacking attempts on its Twitter account.
At the same time, influential r/WallStreetBets users on Reddit realized that a staggering amount of GameStop's shares were being shorted. With so many people trying to make quick money by shorting the company, the influencers through that they could convince enough Redditors to buy a bunch of GameStop stocks, and increasing its value.
And this was what exactly happened.
The small number of individuals decided that it could be fun and profitable to pretend that GameStop had value. And this drove others to be included in the fun and make profit.
Many in the r/WallStreetBets community, which has more than 2 million subscribers, suddenly started buying GameStop shares for cheap prices in a stock-buying frenzy, forcing Citron to buy its own quota of stocks that it needed to return to its lenders.
This resulted in a tug-of-war between Redditors and short sellers, the bulls and the bears, that drove the GameStop's stock to record-highs. Some profited, with an example of one Reddit user, who claimed to have made nearly $300,000 in the scheme.
When the price dropped by nearly half, only to rise back up, Tesla CEO Elon Musk tweeted about it, and the price again jumped.
After the sudden surge in stock price, Citron's managing partner Andrew Left said that after everything settles, the electronics company's shares shall return to the ordinary price mark.