Kimberly Noel Kardashian, is best known as an American media personality, socialite, model, and businesswoman.
She got her first media attention, when she became a friend and the stylist of socialite Paris Hilton. Later, she also appeared as a guest on various episodes of Hilton's reality television series The Simple Life between 2003 and 2006. Beyond that, her presence in showbiz remained relatively quiet.
And that was until her famous sex tape with singer-actor Ray J was released in 2007.
Kardashian who just entered the business world with her two sisters, filed a lawsuit against Vivid Entertainment, who distributed the film as Kim Kardashian, Superstar.
But soon, she dropped the suit, and settled the case for a reported $5 million, allowing Vivid Entertainment to own the copyright of the tape, allowing the release of the footage to its liking.
It was only after that, that the world's eyes were on Kim. And this was when her stardom started to happen.
Media outlets criticized her and the Kardashian family for using the famed sex tape as a publicity stunt to promote their reality television series Keeping Up with the Kardashians.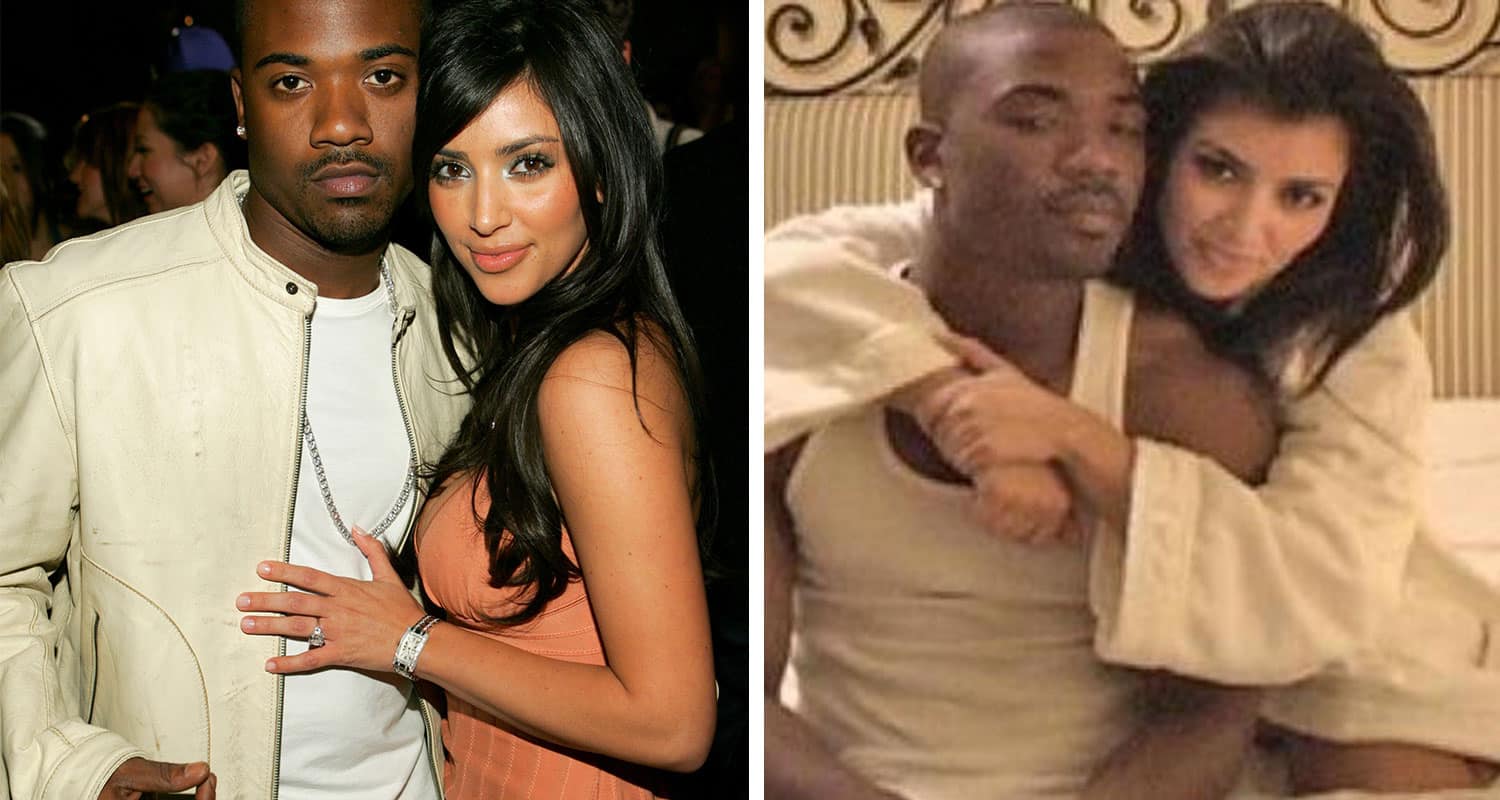 Kim Kardashian and Ray J, and a screenshot of their sex tape.
Kim Kardashian, Superstar (also known simply as Kim K Superstar), features Kim and Ray J, in a vacation in Cabo San Lucas, Mexico.
In the film that was taken with a handheld camcorder in 2002, they are shown in a luxury Esperanza resort for Kim's 23rd birthday, and famously, depicting themselves "goofing around" and have sexual intercourse. It was later reported that Kim admitted that she was using the drug ecstasy (MDMA) while the tape was recorded.
Vivid Entertainment said that it purchased the tape from a "third party" for $1 million.
When it was released, Kim sued Vivid Entertainment for invasion of privacy and for profiting from and ownership of the tape.
However, it was allegedly said that it was Kim and her own mother, Kris Jenner, who deliberately leaked the sex tape to Vivid Entertainment. According to the allegation, it was a mutual friend of both Kim and Paris Hilton who advised Kim that if she wanted fame, "leaking" a sex tape would be the best way to go.
It was said that it was Kris who engineered the deal behind the scenes with Vivid Entertainment, and was responsible for the tape seeing the light of day".
In other words, reports said that it was an inside job.
Ray J stressed this again, saying that he "sat in the shadows" for many years "allowing the Kardashians to use my name, to abuse my name, make billions of dollars over a decade-and-a-half talking about a topic I've never really spoken about."
"I've never leaked anything. I have never leaked a sex tape in my life. It has never been a leak. It's always been a deal and a partnership between Kris Jenner and Kim and me and we've always been partners since the beginning of this thing."
The Kardashian's denied all of assertions and the allegations.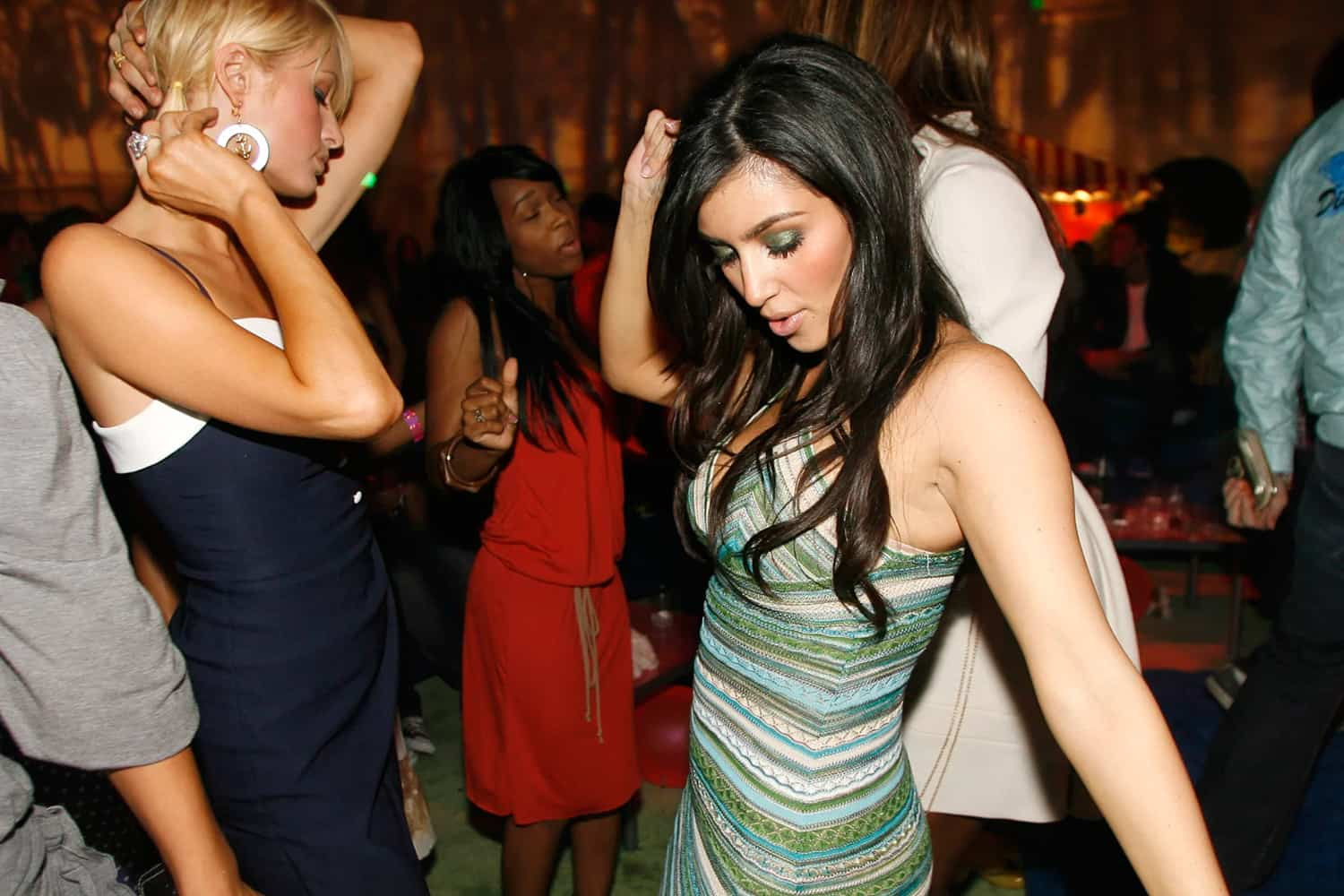 Paris Hilton (left) and Kim Kardashian (right) dancing at the T-Mobile Sidekick 3 Launch in June 2006. (Credit: Getty)
Kim and Ray J's sex tape was leaked around the time when many famous women in the U.S. entertainment industry, were making headlines. From Britney Spears who shaved her head, to Lindsay Lohan, Nicole Richie and Paris Hilton who all got arrested.
Other of their peers went to rehab.
And this sex tape, just made things a lot crazier. And people loved it.
While Kim's fame can be forever tied with the sex tape, in general, the idea that the Kardashian family has plotted the invasions of their own privacy has indeed earned KIm and her family the spotlight.
Unlike Paris Hilton who also had a sex tape in 2004, but didn't consent for its release, Kim didn't care much.
Paris' fame was way beyond Kim. But after Kim's sex tape, Kim who embraced the fame that came with it rather than running away from it, managed to hold into the situation, and turn the tide into fortune.
Thanks to her friendship with Hilton, Kim was already getting noticed. And the the Kim Kardashian, Superstar instantly gave enough momentum to proper her fame to a new level of notoriety, even when it wasn't in the way she wanted in the first place.
Regardless, despite being able to build a billion-dollar brand on top of that fame, Kim worked hard to get people to see her beyond her leaked sex tape.
"If you're beautiful, rich, fabulous...people just want to try and find something bad, which is sad," Kim once said.
"I have so much going on in my life. I never wanted anyone to think of me as Kim Kardashian, sex tape star," she said. "I still have to live with the embarrassment and fear that one day my grandkids are going to see it."
In terms of making use of situation, Kim's reality show, her business and her brand name, have all become the source of her fortune. In this case, Kim succeeded, when Paris failed.