Google has launched Chrome 74 for Windows, Mac, Linux, Android and iOS, bringing the web browser with improvements and more features.
First of all, the version includes motion reduction. According to Chrome, many users enjoy animations on websites. But some users "dislike them because they feel distracted or slowed down from them.
In the worst case, users may even suffer from motion sickness as if it were a real life experience, so for these users reducing animations is a medical necessity.
In Chrome 74, the update is meant to limit motion sickness when browsing websites with parallax, or when doing zooming and seeing other motion effects.
The next is Chrome 74's highly-anticipated Dark Mode and Incognito features.
Filesystem API in Incognito can be found under Chrome 74's experimental features
Although the features have not rolled out completely to all users, the Incognito detection blocking can be used right away, but users need to enable it first.
To do this, they need to browse to chrome://flags/ in Chrome 74, to search for 'Filesystem API in Incognito'.
Doing this will close the loophole that allowed websites to identify whether a user is browsing in disguise or not. With Incognito detection blocking, users' private browsing will definitely be a private browsing.
And as for the Dark Mode which changes Chrome's UI, menus, and Downloads window to a more comfortable interface to use at night, the feature was first introduced on macOS with Chrome 73.
In Chrome 74, Google includes support for Windows 10.
This feature isn't fully enabled just yet, but users can force Dark Mode to turn by adding some text to the shortcut path. To do this, users need to right-click the Chrome shortcut, to then apply one space and "--force-dark-mode" (without quotes) to the end of the 'Target'.
Apply the changes and relaunch Chrome using the shortcut.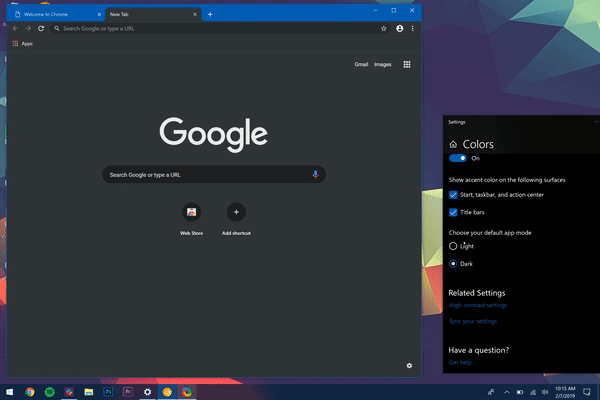 Switching to Dark Mode in Chrome 74 (image: 9to5Google)
Doing this will enable Chrome's Dark Mode whenever the users launch Chrome using the said shortcut.
And since this Dark Mode theme is identical to Incognito, the latter gets a text badge next to the profile icon to distinguish itself. The transition between themes is seamless and immediately updates.
Another thing Chrome 74 introduce, include a change in policy to block websites from opening new pages as users try to close them.
Essentially, this prevents Chrome 74's pages that are being closed (or replaced) from opening a popup. Specifically, "pages may not use the window.open() API to open a new page during its unload." The browser's popup blocker already prevents this, but the behavior in this version of Chrome prohibits it regardless of whether the built-in protection is enabled.
This release also deprecates "drive-by downloads in sandboxed iframes."
What this means, Chrome 74 will "prevent downloads in sandboxed iframes that lack a user gesture." Rather than having downloads to start automatically after landing on a new page, or have it initiate "non-spontaneously after the click," users will have to manually click on them.
There's also enhanced functionality for PiP (picture-in-picture) video and the usual security and bug updates.
On the non-security related update, starting Chrome 74 on Android, the 'Data Saver' is replaced with a n updated data-saving mechanism that Google calls 'Lite mode.'