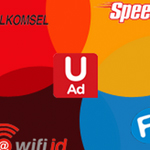 Indonesian telecommunication giant Telkom, announces that the company is entering the digital advertising sphere through U-Ad, managed under the Telkom Group.
Google's and Facebook's domination in the digital advertising industry in Indonesia has lured the Indonesian telecommunication giant to participate. As an alternative to the existing two, Telkom is aiming to get a portion of their market share.
The U-Ad service is managed and registered under one of Telkom's subsidiary company, PT Metranet. As announced by the company's CEO Widi Nugroho, the presence of U-Ad started when there is no ads provider that is yet strong enough to compete within the Indonesian digital advertising industry.
U-Ad is serving as a platform to bridge publishers, advertisers and agencies in conducting their advertising activities effectively and efficiently.
The advertisement industry, especially digital and online, is quite promising in Indonesia. Nugroho stated that there are 50 percent of digital ads transaction in Indonesia done through Google's platform, while the second largest portion goes to Facebook.
The two has yet to have a competitor strong enough in Indonesia. As one of the largest telecommunication company in Indonesia, Telkom has the most control of the digital transaction in the country, and for that, it's certain that it can compete with the likes of foreign competitors inside its territory.
The pie for digital advertising in Indonesia is projected to be Rp 12 trillion in 2015. And will significantly rise to about Rp 35 trillion in 2019.
"With U Ad, we can get more than small transactions," Nugroho said in U-Ad launching in Jakarta.
With such projection, Nugroho assumed that the platform vendors will enjoy 3-5 percent of the valuation, while the rest goes to agents and publishers.
Digital advertising in Indonesia is predicted to rise significantly in the upcoming years. From data collected by eMarketer that was published in 2014, advertising industry through mobile internet was predicted to rise more than 100 percent each year to 2018.
Telkom's U-Ad by Metranet has the advantage that can make it able to compete with Google and Facebook, two largest ads providers popular in Indonesia. U-Ad's advantage is its profiling feature for each user that accesses the internet using all of Telkom's services, including mobile, regular networks and landlines, as well as products such as Indi Home and Telkomsel.
As one of the example, prior to the U-Ad launch, Telkom has gathered massive information about users that use Telkom Speedy.
The data enables U-Ad to absorb different insight so the posted ads can be more relevant to the targeted users. Nugroho added that accuracy is U-Ad's main point as the platform will post the ads in places that match the targeted users.
"Our target in 2019 is that we will become that largest with 30 percent market share for the platform," said Nugroho in his interview with Kompas.