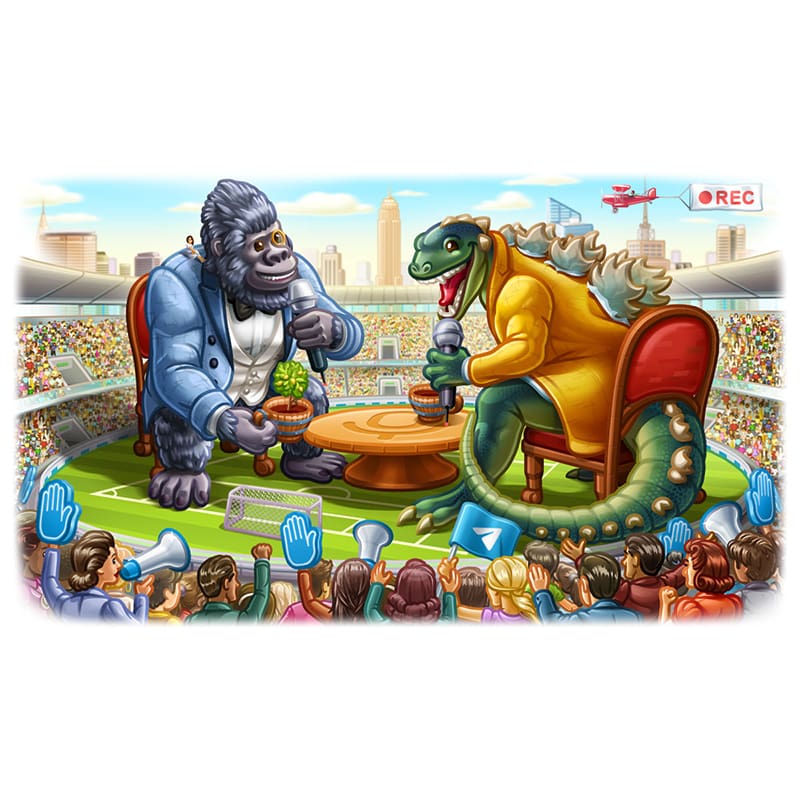 On the web and mobile, the term "copycats" is as common as "copy-paste." And Telegram is delivering that with a little bit of twist.
Facebook and its properties have gotten away with the copying from competitors thing. Fast forward, stories aren't anymore the hype. This time, is audio.
Knowing that Clubhouse is dominating in this category, Telegram, the privacy-first messaging app introduces its own take of voice-chat it calls the 'Voice Chats 2.0.'
In one major update to its app, Telegram starts allowing users to do unlimited Voice Chats.
What's more, it also removed the limit on the number of participants.
According to Telegram on its blog post, this adds "a new dimension of live talk to Telegram groups."
"This update also brings recordable voice chats, rich lists of participants, raise hand mechanics, invite links for speakers and listeners, voice chat titles, and a way for public figures to join voice chats as their channels."
Breaking down to the details, the update allows admins of channels and public groups to host voice chats for millions of live listeners.
"No matter how popular your talk gets, new people will be able to tune in. It's like public radio reinvented for the 21st century," Telegram said.
To do this, admins just need to start a voice chat by opening the profile of any group or channel where they're an admin, tap the triple-dotted menu, and select 'Start Voice Chat.'
Second, is the ability to record chats.
"While some conversations are meant to be temporary, others are worth preserving and passing on. Admins can now record audio from voice chats to save talks and publish them for followers who missed the live event," explained Telegram.
Chats that are being recorded, have the red light appearing next to their title.
Once users have finished recording, Telegram will make the audio file available in their Saved Messages.
And making a lot more like Clubhouse, Telegram introduces the ability for members inside a group chat to "raise" their hands.
"In chats where participants are muted, listeners can tap to raise their hand and alert the admins that they want to speak. Just like calling in to a talk show," explained Telegram.
"Admins of public groups and channels can also create invite links that open the voice chat right away. Separate links can be made for speakers and listeners. This way you won't need to unmute important guests when they join – and they can use a different link to promote the upcoming chat to their communities," added Telegram.
"Voice chats also have optional titles which help users see the topic of conversation before they join."
The next handy feature, is giving users the option to join a voice chat using their personal account, or appear as one of their channels.
This should be useful for influencers or celebrities, as they can use it to avoid drawing too much attention to their personal account.
With the update more focused on the Voice Chats feature, it's like Telegram in enhancing its existing Voice Chats feature to enable more connections, to more people, in almost any Telegram channel.
Telegram has certainly updated the feature to make it more like it's on steroids.
A bold move, considering that the hype of social media is at this time, on Clubhouse. And Telegram thinks that it can borrow a thing or two from the voice-only social media, and see how thing goes.
Telegram has also added a way for users to resume playback from where they've left off when listening to long voice messages.
Previously, users could only do this for long videos and long audio tracks.
And lastly in this update, Telegram user son Android can choose which action is assigned to swiping left in the chat list: archiving chats, pinning, muting, deleting or marking them as read.
For iOS users, these actions are always available, depending on which way users swipe.
Further reading Clubhouse, The Craze, And 1 Year A Unicorn While Still In Beta