Elon Musk, the billionaire and serial entrepreneur, is still the richest man on Earth.
With a $212 billion in net worth according to Bloomberg, Musk is around $70 billion wealthier than the second richest man. And this time, he is in charge of Twitter.
Just when he was given until the end of October 2022 to complete his $44 billion acquisition of Twitter or face a court battle with the company, Musk is making a grand entrance to Twitter's headquarter.
He even brought a sink, and documented the event on Twitter, saying: "Entering Twitter HQ – let that sink in!"
Musk also updated his Twitter account description to "Chief Twit."
He made his entrance to the company, when Twitter CEO Parag Agrawal and CFO Ned Segal have both left the company's San Francisco headquarters. And not just that, because to 'make way' for Musk, Twitter's head of legal policy, trust, and safety was also fired.
Read: Billionaire Elon Musk Becomes The Single Largest Shareholder Of Twitter
Meeting a lot of cool people at Twitter today!

— Elon Musk (@elonmusk) October 26, 2022
In fact, he's already making himself well at home, literally.
Not only that be brought a sink to the office, but because he's Elon Musk, and he has generated so many fuss about acquiring Twitter, he's quickly surrounded by many people at Twitter's headquarter.
In a tweet by Walter Isaacson, the famous author for biography books, who has plans to write one for Elon Musk, it's seen how easy it was for the billionaire to make himself the alpha of the pack.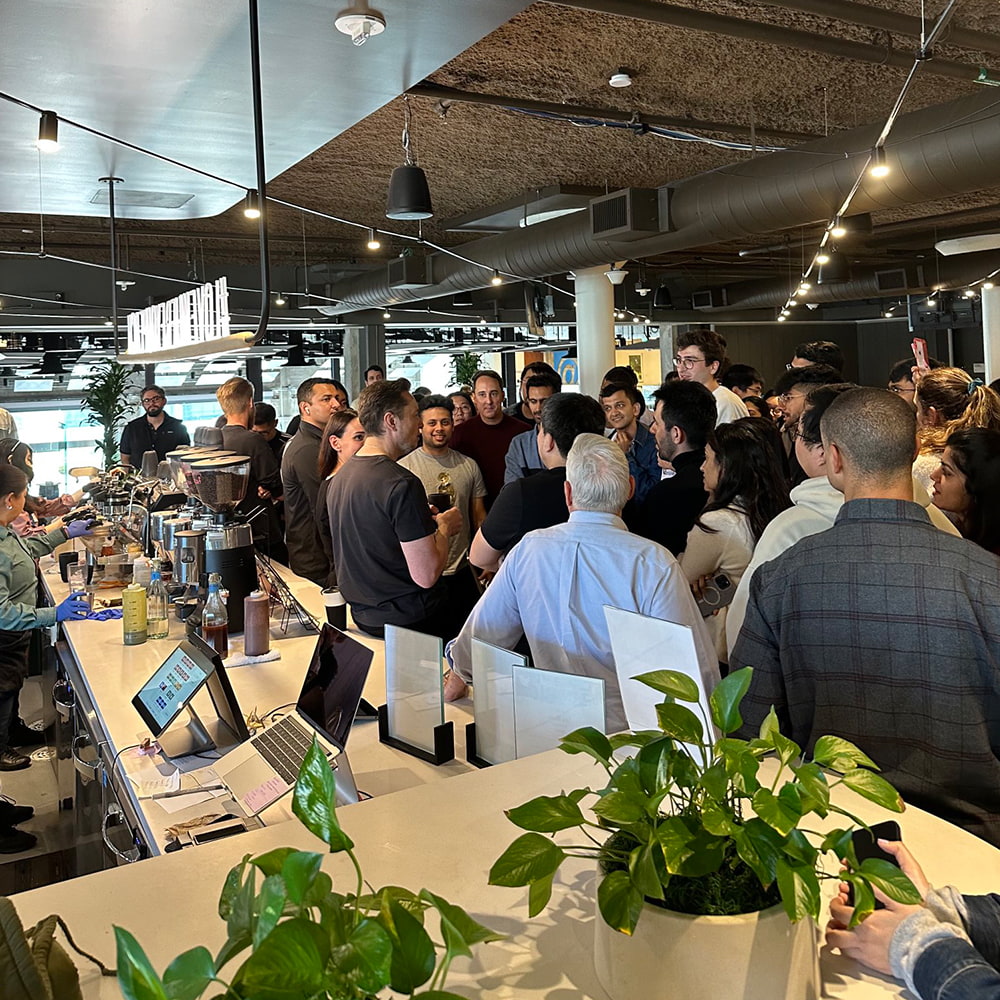 Elon Musk becomes the center of attention at Twitter headquarters' coffee bar. (Walter Isaacson/Twitter)
It all began back in April, when Musk offered to buy Twitter, and Twitter accepted his proposal to take the publicly-traded company private.
But sooner than later, Musk soon began sowing doubt about his intentions to follow through with the agreement.
It's alleged that Twitter failed to adequately disclose the number of spam and bot-powered fake accounts on the service.
Musk used this as an excuse to terminate the deal.
Twitter's shareholders were displeased, and started suing the eccentric engineer, alleging he "refuses to honor his obligations to Twitter and its stockholders because the deal he signed no longer serves his personal interests."
In the following months, both Twitter and Musk traded barbs, and eventually the case was brought to Delaware's Court of Chancery, where the fate of the microblogging platform would be decided.
A beautiful thing about Twitter is how it empowers citizen journalism – people are able to disseminate news without an establishment bias

— Elon Musk (@elonmusk) October 26, 2022
Then, in October, Musk showed a change of heart.
He said that he wanted to pursue the acquisition at the original price of $54.20 a share, if the social messaging service dropped its litigation.
The lawyers representing Twitter were distrustful of Musk's motivations, and said that the Tesla CEO's "proposal is an invitation to further mischief and delay."
A Delaware Chancery Court judge eventually ruled that Musk had until October 28 to cement the Twitter deal. If not, he has to stop flexing and head to trial.
On October 27, Musk wrote a message intended to reassure advertisers that social messaging services wouldn't devolve into "a free-for-all hellscape, where anything can be said with no consequences!"
"The reason I acquired Twitter is because it is important to the future of civilization to have a common digital town square, where a wide range of beliefs can be debated in a healthy manner, without resorting to violence," Musk said in the message. "There is currently great danger that social media will splinter into far-right wing and far left-wing echo chambers that generate more hate and divide our society."
Read: The Rich And Famous Can Feel Lonely, And It 'Is A Natural Human Reaction'
So what the Tesla CEO did here, was making a big splash by documenting himself walking into the tech giant's headquarters ahead of his takeover of the company.
Considered as one of the most followed people on Twitter, many of Musk's fans and other rallied behind the billionaire.
Conservatives in particular, have widely supported the Musk takeover as the billionaire tycoon has signaled his support for free speech principles
Others however, see this as quite the opposite.
Some of those people didn't see the humor in Musk's video.
They see Musk as a tech billionaire with a very strong but eccentric personality, with half-baked views on the world's politics. They considered him as a person that is overpowered by his larger-than-life ego.
And by taking over Twitter, liberals have sounded the alarm that Musk will allow "misinformation" and hateful content to run rampant and perhaps reinstate former U.S. President Trump's Twitter account.
While $44 billion is just a fraction of Musk's total wealth, that sum is significantly huge, even for him.
At first, the Tesla boss hoped to avoid contributing any more than $15 billion of his personal money. Then, he came up with another $12.5 billion he sourced from loans that are backed by his shares in the electric car company. But Musk ultimately abandoned the loan idea and put up more funding in cash by selling around $15.5 billion worth of Tesla shares in two waves.
In the end, the South African-born billionaire sourced another $5 billion from investment groups and other large funds, including from Larry Ellison, the co-founder of software company Oracle, who wrote a $1 billion cheque.
Qatar Holding, which is controlled by Qatar's sovereign wealth fund, the Qatar Investment Authority, also helped Musk, and so did Prince Alwaleed bin Talal of Saudi Arabia, who transferred Musk the nearly 35 million shares he already owned.
In exchange for their investments, Musk made them Twitter shareholders.
And importantly, Musk already owns 9.6% of Twitter in market shares, before he acquired it.
The rest of the money, is backed by bank loans, including from Morgan Stanley, Bank of America, Japanese banks Mitsubishi UFJ Financial Group and Mizuho, Barclays and the French banks Societe Generale and BNP Paribas.