In June and July 2018, a widely publicized cave rescue successfully extricated members of a junior football team trapped in Tham Luang Nang Non cave in Chiang Rai Province, Thailand. Twelve members of the team, aged eleven to sixteen, and their 25-year-old assistant coach entered the cave on 23 June after a football practice.
Shortly afterwards, heavy rains partially flooded the cave, trapping the group inside.
Because rescue was difficult due to the rising water levels and strong currents, the rescue effort expanded into a massive operation amid intense worldwide public interest involving international rescue teams. And here, tech CEO Elon Musk happened to be one of the people wanting to help.
But when a British diver Vem Unswort rejected Musk's offering, by calling his initiative a "PR stunt", Musk lashed out, saying that he would make a video proving that his "mini-sub" would have been successful.
He then added: "Sorry pedo guy, you really did ask for it."
Because Musk's accusation was presented without evidence or context, Unsworth fought back.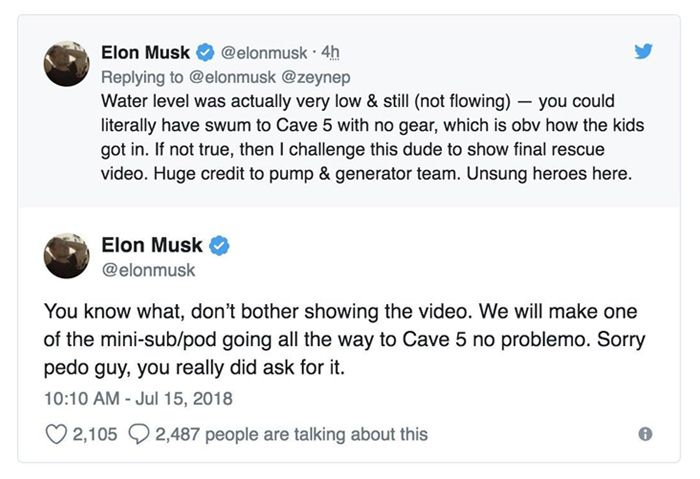 "It just had absolutely no chance of working," Unsworth said in a widely shared interview.
"He had no conception of what the cave passage was like. The submarine, I believe, was about 5ft 6in long, rigid, so it wouldn't have gone round corners or round any obstacles."
And when Musk visited the cave system himself to investigate. Unsworth said that the billionaire "was asked to leave very quickly".
He also told CNN Musk could "stick his submarine where it hurts".
Following Musk's insult, intense criticism followed.
Some Twitter users pointed out how dangerous and irresponsible it was for Musk to make such a serious allegation and to broadcast a potentially libelous insult to his 22 million followers. Some users even reported Musk's comments to Twitter, with one saying that he "shouldn't be allowed to use Twitter to unleash [his] followers on people like this".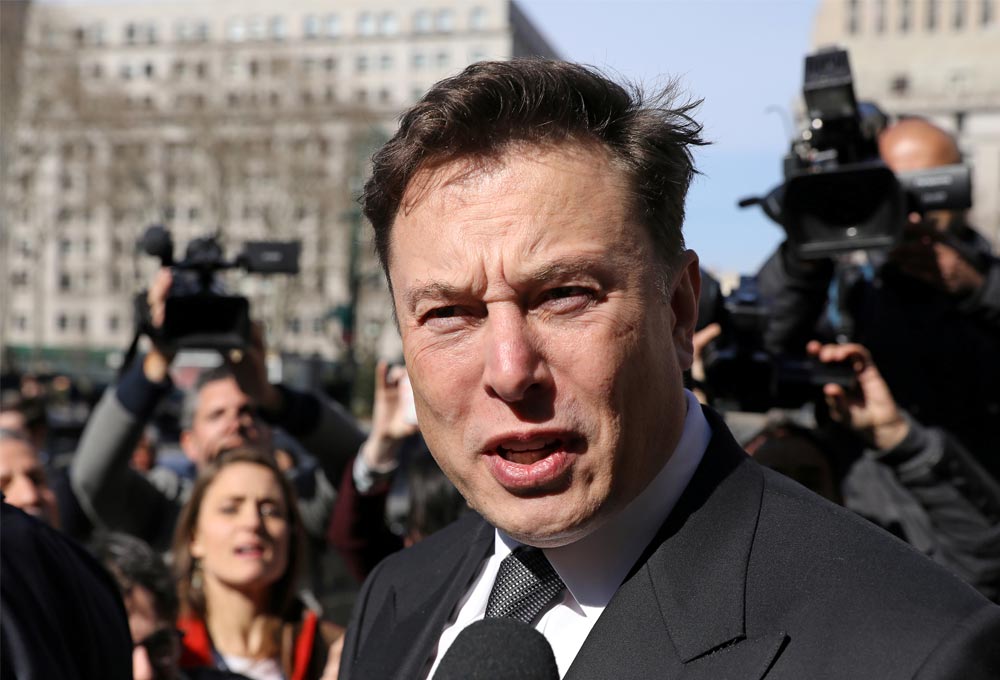 Elon Musk at the federal court on April 4, 2019, in New York City. (Credit: Reuters)
Coming under fire, Musk deleted the "pedo" tweet and its follow-up.
Elon Musk is no stranger to controversies on social media networks.
Previously, Musk has repeatedly come under fire for his behavior on Twitter and for Tesla's PR strategy, under which he aggressively attacked critics and journalists.
Later on, Musk pledged to be less combative on social media, saying that: "I have made the mistaken assumption – and I will attempt to be better at this – of thinking that because somebody is on Twitter and is attacking me that it is open season. That is my mistake. I will correct it."
But this matter didn't stop just here.
In September 16th, 2019, a federal court in California posted a slew of documents in the ongoing defamation lawsuit between the British caver and Musk, revealing that the billionaire hoped to obtain compromising information that suggested Unsworth was a pedophile.
"I did not intend to convey any facts or imply that Mr. Unsworth had engaged in acts of pedophilia," Musk said in a court filing.
"Pedo guy was a common insult used in South Africa when I was growing up. It is synonymous with 'creepy old man' and is used to insult a person's appearance and demeanor, not accuse a person of pedophilia."