Influencers on social media networks work by influencing others. But before they can ever "influence," they need to first have a huge following.
Just like any other things on the internet, proper use of social media networks using unique and attractive content, the use of hashtags, and the ability to engage with the audience, is the main recipe for drawing attention.
When influencers get the spotlight, their followers tend to do some further digging, in order to know more about their idols. And uncovering facts about a person's real life on the web, has long been the common interests of some amateur internet detectives, as well as stalkers.
Things were mostly discrete, until Gabrielle Venora Petito went missing.
It all began when the 22-year-old Instagram influencer also known as Gabby, travelled in a road trip with her 23-year old boyfriend, Brian Laundrie.
That road trip that was documented using the hashtag #VanLife ended when Brian returned home without Gabby.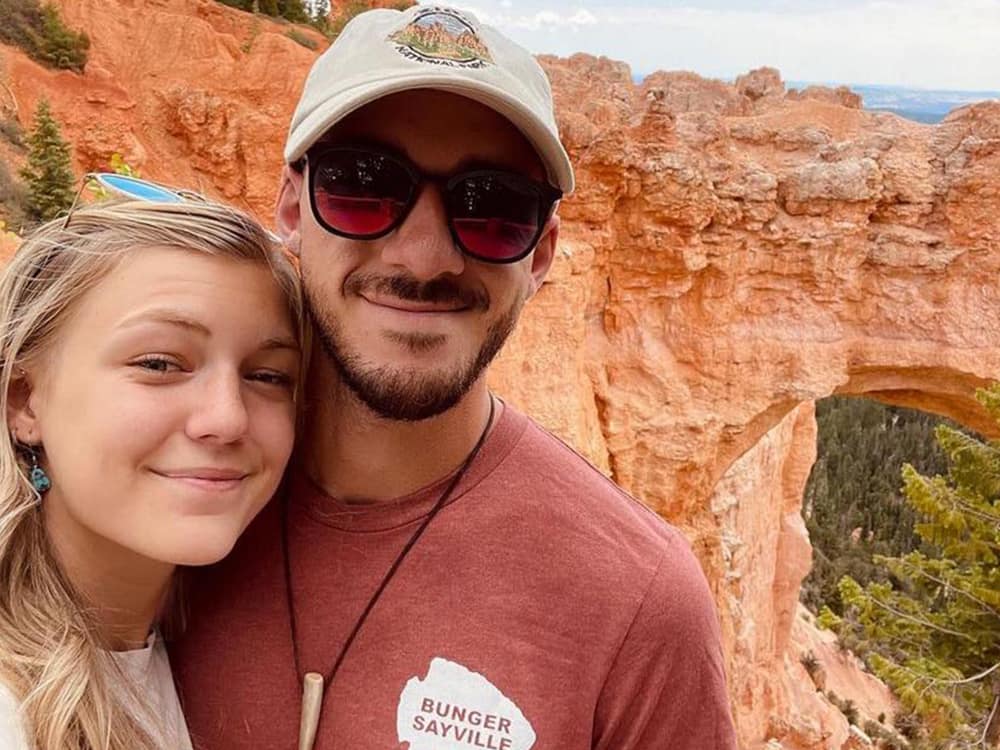 Gabby Petito (left) and Brian Laundrie (right)
What happened after that, people who followed Gabby's activities, quickly scrambled in a massive internet sleuthing, dominating social media, and mesmerizing true crime communities, which led to headline news in the U.S., as well as some parts of the world.
Brian who came home without Gabby, swiftly disappeared, sparking an outrage that made it among the most viral crimes of 2021.
Things started when Gabby, a former pharmacy technician, met Brian at Bayport-Blue Point High School on Long Island.
In love, the couple began traveling around the western U.S. in a small van in June, chronicling their journey on Gabby's Instagram account. It was that popular hashtag #VanLife that united the nomadic communities around the globe, and Gabby made use of it to showcase her and her boyfriend's road trip.
And just like ordinary couple, they looked as though they were enjoying their every moment, travelling under the summer skies, and camping out under the stars.
According to reports, Gabby had saved up her money for months to make the trip possible.
Gabby's mother trusted Gabby to Brian in the weeks-long journey with a white 2012 Ford Transit van that they converted into a camper, not only because Gabby is already an adult, but also because Brian is Gabby's fiancé.
In fact, Gabby was already living with Brian at his parents' house.
When the two went to the trip, nothing was unusual at first. Gabby frequently posted updates, and things were looking well for the young woman.
Then, all of a sudden, Gabby's regular posts stopped. No updates from Gabby.
The communication stopped abruptly that even Gabby's family lost contact with her.
It was then on September 1, that Brian returned to his family's home in North Port, Florida, alone.
Worried without news about Gabby, the Petito's family reported her missing on September 11th.
When the news became public, the attempt to find the missing woman garnered widespread attention.
Internet detectives that went to work, helped the authorities to find Gabby, based on her posts, that spanned from the wilderness of Yellowstone, to the Grand Teton National Park.
As interest in the case grew, and among the many tips that came in to authorities, one was found to be the most crucial: someone spotted Brian driving through Grand Teton National Park on August 27, which was two days after Gabby's mother last spoke to her via Apple's FaceTime.
Footage showed that the van passed the area, providing clue to the authorities to narrow down the search area that would otherwise be significantly larger.
A screenshot of video footage showing Brian Laundrie (left), after the police responded to a 911 call.
Connecting the dots, it was also realized that days before, a 911 caller reported seeing a man, later identified as Brian, slapping a woman repeatedly, chasing her, and also hitting her. The woman was later identified as Gabby.
"We drove by and the gentleman was slapping the girl," the caller said.
Gabby was seen wiping away her tears while telling one officer that they had been fighting.
"I'm sorry," Gabby said. "We've just been fighting this morning. Some personal issues."
For this reason, the scene near the Arches National Park was only considered a "domestic dispute," and the police didn't do anything much about it, other than questioning the couple, to then tell Brian to spend the night at a nearby motel, and Gabby to sleep in the van, separating the two to calm them down.
The issue was considered resolved, as neither Brian or Gabby wanted to press charges.
The footage of the scene was released by the Grand County Sheriff's Office in Moab, Utah.
But when the footage spread across social media, appearing on Instagram Stories and TikTok posts, many concluded that the couple's relationship was toxic, and Gabby's mental health was already deteriorating that then led to her disappearance.
Many also criticized the police who seemed to side with Brian, because at one point, they were explicitly joking with him about histrionic women and identifying Brian as "the victim."
However, the footage is an "insufficient evidence existed to justify criminal charges."
Teton County Coroner Dr. Brent Blue confirmed the remains are those of Gabrielle Venora Petito, date of birth March 19, 1999. Coroner Blue's initial determination for the manner of death is homicide. The cause of death remains pending final autopsy results. pic.twitter.com/JoHenMZ9UU

— FBI Denver (@FBIDenver) September 21, 2021
On September 19th, the FBI announced that authorities had located a body "consistent with the description of" Gabby, which was located close to the Grand Teton where her van had been caught on video in August before Brian drove it home alone.
Her body was discovered at the Spread Creek Dispersed Camping Area, in the Bridger-Teton National Forest on the east boundary of Grand Teton National Park.
A coroner for Teton County in Wyoming said that the cause of Gabby's death was "manual strangulation and throttling."
To be more precise, later reports suggest that Gabby died of "blunt-force injuries to the head and neck, with manual strangulation," as concluded by Teton County Coroner's Office.
The report was delivered after an autopsy was conducted on her remains.
Brian became a person of interest, and the case is then treated as a homicide, as the authorities upgraded the case to a criminal investigation.
"I do not believe the situation escalated to the level of a domestic assault as much as that of a mental health crisis," said the 911 responder in a report.
After a search warrant on Brian's house, it was then realized that Brian had fled the police and is then on the run.
This was then followed by a statement from FBI, which said that there is warrant out for Brian's arrest, "related to Mr. Laundrie's activities following the death of Gabrielle Petito."
On September 23rd, Brian has been charged on with unauthorized use of a debit card.
Brian was indicted by a federal grand jury for allegedly using a Capital One Bank card and someone's personal identification number to make unauthorized withdrawals or charges worth more than $1,000 during the period in which Gabby went missing.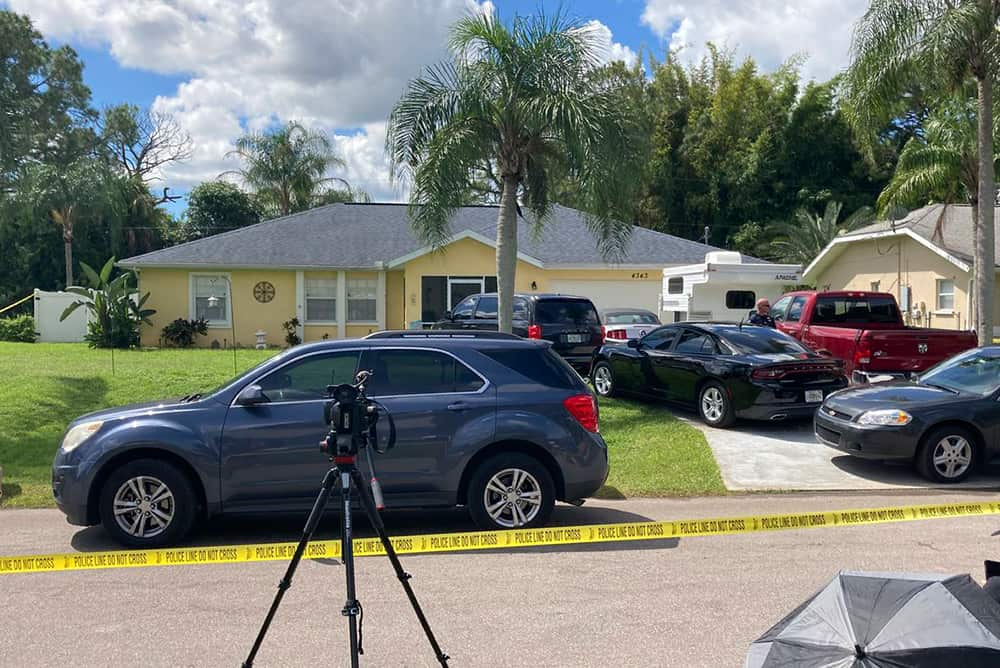 Brian Laundrie's house at Sarasota County, packed with the FBI and the media.
People refer Gabby's case to the phenomenon of "missing white woman syndrome," in which young, white women, who are particularly from middle- upper-class families, who also receive lots of media attention and publicity, suddenly go missing.
Gabby was so famous, not only because she was an Instagram user and the owner of a YouTube channel. She was famous because she was a young and beautiful woman, white and people were expecting good things from her.
Part of the urgency around her disappearance also stemmed from the possibility that she was lost alone in a vast wilderness and in need of help.
She lived so publicly and seemed so happy, and this is why she caught so many attention.
Gabby who fits the given criteria, received huge attention, whereas poorer and non-white women who disappear don't really get the spotlight.
Adjacent from the term "missing white woman syndrome," is what is known in the crime community as the phenomenon of "missing and murdered Indigenous women," where women who are indigenous and not white, who vanished and were never recovered. Around 700 people were missing in Wyoming in a decade, and many remained unsolved.
#FBIDenver thanks the public for their continuing support of this investigation & the valuable tips that have been submitted.
We extend sincere condolences to Gabby's family, friends, and all the people whose lives she touched.

— FBI Denver (@FBIDenver) September 21, 2021
While murder cases should be handled by the authorities, with the internet, a lot of sleuthing can be done, especially due to the abundance of information.
Anyone with a computer and an internet connection can become an amateur detective, and spend hours and hours on internet search engines and social media, visit online forums, scroll through endless comments, to mine data and court records.
While the many amateur online detectives crowded the case with too many disinformation and misinformation, others who contributed in the sleuthing have actually provided the authorities with additional information that would otherwise overlooked.
These people aren't paid, and they do their detective work with a common goal: solving it. To these people, web sleuthing is just a tricky true crime hobby. It's also these people who created more urgency in bringing Gabby home.
As a matter of fact, web sleuthing has become a term, making its first appearance around the year 1999, a year after Google was founded, and years before Facebook was created.
And Gabrielle Petito's case here marks yet another chapter of amateur internet sleuthing.
The internet is no longer a passive medium, as people can contribute and share. It's not anymore considered a place where people consume information in a one-way direction. This is because the digital world has transformed itself into an information highway.
After Gabby's death, her Instagram account, as well as her YouTube channel, Nomadic Statik, received an increasing number of followers and viewers.
Following the death of Gabby, the public began to have an increase of awareness of other missing person cases.
On October 20, the authorities discovered what appeared to be human remains, after retrieving some of Brian's belongings in the park in an area that was previously underwater due to flooding.
A forensic dentistry conducted confirmed that the skeletal remains is Brian's.
At first, the cause of the death couldn't be determined from autopsy alone. This is why the remains were given to an anthropologist for further examination.
On November 23, it was announced that the anthropologist concluded that Brian's death was caused by a self-inflicted gunshot wound from a revolver and that the manner of death was suicide.
Read: Luka Magnotta, And The Manhunt By Online Cat Lovers And The Police
On January 21, 2022, the FBI closed its investigation into the homicide of Gabby and the subsequent suicide of Brian.
"All logical investigative steps have been concluded in this case," said FBI Denver Division Special Agent in Charge Michael Schneider in a Friday statement, quoted on an FBI web page.
"The investigation did not identify any other individuals other than Brian Laundrie directly involved in the tragic death of Gabby Petito. The FBI's primary focus throughout the investigation was to bring justice to Gabby and her family."
The statement came after the FBI found evidence, as well as written statements written by Brian on his notebook, where he claimed responsibility for Gabby's death.
Many months later, in an unexpected turn of event, it's realized that the mother of Brian Laundrie, the man who killed his fiancée, Gabby Petito, and later also killed himself, wrote to her son saying she would help him "dispose of a body," or "bake a cake with a file in it" to help him escape jail, according to a copy of the undated letter.
"I just want you to remember I will always Love you and I know you will always Love me. You are my boy. Nothing can make me stop loving you, nothing will or could ever divide us. No matter what we do, or where we go or what we say- we will always Love each other," wrote Roberta Laundrie in the letter.
"If you're in jail I will bake a cake with a file in it. If you need to dispose of a body I will bring show up with a shovel and garbage bags," she wrote.
"If you fly to the moon, I will be watching the skies for your re-entry. If you say you hate my guts, I'll get new guts."
The envelope containing the letter said "burn after reading."
In a following police investigation, the woman said that the letter was written before her son's trip with Gabby, as explained by one of her lawyers, saying that the letter is "in no way related to Gabby."
"I truly loved my son, and simply wanted to convey to him how much he meant to me and how much I loved him," Roberta Laundrie said. "I am sure people use phrases all the time to express to their loved ones the depths of their love. Although I chose words that I thought would be impactful with Brian given our relationship, the letter was in no way related to Gabby."
"I ask that you read it in its entirety, and understand that the letter contains other phrases besides those highlighted by Pat Reilly for sensationalism and to bolster his case," she added.
She said that she wrote the letter "to reach out to Brian while he and I were experiencing a difficult period in our relationship."
But realizing the existence of this letter, the Petito's family has challenged those assertions.
This is because the letter in question is found inside Brian's backpack, when his remains were found on October 2021.
Gabby's parents argued that the letter has relevance to the death of their beloved daughter, and because of that, they're bringing a lawsuit against Brian's parents and former attorney for emotional distress.
In court, Petito family attorney Patrick Reilly argued the letter was important in their lawsuit against the Laundrie family.
"As we all know, the letter references burying a body, bringing a shovel and burying a body," he said. "Those are criminal acts, by the way, that Roberta Laundrie has said she would commit."