In one way or another, people will find a way to solve a problem they face. The same goes to the ban Russia made to the Telegram app.
Founded in 2013, Telegram has an estimated 30 million users in Russia alone. Meaning that 20% of the population use the app for communication.
The popular privacy-oriented messaging app by Pavel Durov was banned in Russia. But the ban was mostly ineffective, simply because it led to messy strategies that inadvertently made Russian ISPs to block more than 15 million IPs owned by Amazon and Google.
This in turn disrupted many businesses in Russia.
In other words, the Russian government ruined its own internet.
Emblem of Roskomnadzor.
The government also tried blocking internet anonymizers and VPN services that Telegram may have used to hide traffic. But still, many Russians were able to find ways to use Telegram.
Even top-tier officials in Russia, like Kremlin's spokesperson Dmitry Peskov, has continued using the app while it was banned. And during the 'COVID-19' coronavirus crisis, even task force operations in many Russian regions use Telegram for daily updates.
Kremlin critics said that Russian's move to stop banning Telegram is showing its admission of defeat.
This is considering that a lift in ban is a rare victory for digital privacy campaigners in Russia, where the government has been stepping up its efforts to control cyberspace.
According to the telecommunication watchdog Roskomnadzor, the Russian government is lifting its nearly two-year ban on the messaging app, not by publicly saying that the methods weren't effective, but by saying that Telegram shown "willingness" to help with counter-terrorism efforts.
The agency in a statement said that:
"We positively assess the readiness expressed by the founder of Telegram to counter terrorism and extremism."
"By agreement with the Prosecutor General's Office of the Russian Federation, Roskomnadzor removes requirements to restrict access to the Telegram messenger."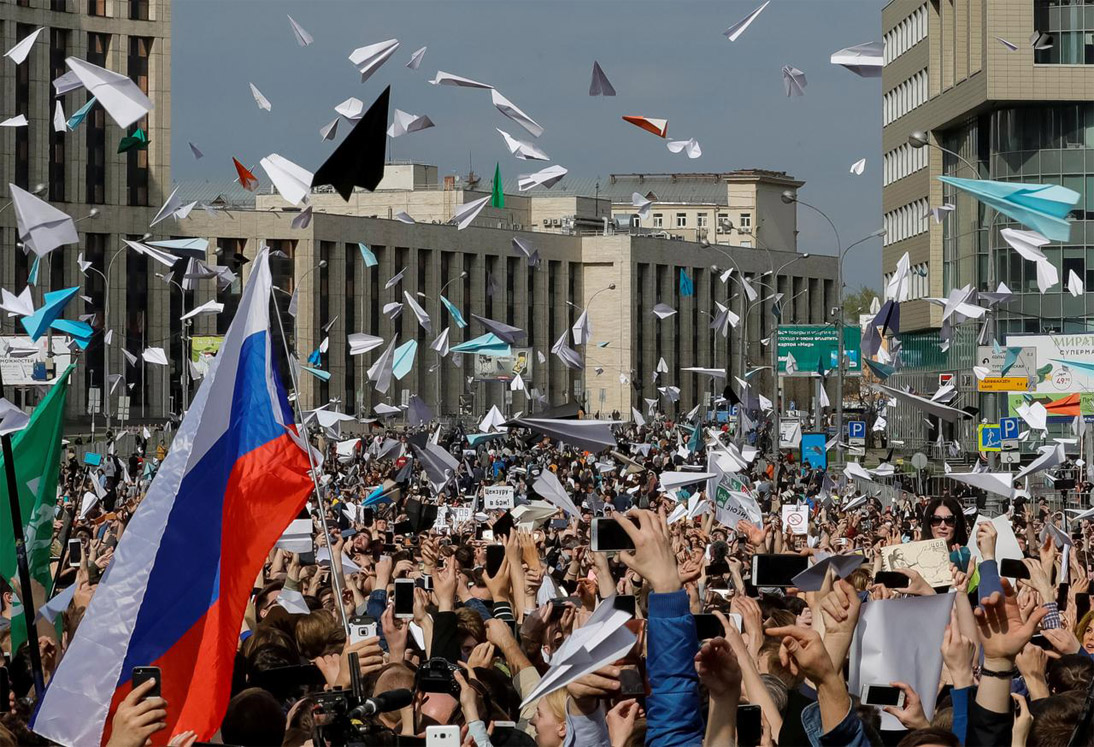 Thousands of protesters flew paper airplanes, the symbol of the Telegram messenger, during a rally against court decision to block the messenger because it violated Russian regulations, in Moscow, Russia, April 30, 2018. (Credit: REUTERS/Tatyana Makeyeva)
It began back in April 2018, just after Telegram refused to share its encryption keys with the Russian government.
Without the keys to access users' data, there is no way for Roskomnadzor to access the history of chats used by terrorist organizations.
Telegram's refusal to provide access to encryption keys ran afoul of Russia's anti-terrorism laws, which require messaging services to give the authorities the access to decrypt messages.
At the time, Durov said that "privacy is not for sale, and human rights should not be compromised out of fear or greed."
Moscow claimed that the app's encrypted chats were being used by terrorists, and blocked millions of IP addresses in an effort to restrict access to the service.
However, the efforts were largely futile.
Over the course of the ban, Telegram actually increased its user base in Russia from 10 to 30 million.
Russia in stopping its ban on Telegram, offers a moment of relief between the two, as they battle to get a balance between privacy and security.
The news followed Durov's statement that said his company had developed ways to "catch and delete extremist and terrorist content" without compromising user privacy, and urged the authorities to unblock the service.