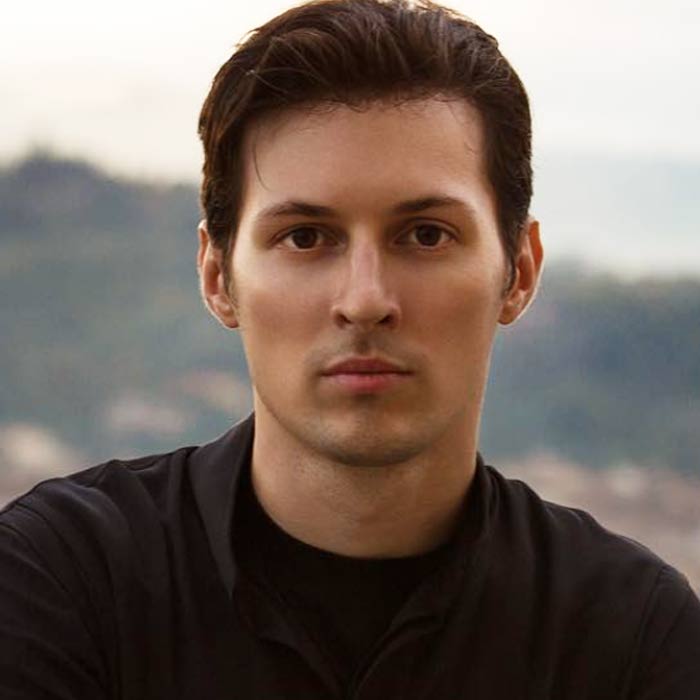 "Our right for private communication and privacy is more important than the marginal threats that some politicians would like to make us afraid of."

- Pavel Durov
Living in exile, Pavel Durov is a tech prodigy wanted by Kremlin after Russia seized control of his company. Known to be one of the most enigmatic technology entrepreneur, Durov is his own man and his success is founded by his users.
To many people, he is often compared to Facebook's Mark Zuckerberg. And that is for a reason: he is the founder of VKontakte, one of the most prominent and popular social media networks in the world, and the largest in Europe.
While VKontakte shares many similarities to other social media networks, it's unlike others. Especially about Durov's way in refusing multiple government requests for user data.
Early Life
Pavel Valeryevich Durov (Russian: Па́вел Вале́рьевич Ду́ров) was born on October 10th, 1984 in Leningrad (St. Petersburg). The son of two siblings, he spent most of his childhood in Turin, Italy when his father Valey was employed there. His brother Nikolai is a well-known mathematician.
Durov attended local Italian elementary school before returning to Russia to attend the Academy Gymnasium in St. Petersburg.
After graduating, Durov followed his father's footsteps. He attended the philological department of St. Petersburg State University with a desire to become a translator. While attending college, Durov that learned programming languages early in his youth, created an online library for him and his fellow students to help share notes and books through the internet. This was merely a side-job until his work became popular in the university. This encouraged Durov to do things he thought was a lot more exciting.
Durov expanded his work by launching a University forum. By having more users using it, Durov that was maintaining and developing it, came up with an idea to create a student social network. Based on the concept, in 2006, he created VK (VKontakte).
VKontakte
Pavel Durov launched VKontakte for beta testing on September 2006. This was moments after his graduation from St. Petersburg State University. The following month, the domain name vkontakte.ru was registered.
Durov got help from his former classmate Vyacheslav Mirilashvili that was living in the U.S.. When his university forum was written in an article by Delovoy Peterburg newspaper ("St Petersburg Business"), Mirilashvili that saw its potential contacted Durov. When the two reunited, Durov got his initial funding from Mirilashvili's father.
Initially, user registration was limited to those within the his university, exclusively by invitation. But since its popularity rises fast, VKontakte that was originally supposed to be a network for students also appealed the students' parents, their siblings and even their grandparents. For that reason, in November, 2006, VKontakte opened itself for registration.
VKontakte was formally launched on October 10th, 2006, the day when Durov had his 22th birthday.
VKontakte's user base kept growing fast. With more users coming from elsewhere, it didn't take long until VK became one of the most popular social media network in Russia and parts of Europe.
In February 2007, less than a year after it was launched, the site reached a user base of over 100,000 and was known as the second social network in Russia's. Six months later, its user base grew to over 1 million, and 10 million in April 2008. In December 2008, VK overtook its main rival, Odnoklassniki, and became Russia's most popular social networking service.
What made VKontakte different was its friendly user-interface and its feature that provide a variety of games and applications.
Durov initiative at first when he created VKontakte was heavily influenced by Facebook which was a rising star at the time. VKontakte resembles by pretty much if compared to the U.S.-based social giant. Some of which was its blue-white color combination. So does its "Like" and other features that enable users to express opinions and comments. This resemblance wasn't denied by Durov.
Among the many similarities between the two, there are also many differences between them. One of the most important lies in their attitude towards copyright laws.
Opposing The Law
What makes VKontakte different from Facebook is basically where it's located. There are several laws against online piracy in Russia, but they rarely come to the surface. This made the majority of Russian netizens hardly believe in their existence.
In 2010, the Recording Industry Association of America ranked VKontakte as the number two illegal distributor of music worldwide. In 2011, the Office of the U.S. Trade Representative named VKontakte among the most significant pirate databases. Some of the copyright holders attempted to sue the network or some of the users, but all the attempts were fruitless. Durov himself is known to believe in the freedom of sharing and to support piracy.
The issue didn't stop there. VKontakte was also hosting active groups that discuss politicians and other sensitive materials.
It was in 2011 that Durov first encountered the authority regarding VKontakte. Durov was involved in a standoff with a police team outside his house in St. Petersburg after the government had demanded the removal of the pages of opposition politicians after controversial parliamentary elections.
On December 2012 when the Russian State Duma elections took place, the ruling party won. But because of the numerous violations of the election process were recorded on mobile phones by voters and observers, fraud stories and videos flooded the web. And as a social media popular in the country, VKontakte was a very good reason to have such materials.
A couple of weeks later, the Federal Security Service (FSB) asked Durov to block seven groups on his social networking site. Durov refused to comply. He uploaded the photo of the letter to his page, together with his respond: a picture of a dog sticking its tongue out.
Durov was then summoned to the office of the general prosecutor to testify, but came out free and uncharged.
Since then, Durov avoided becoming a public person. He didn't take any interview offers, didn't come on any conferences nor appear on TV. In 2012, Durov briefly attended the Digital Life Design conference in Munich, Germany. On his 27th birthday, and he made a $1 million donation to Wikipedia.
Nikolai Durov oversaw the scaling up of VK's platform when it grew pass 50 million daily users over the seven years.
Incorporated and Sold
VKontakte was incorporated on 19 January 2007 as a Russian limited liability company. As its founder, Pavel Durov that owned 20 percent of shares took his position as the company's CEO. Vyacheslav Mirilashvili and his father Mikhael Mirilashvili, owned 60 percent and 10 percent respetively. Lev Leviev owned 10 percent.
The company rented out the fifth and sixth floors of the Singer House on 28 Nevsky Prospek, a six-story building with bronze and glass jewel of early 20th century art nouveau. In that relatively small office, a dozen of programmers work inside its brightly colored couches, free soda and chocolate. The company's workforce was mainly young male programmers who rarely show up before afternoon.
After the founders sold a stake of 39.99 percent to Mail.ru Group (formerly Digital Sky Technologies) and Durov was left with 12 percent of the company, a series of shareholders conflicts happened.
Durov blocked the sale of Mirilashvili family and Lev Leviev stakes to Alisher Usmanov's Mail.ru Group. Usmanov himself got involved in negotiations, offering Durov to buy him out at a good price. In return, Durov would not obstruct the purchase of Mirashvili and Leviev's stakes.
However, Usmanov didn't manage to come to an agreement with VK's shareholders, but United Capital Partners did. United Capital Partners then proceeded to hassle VK's managers. Usmanov stood by Durov.
The Group then offered Durov the voting rights on its shares of the company, giving him a total of 52 percent of the vote. In April 2013, United Capital Partners bought 48 percent of VK shares from the Mirilashvili family and Lev Leviev for $1.12 billion.
At this time, Mail.ru and United Capital Partners owns 40 percent and 48 percent respectively, and Durov still at 12 percent.
In 2014, Durov sold his remaining 12 percent stake to Ivan Tavrin, the CEO of Russian mobile phone operator MegaFon. This was the end of VKontakte era as people know it. His decision in selling his stake in the company came when he was under increasing pressures form the Russian government to hand over personal user data.
Both Mail.ru and MegaFon are co-owned by Usmanov. Following the deal, Usmanov and his allies own 52 percent of VK. Not long afterwards, MagaFon's CEO sold his 12 percent take to Mail.ru, allowing it to consolidate its 52 percent VK stake.
On September 16, 2014, Mail.ru Group bought the remaining 48 percent VK stake from United Capital Partners for $1.5 billion. This finally made it the sole proprietor of the social network.
After VKontakte was owned by Mail.ru group, Durov left his CEO title. He claimed the company had been effectively taken over by Vladimir Putin's allies, suggesting his ousting was the result both of his refusal to hand over personal details of users to the Russian Federal Security Service and his refusal to hand over the personal details of people who were members of a VKontakte group dedicated to the Euromaidan protest movement.
Durov then left Russia, stating that he had "no plans to go back" and "the country is incompatible with internet business at the moment."
Telegram
In August 2013, Pavel Durov and his brother Nikolai, founded Telegram, a messaging app that aims for speed, security and features that highlight end-to-end encryption as well as self-destructing messages.
Not long after Vkontakte took off, Durov began his work on Telegram as a research project because the two siblings wanted to create something that was "secure and fun at the same time.". The importance, and the rise of Telegram was boosted when former NSA contractor Edward Snowden leaked his revelations in June.
"It made a lot of people really scared and concerned about the current situation. We are certainly among many, many people who started to think about ways to fix the problem," said Durov.
Telegram is based on custom data protocol called MTProto uses end-to-end encryption. The protocol was created by Nikolai.
"The first thing that we wanted to make clear is that nobody has to trust anybody. We don't take people's trust for Telegram for granted," said Durov. "We will be able to invite everyone to review the messaging algorithm that we use on Telegram and inspect the source code of the app. We can earn trust from them, that end-to-end encryption is something that can be done on the client side. This way, any interested person can check that the app does exactly what it claims to and doesn't send information to other sources or does anything else that is insecure."
Telegram's founders say the app will remain non-profit because that enables them to avoid commercial and legal pressure. If they eventually need funds to further grow, Telegram will ask users for donations, or make additional services available as in-app purchases.
Pavel and Nikolai Durov that learnt their lessons after the government's multiple attempt to seize VK, made sure that Telegram remains secure. Telegram that is registered as both an English LLP and an American LLC, didn't disclose where it rents offices or which legal entities it uses to rent them. Telegram cited the need to "shelter the team from unnecessary influence" and protect users from governmental data requests.
The service however stated that that it's headquartered in Berlin, Germany. Durov that left Russia is said to be moving from country to country with a small group of computer programmers.
Personal Life
Pavel Durov is a tech prodigy and an fan of The Matrix movie. With his dark hair and sharp jaw, he usually wears black clothes resembling Keanu Reeve's Neo character in the movie. Because of his work and his accomplishment in making VKontakte the popular social media among the many, people often refer him as "Russia's Mark Zuckerberg."
Durov holds libertarian economic and political views and says he is a vegetarian and identifies as a Taoist. He is said to published anarcho-capitalist manifestos in which he describes how to revitalize Russia's economy. He's also an fan of Che Guevara, and claims to be a practicing Pastafarian.
Durov is press-shy and tends to avoid interviews whenever he sees one. With the limited moments the press had with him, Durov made his appearance often extravagant.
For example, he once folded cash into paper airplanes and threw then down from his office. As people under were fighting like "dogs" for the money on the streets, eyewitnesses claimed to see Durov "laughing and filming." He also likes to outstretch his middle finger. Some of the most known cases were when he tweeted his middle finger replying a Russian company when it wants to buy VK from him, and at the time when the government requested user data on Euromaidan activists within Ukraine.
VK is one of the Russia's independent media company with millions of daily users. With Durov as its CEO, boosted by his attitudes and character, the Russian government can't help it but to not rest easy. Durov stood up against Kremlin, and people behind its back wanted him out of the company completely. His refusal cooperating with the government, especially when he refused to ban opposition communities from VK, like those anti-Putin activists, has put an end to Russia's patience. When he was ousted from VK and fired as its CEO, Durov said that VK is now "under the complete control of Igor Sechin (the person Durov claimed to be behind United Capital Partners) and Alisher Usmanov," two of Putin's wealthiest and closest allies.
When he fled Russia, Durov posted a series of photos to VK, illustrating his seven reasons to say in Russia: from its women to low tax rates. "It's been more and more fashionable" to talk about leaving the country, he wrote. "As usual, I'm going against the trend."
Since then, Duroc lives in exile. He posted a post on another social media saying that he has assembled a team of engineers in Central Europe. He then got Saint Kitts and Nevis citizenship after donating $250,000 to the country's Sugar Industry Diversification Foundation, After that, he quickly secured $300 million in cash in Swiss banks, which helped him manage Telegram.
In August 2014 Pavel Durov was named the most promising Northern European leader under 30. In 2012, he had a net worth of $260 million. Durov's early life and career were described in in the Russian-language book The Durov Code. The True Story of VK and its Creator (2012).