Fake news have been every platforms' problem.
WhatsApp has come under fire in India which one of its biggest market, after a series of brutal slayings that left many people dead, mostly in rural villages.
In most cases, they were innocent bystanders who were beaten to death by mobs angered by WhatsApp rumors of child kidnappers and organ harvesting rings. The brutal attacks, which began in early May, are often filmed and distributed on social media.
To stop the spread of 'misinformation' on its cross-platform service, WhatsApp is offering up to $50,000 for proposals that "foster insights into the impact of technology on contemporary society in this problem space."
This includes election-related content, digital literacy and "detection of problematic behavior within encrypted systems."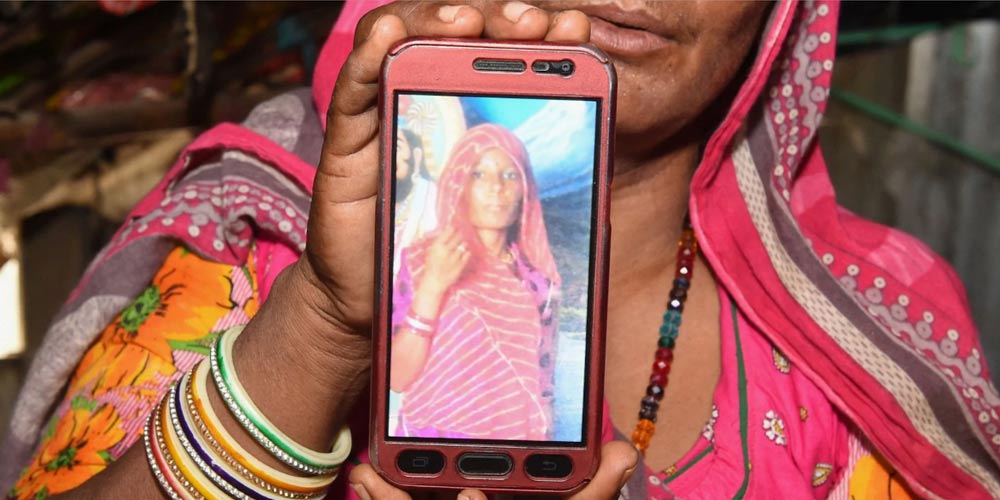 A woman showing a photo on a mobile phone of her cousin Shantadevi Nath, who was killed by an angry mob that falsely believed she abducted children
The forwarding of fake news is an escalating problem in the country, where many millions were on smartphones for the first time.
And this deadly trend started out when a child safety advertisement from Pakistan was edited and spread along with misinformation across the country.
The Ministry of Electronics and Information Technology issued a warning, saying that WhatsApp cannot "evade accountability and responsibility" for messages that lead to the spread of violence. The ministry also called for the company to "take immediate action to end this menace."
"The abuse of [platforms] like WhatsApp for repeated circulation of such provocative content are equally a matter of deep concern," the ministry said. ". . . Deep disapproval of such developments has been conveyed to the senior management of the WhatsApp and they have been advised that necessary remedial measures should be taken to prevent proliferation of these fake and at times motivated/sensational messages."
In a response letter, WhatsApp said that it is"horrified by these terrible acts of violence" and that "false news, misinformation and spread of hoaxes are issues best tackled collectively: by government, civil society and technology companies working together."
But the company also said that any message on its platform can become "highly viral" as users actively share them. Since WhatsApp messages are encrypted, it's also difficult for the platform to effortlessly monitor hate or illegal speech.
WhatsApp is cross-platform messaging service. Due to its nature, messages there are unlike posts on Facebook that can be viewed online by anyone (based on users' privacy settings). Messages on WhatsApp are like traditional SMS in which messages are spread from people that know each other.
However, users can create chat groups which can easily spread a message to other groups they belong to, quickly amplifying the effectiveness of fake news.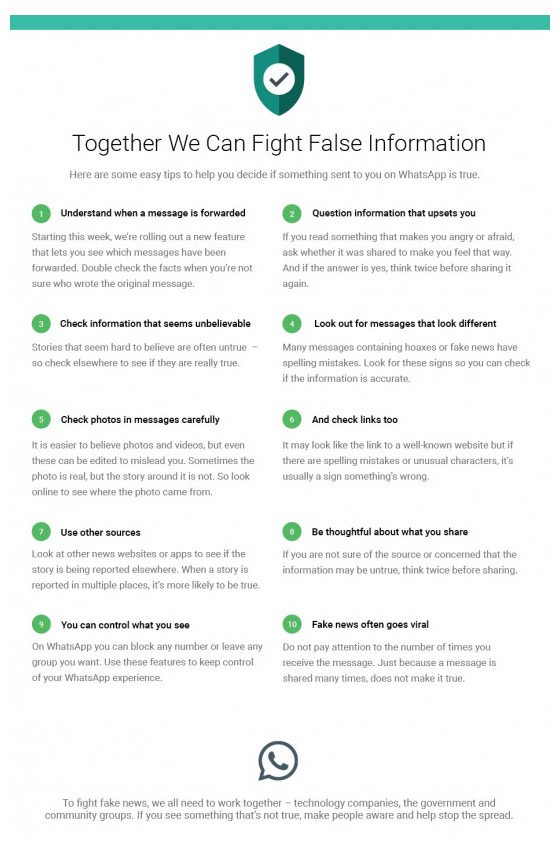 WhatsApp's newspapers advertisement in India describing ways to battle fake news
After RS Prasad, India's Union Minister for Law and Justice, and Electronics and Information Technology, called on WhatsApp to focus on security-related aspects of its service, WhatsApp responded the same day, saying it wanted to work with the government to tackle the problem.
One of its major initiatives was launched on July 10th, in the form of an ad campaign in national newspapers in various languages.
It lists a number of steps people can take to battle misinformation.
While both the government and WhatsApp are doing what they can to stop this from happening again, some low-tech strategies have also been taken: including officials hiring announcers to travel from village to village with loudspeakers to warn people to not believe in fake messages.