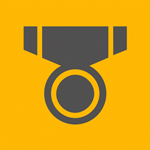 We can probably say that "everybody wants to be rewarded after achieving something", and Microsoft knows exactly how to use this. Bing which is Microsoft's search engine, has come a long way since it was launched in 2009. With numerous changes in both design and the way it works, Bing wants to be the competent competitor against the giant Google. With Bing Rewards, it's aiming to do so.
Bing has been the alternative to Google for quite a long time. It was the jokes of many, saying it to be incompetent and incapable in competing with Google. Though technically Bing is good by its own, it still has a lot of homework before catching up and becoming the search engine of choice.
Bing Rewards is something to leverage its reputation. Microsoft is confident that people will like Bing as long as they're given an honest try. Here is where Bing Rewards comes to play its role.
In short, Bing Rewards is a program in which users are rewarded with credits when using it. The credits which accumulate on their accounts, can then be redeemed with rewards. Initially, the feature is available for free to those having residence in the U.S. and are over the age of 13.
For how it works, the feature Microsoft introduced in September 2010, rewards users when searching the web with it on either desktop or mobile. On desktop, Bing rewards users 1 credit for every 2 searches with a daily limit of 15. On mobile, users are given 1 credit for every 2 searches with a limit of 10 credits daily. Because the two set limits are separated, Bing users can earn up to 25 credits a day.
These values are not fixed and may change from time to time.
Rewards are awarded to users when searching for almost anything, including images and videos. The only exception are only searches using Bing Maps, Bing Help and Bing Blogs.
Luring People Away From Google
Bing has a great potential, but Google as the most prominent in the industry is somehow still undefeated. Microsoft acknowledges this and won't be heading for Google in a straight face-to-face battle. Knowing that it would lose, Bing is meant to eat away Google's pie a little by little.
And for recently, Microsoft is making Bing well in taking what was once Google's.
As a member of Bing Rewards, users' account can be either one the three following:
Member: New Bing users with accounts start from here. Users have full access to all features of Bing Rewards and aren't limited or restricted.
Silver: When users complete the Rewards tour, they'll earn 200 lifetime credits. When they redeem their first reward, their account will them becomes Silver. Other than a one-time 50 credit bonus, the Silver status doesn't unlock anything special.
Gold: The status is earned after a Silver Bing user earns 750 lifetime credits, and performing 150 credit-worthy searches in a month. The Gold status unlocks a 10 percent credit discount when redeeming rewards. The status should be maintained by performing 150 credit-worthy searches every month. If not, the status will revert back to Silver.
On top of everything mentioned, Bing occasionally runs Double Credit Days (raising the desktop credit earning limit from 15 to 30 for one day only) and Monthly Bonuses (a one-time credit bonus if users run 525 credit-worthy searches in a month).
Earning credits is not limited to conducting searches with Bing. Users can also earn some additional credits by referring others to create Bing Rewards account. The referencing user will earn a one-time 150 credits bonus when the user they refer reaches Silver status. Microsoft limit users to refer 5 people per account, meaning a maximum 750 potential credits bonus for each Bing Rewards user.
One final way to earn credits is through referrals. Every time you refer a friend who creates a Bing Rewards account, you'll earn a one-time bonus of 150 credits when they reach Silver status. There's a maximum limit of 5 friends per account, capping out at 750 potential credits for you.
Moving Beyond A Simple Search Engine
Bing Rewards could be seen as a marketing ploy. It's like seeing Microsoft benefiting from the nature of how humans want to be rewarded in order to get people to use Bing over Google. But Rewards is not limited to that since Bing also packs some strate4gy alongside it.
While the credit-based rewards system works well for Bing, Microsoft also raised awareness for some features that users may not know have existed.
As an example, links in the Bing Rewards program usually have some hidden Bing functions. This clever strategy is like saying Bing is more than what it seemed. Bing Predicts which aims to predict the likelihood of phenomena occurrences and event outcomes, is one of which people may never heard of.
The Presents Await
It's not Google at all to reward users for doing something. Bing on the other hand, is giving users the reward they "deserve" from using it. Since the main reason for anyone to enroll in the Bing Rewards program is for the rewards, below is the things they can redeem:
Gift Cards: $5 gift cards can be redeemed for 525 credits (or 475 credits for Gold status users). There are dozens to choose from, including Amazon, Domino's and GameStop.
Subscriptions: 1-month subscriptions are available for services like Hulu, Skype, and Xbox Live for anywhere from 300 credits to 700 credits.
Sweepstakes: Microsoft regularly runs big-prize sweepstakes (e.g. Lumia devices, Surface devices, $500 Target gift cards, etc.). It'll cost users anywhere from 20 credits to 50 credits per entry.
Donations: Users can also donate their credits (giving them up). Microsoft will then make a donation on that user's behalf to one of their partnered charities, including Kids In Need and Teach For America.
While it's certainly a good thing for Microsoft to reward people from using Bing (who doesn't want free things anyway? Not a lot of people could reject good offers), many other people do refuse to use Bing Rewards. It's like being bribed to do searches. But to those that opt-in the Rewards program, they all see it as worthy.