Facebook is no strangers in putting ads wherever it can.
After launching Marketplace, where users can discover, buy and sell items with people in their community, Facebook has been promoting it by placing it in the main navigation bar. And with the added exposure, Facebook wants to earn money from that by introducing some classified sections users can put their listings on.
After some tests on users in Canada, Facebook quietly launched Marketplace ads initially in the U.S. With it, Facebook allows users to pay to "Boost" their listing to more people through the News Feed.
Businesses can also extend their existing News Feed, video, Instagram, Messenger and other ad campaigns to Marketplace.
Marketplace ads are designed to be auto-optimized for clicks. What this means, when users click on a specific Marketplace ads, Facebook will shown them to people of similar demographics. Boosted ads get entered in alongside traditional bids in Facebook's auction system, which then display what it predicts will be the most appealing ads.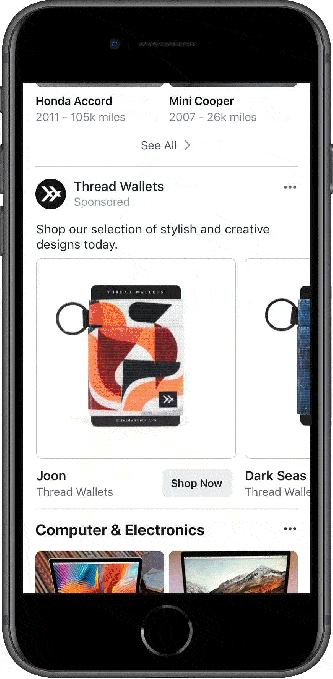 Facebook allows brands to show ads within Marketplace
Supporting Header Bidding For In-App Ads

The other thing Facebook is expanding, is its support for header bidding, which is essentially the technology that allows publishers to auction off ad impressions through real-time bidding between networks.
Facebook in expanding its support here is for in-app advertising.
What this means, app publishers who use header bidding can start including their ads from Facebook's Audience Network in their auction. To do this, Facebook partners with Twitter's MoPub, Fyber and MAX.
According to Vijay Balan, Global Publisher Growth at Facebook, ad networks are usually called one-by-one until an app ad is filled. Then determined by previous average CPMs rather than which buyer is willing to pay the most for the slot. This common method often overlooks a network willing to pay more for an impression because it is lower in the chain.
"App bidding enables app publishers and developers to establish an impartial and open auction over their ad inventory," he said. "All advertising networks are called simultaneously and the highest bidder for the placement wins, thereby providing publishers with opportunities to earn more."
"Publishers can maximize their access to high value advertisers, fueling the creation of sustainable ad businesses that help ensure people continue to enjoy access to high quality free content."