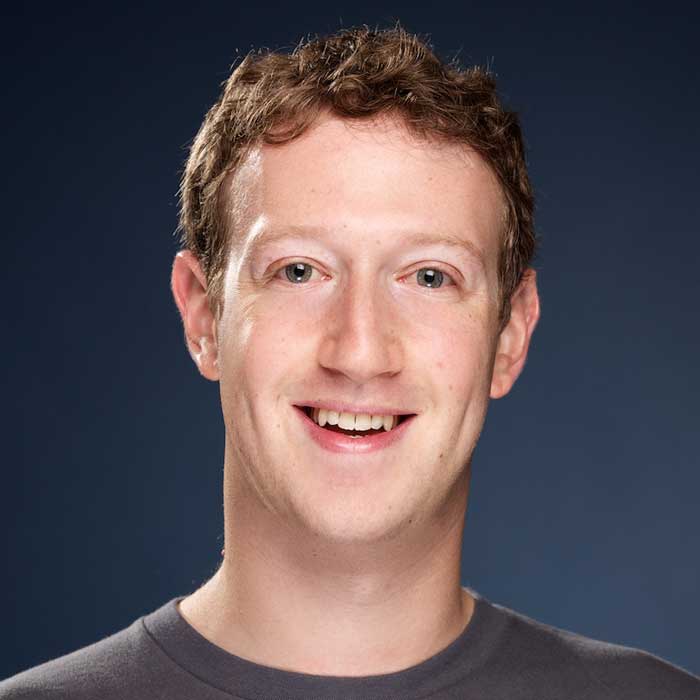 By giving people the power to share, we're making the world more transparent.

- Mark Zuckerberg
With a particular interest in programming, a creation which was started in a college dorm room has now become a multinational business that crosses all platforms that changed how people communicate today. Mark Zuckerberg has altered the most vital needs of people with his massive growing social media site that made him one of the youngest billionaire.
From being just a Harvard project to a networked community almost twice as large as the U.S., Facebook has come a long way in a very short period of time. As Founder Facebook, Mark Zuckerberg oversees the company's overall direction and strategy. Being a computer programmer himself, he also leads the company's core technology development.
Both Facebook and Zuckerberg have had their fair share of controversies, ranging from privacy concerns to the ConnectU lawsuits (since settled). Zuckerberg has been portrayed in the Golden Globe award-winning film The Social Network; however the accuracy of several incidents has been disputed. Recently, Zuckerberg became a signatory to The Giving Pledge, committing to donate most of his wealth to philanthropic causes.
Early Life
Mark Elliot Zuckerberg was born in May 14th, 1984 in White Plains, New York to Karen, a psychiatrist, and Edward Zuckerberg, a dentist. He and his siblings were brought up in Dobbs Ferry, New York. Zuckerberg was raised Jewish and has since described himself as an atheist.
At Ardsley High School, Zuckerberg had excelled in the classics before transferring to Phillips Exeter Academy in his junior year, where he won prizes in science and classical studies.
Zuckerberg developed an interest in computers at an early age; when he was sitting in middle school about the age of 12, he used Atari BASIC Programming taught from his father to create a messaging program he named "Zucknet." His father used the program in his dental office, so that the receptionist could inform him of a new patient without yelling across the room. The family also used Zucknet to communicate within the house. Together with his friends, he also created computer games just for fun. To keep up with Mark's burgeoning interest in computers, his parents hired private computer tutor David Newman to come to the house once a week and work with Mark. Newman later told reporters that it was hard to stay ahead of the prodigy, who began taking graduate courses at nearby Mercy College around this same time.
Zuckerberg later studied at Phillips Exeter Academy, an exclusive preparatory school in New Hampshire. There he showed talent in fencing, becoming the captain of the school's team. He also excelled in literature, earning a diploma in classics. Zuckerberg remained fascinated by computers, and continued to work on developing new programs. While still in high school, he created an early version of the music software Pandora, which he called Synapse. Several companies including AOL and Microsoft expressed an interest in buying the software, and hiring the teenager before graduation which Zuckerberg declined.
After graduating from Exeter in 2002, Zuckerberg enrolled at Harvard University. By his sophomore year at the ivy league institution, he had developed a reputation as a software developer on campus. It was at that time that he built a program called CourseMatch, which helped students choose their classes based on the course selections of other users. He also invented Facemash, which compared the pictures of two students on campus and allowed users to vote on which one was more attractive. The program became wildly popular, but was later shut down by the school administration after it was deemed inappropriate.
Based on the buzz of his previous projects, three of his fellow students - Divya Narendra, and the twins Cameron and Tyler Winklevoss - sought him out to work on an idea for a social networking site they called Harvard Connection. This site was designed to use information from Harvard's student networks in order to create a dating site for the Harvard elite. Zuckerberg agreed to help with the project, but soon dropped out to work on his own social networking site with friends Dustin Moskovitz, Eduardo Saverin and Chris Hughes.
Facebook
The Birth of Facebook
On February 4th, 2004, Mark Zuckerberg launched a site that allowed users to create their own profiles, upload photos, and communicate with other users. The group ran the site - first called The Facebook - out of a dorm room at Harvard until June 2004.
At its early days, The Facebook was a word-of-mouth topic and went viral unexpectedly. This has brought Sean Parker's attention, in which he became the founding President.
After his sophomore year, Zuckerberg dropped out of college to devote himself to Facebook full time, moving the company to Palo Alto, California. They leased a small house that served as an office. Over the summer, Zuckerberg met Peter Thiel who invested in the company. They got their first office in mid-2004. According to Zuckerberg, the group planned to return to Harvard but eventually decided to remain in California. By the end of 2004, Facebook had 1 million users.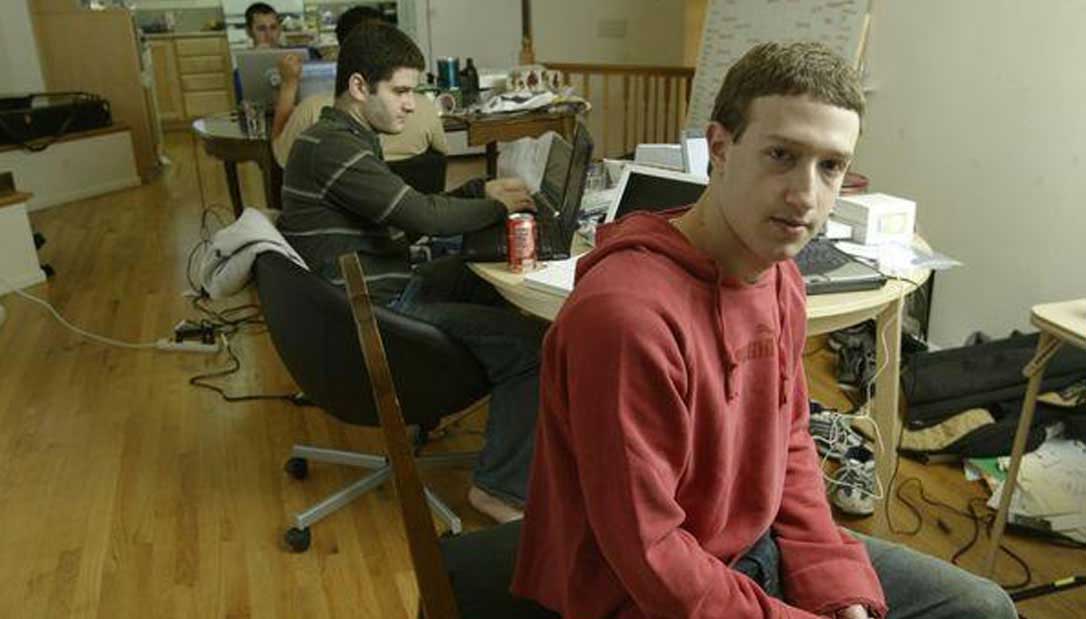 The Rise of Facebook
In 2005, Zuckerberg's business received a huge boost from the venture capital firm Accel Partners. Accel invested $12.7 million into the network. Zuckerberg's company then granted access to other colleges, high school and international schools, pushing the site's membership to more than 5.5 million users by December 2005. The site then began attracting the interest of other companies, who wanted to advertize with the popular social network. Not wanting to sell out, Zuckerberg turned down offers from companies such as Yahoo! and MTV Networks. Instead, he focused on expanding the site, opening up his project to outside developers and adding more features.
The Popularity of Facebook
On May 24, 2007, Zuckerberg announced Facebook Platform, a development platform for programmers to create social applications within Facebook. In a small amount of time, many applications had been built and some already had millions of users. It quickly grew to more than 800,000 developers.
On November 6, 2007, Zuckerberg announced a new social advertising system called Beacon, which enabled people to share information with their Facebook friends based on their browsing activities on other sites. The program came under scrutiny because of privacy concerns from groups and individual users.
On July 21, 2010, Zuckerberg reported that the company reached the 500 million-user mark. On September 2012, the newly-public company has past a new milestone: a billion users.
Facebook Lawsuits
In 2006, the business titan faced his first big hurdle. Winklevoss brothers and Divya Narendra, the creators of Harvard Connection (HarvardConnection.com, later called ConnectU) claimed that Zuckerberg stole their idea, and insisted the software developer needed to pay for their business losses. The lawsuit was dimissed on March 28, 2007. It was refiled soon thereafter in federal court in Boston. Facebook counter sued in regards to Social Butterfly, a project put out by The Winklevoss Chang Group, an alleged partnership between ConnectU and i2hub.
Zuckerberg maintained that the ideas were based on two very different types of social networks but, after lawyers searched Zuckerberg's records, incriminating Instant Messages revealed that Zuckerberg may have intentionally stolen the intellectual property of Harvard Connection and offered Facebook users' private information to his friends. Zuckerberg later apologized for the incriminating messages, saying he regretted them.
On June 25, 2008, the case settled and Facebook agreed to transfer over 1.2 million common shares and pay $20 million in cash. Although an initial settlement of $65 million was reached between the two parties, the legal dispute over the matter continued well into 2011, after Narendra and the Winklevosses claimed they were misled in regards to the value of their stock.
Zuckerberg and Facebook were also filed by Eduardo Saverin. The lawsuit was settled out of court. Though terms of the settlement were sealed, the company affirmed Saverin's title as co-founder of Facebook. Saverin signed a non-disclosure contract after the settlement.
On April 10 and April 11, 2018, Zuckerberg testified before the U.S. Senate Committee on Commerce, Science, and Transportation regarding the Cambridge Analytica scandal, which breached millions of Facebook users' personal data.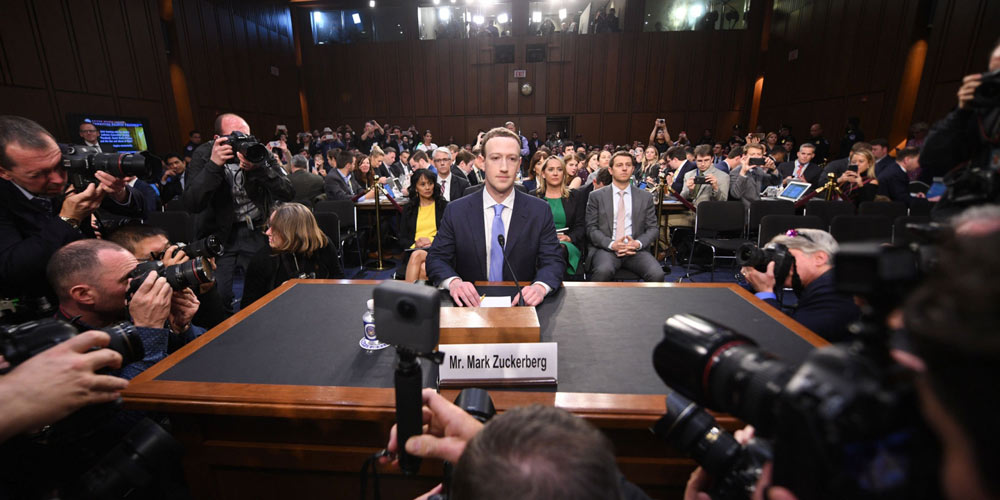 The Social Network
A movie based on Zuckerberg and the founding years of Facebook, The Social Network was released on October 1, 2010, and stars Jesse Eisenberg as Zuckerberg. The film is based on the book The Accidental Billionaires by Ben Mezrich, which the book's publicist once described as "big juicy fun" rather than "reportage." The movie won the Golden Globes award for Best Picture.
Despite the success of the film, Zuckerberg objected strongly to the film's narrative, and later told a reporter at The New Yorker that many of the details in the film were inaccurate.
Other Ventures
In August 2004, Zuckerberg, Sean Parker, Andrew McCollum and Adam D'Angelo launched a peer-to-peer file sharing service called Wirehog, to compete with i2hub, another campus-only service. Wirehog is a precursor to Facebook Platform applications (introduced in May 2007).
Wirehog was described by its creators as "an HTTP file transfer system using dynamic DNS and NAT traversal to make your personal computer addressable, routable and easily accessible". The client allowed users to both access data stored on their home computer from a remote location and let friends exchange files between each other's computers.
On November 6, 2007, Zuckerberg announced Beacon, a social advertising system that enabled people to share information with their Facebook friends based on their browsing activities on other sites.
In August 2013, Zuckerberg launched the Internet.org project. The objective of the project is to provide internet access to the rest of the "unconnected" world.
"The world economy is going through a massive transition right now. The knowledge economy is the future. By bringing everyone online, we'll not only improve billions of lives, but we'll also improve our own as we benefit from the ideas and productivity they contribute to the world. Giving everyone the opportunity to connect is the foundation for enabling the knowledge economy. It is not the only thing we need to do, but it's a fundamental and necessary step," said Zuckerberg in his post.
Philanthropy
Since amassing his sizeable fortune, Zuckerberg has used his millions to fund a variety of philanthropic causes. Zuckerberg founded the Start-up: Education foundation. The most notable examples came in 2010. In September of that year, he donated $100 million to save the failing Newark Public Schools system in New Jersey.
Then, in December 2010, Zuckerberg signed the "Giving Pledge", promising to donate at least 50 percent of his wealth to charity over the course of his lifetime. Other Giving Pledge members include Bill Gates, Warren Buffett and George Lucas. After his donation, Zuckerberg called on other young, wealthy entrepreneurs to follow suit.
Wealth and Awards
Mark Zuckerberg became the world's youngest billionaire as of 2008. In 2012, his net worth over $17 billion. Time magazine named him Person of the Year in 2010, and Vanity Fair placed him at the top of their New Establishment list. Forbes also ranked Zuckerberg at No. 35 - beating out Apple's late CEO, Steve Jobs - on their Forbes 400 list.
After a year Facebook went public, in 2013, his net worth is estimated to decrease, down to $13.3 billion.
Since mobile growth has exceeded traditional computers, Zuckerberg saw that Facebook's future is on mobile. Since then, Facebook aims for more dollars by intensively targeting mobile users. This strategy has increased Facebook stock to a new record that in July 2014, the company reported a quarter sales of around $2.91 billion, boosting Zuckerberg's net worth by an extra $1.6 billion, making him the 16th richest person in the world.
Personal Life
Mark Zuckerberg first date his future wife, Priscilla Chan in 2003 after a party put on by his fraternity during his sophomore year. Chan is the child of a Chinese-Vietnamese refugee, who arrived in the U.S. after the Fall of Saigon, and was born in Braintree, Massachusetts, a suburb of Boston, and is a 2003 graduate of Quincy High School.
In September 2010, Zuckerberg invited Chan, by then a medical student at the University of California, San Francisco, to move into his rented Palo Alto house. Zuckerberg studied Mandarin Chinese in preparation for the couple's visit to China in December 2010.
On May 19, 2012, the Zuckerberg married in and Chan married in his backyard. The marriage also was a celebration for marking Chan's graduation from medical school. About 100 people gathered at the wedding. The guests thought they were there to celebrate Chan's graduation from medical school, but instead they witnessed Zuckerberg and Chan exchange vows.
On Zuckerberg's Facebook page, he listed his personal interests as "openness, making things that help people connect and share what's important to them, revolutions, information flow, minimalism". Zuckerberg sees blue best because of red–green colorblindness; blue is also Facebook's dominant color. Zuckerberg has been a vegetarian since 2011.
On December 2nd, 2015, Zuckerberg in a Facebook post announced his daughter's birth named Max, In a post titled "A letter to our daughter", he and his wife Priscilla Chan, are planning to give away 99 percent of their Facebook shares to charity. According to Zuckerberg, his Facebook shares are valued at $45 billion (2015), and he's planing to pledge more than $1 billion worth of Facebook stock every year for the next three years. The Securities and Exchange Commission indicates Zuckerberg's plan to contribute the funds to the Chan Zuckerberg Initiative.
The Chan Zuckerberg Initiative is intended to "advance human potential and promote equality for all," wrote Zuckerberg in the letter addressed to his daughter. The initiative's first areas are focusing on education, curing disease, and connectivity.
"We know this is a small contribution compared to all the resources and talents of those already working on these issues," wrote Zuckerberg. "But we want to do what we can, working alongside many others."
The Chan Zuckerberg Initiative's first funding was $24 million to a New York-based startup Andela.