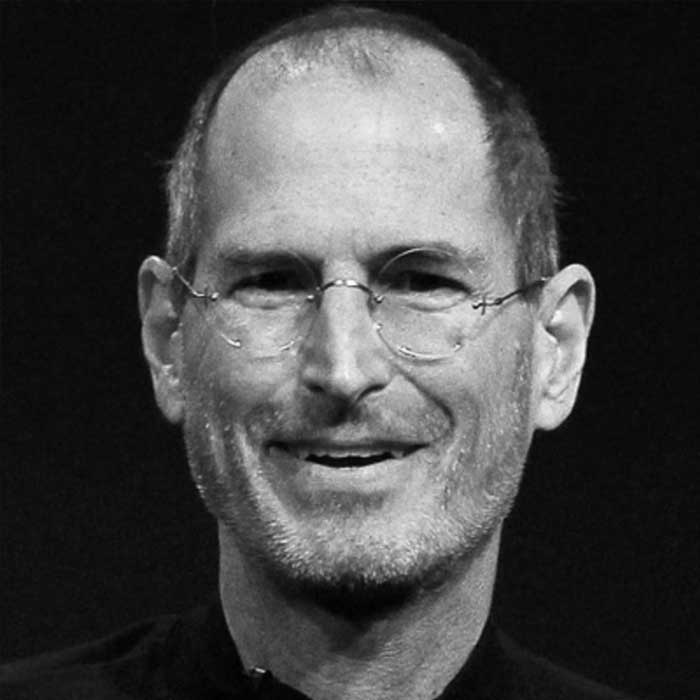 "Innovation distinguishes between a leader and a follower."

- Steve Jobs
Very few people can ever claim to have changed the world. The internet can create actors, musicians, authors, politicians, activists, and many others that are successful in getting the attention of many people. On the other hand, innovators and pioneers are very hard to come by.
People who go against the odds and create a difference, those who leave legacies that advance their own field. And the legacy of Steve Jobs will surely endure, even after many years have gone.
Looking into the history of the man. The legacy of Steve Jobs after all becomes all the more impressive when he is considered to be one of the most famous men in the history of technology.
Through Apple, Steve Jobs was widely recognized as a charismatic pioneer of the personal computer revolution and for his influential career in the computer and consumer electronics fields.
Early Life
Steven Paul Jobs was born on February 24, 1955 in San Francisco to two university students and was then adopted at birth by Paul Reinhold Jobs and Clara Jobs. Paul was a machinist for a laser manufacturing company, and Clara was an accountant for one of the first high tech company in what would later be known as Silicon Valley.
His adoptive mother taught him to read even before he went to school, and his adoptive father taught him in basic electronics, developing skills that, unknown to them at that time would contribute to the great legacy of Steve Jobs.
Jobs's birth parents met at the University of Wisconsin. Abdulfattah "John" Jandali, from Syria, taught there. Joanne Carole Schieble was his student; they were the same age. Schieble had a career as a speech language pathologist. Jandali taught political science at the University of Nevada in the 1960s, and then made his career in the food and beverage industry, and since 2006, has been a vice president at a casino in Reno, Nevada.
In December 1955, ten months after giving up their baby boy, Schieble and Jandali married. In 1957 they had a daughter, Mona. They divorced in 1962, and Jandali lost touch with his daughter. Her mother remarried and had Mona take the surname of her stepfather, so she became known as Mona Simpson.
Jobs frequented after school lectures at the Hewlett-Packard company during his days in Homestead High School in Cupertino California. Jobs met Steve Wozniak during his tenure as a summer employee. Wozniak, along with Ronald Wayne would, in the future, join Jobs to co-found Apple Computer Co., the company that, more than anything else, embody the legacy of Steve Jobs.
Steve Jobs never attended college for long. Staying for only one semester, he later dropped out and basically lived the life of a transient for some time, and considering how far reaching the legacy of Steve Jobs eventually became, made his accomplishments all the more impressive.
Creating The Apple
Steve Jobs joined Steve Wozniak after his invention of the Apple I computer, and along with Ronald Wayne and funding from Mark Markkula, would found the Apple Computer Co. in 1976, a flagship company where the legacy of Steve Jobs would be built upon.
Originally created in the garage of Job's parents, the company would soon grow to establish the standards on how computers would become, and establish the legacy.
After Apple's founding, Jobs became a symbol of his company and industry. When Time named the computer as the 1982 "Machine of the Year", the magazine published a long profile of Jobs as "the most famous maestro of the micro".
Steve Job's initial stay at Apple wasn't smooth. He resigned from the company in 1985 after disagreements between management policy and struggle with the board of directors. This departure would not last however.
He bought The Graphics Group (now named Pixar) from Lucasfilms in 1986. And purchased NeXT computers after having difficulties in developing a new Mac OS for a sum of $429 million.
Return To Apple
Steve Jobs returned to the company that he co-founded, and eventually becoming the CEO in 1997. With Steve Jobs back in Apple, his brand of management and his demand for aesthetically appealing products brought back profitability to the company's portfolio, saving it from near bankruptcy.
When Microsoft, one of Apple's closest rival in the industry, established by Bill Gates and Paul Allen, continued to gain market share by delivering software to cheap commodity personal computers, Steve Jobs aims to make Apple deliver a richly engineered, but expensive experience.
He was the most admired entrepreneur among teenagers and having previously named Entrepreneur of the Decade.
On November 5, 2009, Jobs was named the CEO of the decade by Fortune magazine. And in November 2010, Jobs was ranked No.17 on Forbes: The World's Most Powerful People.
As a CEO, Jobs earned only $1 a year, but held 5.426 million Apple shares, as well as 138 million shares in Disney which he received in exchange for Disney's acquisition of Pixar. Jobs stated that the $1 per year he was paid by Apple was based on attending one meeting for 50 cents while the other 50 cents was based on his performance.
Forbes estimated his net wealth at $8.3 billion in 2010, making him the 42nd wealthiest American at the time.
Over the decade, Jobs oversaw the development and the enormous success of Apple's products and services, providing years of stable financial returns, propelled Apple to become the world's most valuable company in 2011. The reinvigoration of the company is regarded as one of the greatest business turnaround stories in history.
IPod, IPhone, IPad
Apple launched the iPod in 2001, and along with the iTunes software, Jobs' company revolutionized the way we listen to music. Digital music players can be found in every corner of the globe, and the iPod line is by far the most popular of them all.
Apple made purchasing and listening to music so affordable and easy that over 220 million iPod devices have been sold since its introduction.
In 2007 Jobs launched what is undoubtedly the best-selling Apple product to date: the iPhone. His vision of a smartphone was far different than what most wireless consumers were used to, but now it's hard to imagine a world without it.
As competitors did their best to catch up, Jobs stayed the course, always standing by his promise to create useful products on Apple's terms, and without influence from the rest of the tech world.
Once the iPhone was firmly a market leader, Jobs took his dream of mobile computing one step further by introducing the iPad — a tablet that didn't try to be a computer. Both the iPhone and iPad product lines have seen massive success.
After 5 models of Apple's smartphone and 3 for iPads, not to mention the iMac, iTunes and Apple Retail Stores, iTunes Store and the App Store, the company is becoming the most valuable brand name in consumer electronics, and has flirted with being the most profitable company on earth.
Personal Life
In the 1980s, Jobs found his birth mother, Joanne Schieble Simpson, who told him he had a biological sister, Mona Simpson. Jobs met his sister for the first time in 1985 and became close friends. The siblings kept their relationship secret until 1986, when Mona introduced him at a party for her first book.
After deciding to search for their father, Simpson found Jandali managing a coffee shop. Without knowing who his son had become, Jandali told Mona that he had previously managed a popular restaurant in the Silicon Valley where "Even Steve Jobs used to eat there.
Jobs said that "when I was looking for my biological mother, obviously, you know, I was looking for my biological father at the same time, and I learned a little bit about him and I didn't like what I learned. I asked her to not tell him that we ever met...not tell him anything about me."
Jobs was in occasional touch with his mother Joanne Simpson, who lives in a nursing home in Los Angeles. When speaking about his biological parents, Jobs stated that "they were my sperm and egg bank. That's not harsh, it's just the way it was, a sperm bank thing, nothing more."
Jandali stated in an interview, that his efforts to contact Jobs were unsuccessful. Jandali mailed in his medical history after Jobs's pancreatic disorder was made public that year.
Jobs's first child, Lisa Brennan-Jobs, was born in 1978, the daughter of his longtime partner Chris Ann Brennan, a Bay Area painter. For two years, she raised their daughter on welfare while Jobs denied paternity by claiming he was sterile; he later acknowledged Lisa as his daughter.
Jobs later married Laurene Powell on March 18, 1991, in a ceremony at the Ahwahnee Hotel in Yosemite National Park. Presiding over the wedding was Kobun Chino Otogawa, a Zen Buddhist monk.
Their son, Reed, was born September 1991, followed by daughters Erin in August 1995, and Eve in 1998. The family lives in Palo Alto, California.
Jobs once dated Joan Baez for a few years. Elizabeth Holmes, a friend of Jobs from his time at Reed College.
Jobs was also a fan of The Beatles. He referred to them on multiple occasions at Keynotes and also was interviewed on a showing of a Paul McCartney concert. Jobs stated that his model for business is The Beatles. "They were four guys that kept each other's negative tendencies in check; they balanced each other. And the total was greater than the sum of the parts.
Great things in business are never done by one person, they are done by a team of people," Jobs said.
In 1982, Jobs bought an apartment in The San Remo, an apartment building in New York City with a politically progressive reputation, where Demi Moore, Steven Spielberg, Steve Martin, and Princess Yasmin Aga Khan, daughter of Rita Hayworth, also had apartments. With the help of I. M. Pei, Jobs spent years renovating his apartment in the top two floors of the building's north tower, only to sell it almost two decades later to U2 singer Bono.
Jobs never moved in.
In 1984, Jobs purchased the Jackling House, a 17,000-square-foot (1,600 m2), 14-bedroom Spanish Colonial mansion designed by George Washington Smith in Woodside, California. Although it reportedly remained in an almost unfurnished state, Jobs lived in the mansion for almost ten years. According to reports, he kept a 1966 BMW R60/2 motorcycle in the living room, and let Bill Clinton use it in 1998.
From the early 1990s, Jobs lived in a house in the Old Palo Alto neighborhood of Palo Alto. President Clinton dined with Jobs and 14 Silicon Valley CEOs there on August 7, 1996, at a meal catered by Greens Restaurant. Clinton returned the favor and Jobs, who was a Democratic donor, slept in the Lincoln bedroom of the White House.
Jobs usually wore a black long-sleeved mock turtleneck made by Issey Miyake (sometimes reported to be made by St. Croix), Levi's 501 blue jeans, and New Balance 991 sneakers. Jobs said that "...it's the idea of having a uniform for himself, both because of its daily convenience and its ability to convey a signature style."
Jobs's car was a silver Mercedes-Benz SL 55 AMG, which did not display its license plates, as he took advantage of a California law which gives a maximum of six months for new vehicles to receive plates; Jobs leased a new SL every six months. Jobs involved himself with the details of designing his 78-metre luxury yacht Venus to keep thoughts of death at bay.
Jobs contributed to a number of political candidates and causes during his life, giving $209,000 to Democrats, $45,700 to associated special interests and $1,000 to a Republican.
Health Issues
In October 2003, Jobs was diagnosed with cancer, and in mid-2004, he announced to his employees that he had a cancerous tumor in his pancreas. Jobs stated that he had a rare, far less aggressive type known as islet cell neuroendocrine tumor.
Despite his diagnosis, Jobs resisted his doctors' recommendations for mainstream medical intervention for nine months, instead consuming a special alternative medicine diet in an attempt to thwart the disease.
According to Jobs's biographer, "for nine months he refused to undergo surgery for his pancreatic cancer – a decision he later regretted as his health declined. Instead, he tried a vegan diet, acupuncture, herbal remedies and other treatments he found online, and even consulted a psychic.
He also was influenced by a doctor who ran a clinic that advised juice fasts, bowel cleansings and other unproven approaches, before finally having surgery in July 2004." He eventually underwent a pancreaticoduodenectomy (Whipple procedure) in July 2004, that appeared to successfully remove the tumor.
Jobs apparently did not receive chemotherapy or radiation therapy. During Jobs's absence, Tim Cook, head of worldwide sales and operations at Apple, ran the company.
Steve Jobs first addressed his concerns about his health in 2008.
As his appearance changes, speculations and rumors spread. When interviews were made about Jobs health was getting better, the public was less concerned.
On December 16, 2008, Apple announced that marketing vice-president Phil Schiller would deliver the company's final keynote address at the Macworld Conference and Expo 2009, again reviving questions about Jobs's health. In a statement given on January 5, 2009, on Apple.com Jobs said that he had been suffering from a "hormone imbalance" for several months.
Tim Cook, who previously acted as CEO in Jobs's 2004 absence, became acting CEO of Apple, with Jobs still involved with major strategic decisions.
In April 2009, Jobs underwent a liver transplant at Methodist University Hospital Transplant Institute in Memphis, Tennessee. Jobs's prognosis was described as "excellent".
On January 17, 2011, a year and a half after Jobs returned from his liver transplant, Apple announced that he had been granted a medical leave of absence. Jobs announced his leave in a letter to employees, stating his decision was made "so he could focus on his health".
As during his 2009 medical leave, Apple announced that Tim Cook would run day-to-day operations and that Jobs would continue to be involved in major strategic decisions at the company. Despite the leave, he made appearances at the iPad 2 launch, the WWDC keynote introducing iCloud, and before the Cupertino city council in 2011.
Jobs announced his resignation as Apple's CEO on August 24, 2011. Jobs became chairman of the board thereafter, naming Tim Cook his successor as CEO, and continued to work for Apple until the day before his death 7 weeks later.
Death
Steve Jobs died at his California home around 3 pm on October 5, 2011, due to complications from a relapse of his previously treated islet-cell neuroendocrine pancreatic cancer, resulting in respiratory arrest. He had lost consciousness the day before, and died with his wife, children and sister at his side.
Both Apple and Microsoft flew their flags at half-staff throughout their respective headquarters and campuses. Bob Iger ordered all Disney properties, including Walt Disney World and Disneyland, to fly their flags at half-staff, from October 6 to 12, 2011.
For two weeks following his death, Apple's corporate website displayed a simple page, showing Jobs's name and lifespan next to his grayscale portrait. An email address was also posted for the public to share their memories, condolences, and thoughts. Over a million tributes were sent, which are now displayed on the Steve Jobs memorial page.
Also dedicating its homepage to Jobs was Pixar, with a photo of Jobs, John Lasseter and Edwin Catmull.
A small private funeral was held on October 7, 2011. Apple announced on the same day that they had no plans for a public service, but were encouraging "well-wishers" to send their remembrance messages to an email address created to receive such messages. Sunday, October 16, 2011, was declared "Steve Jobs Day" by Governor Jerry Brown of California.
On that day, an invitation-only memorial was held at Stanford University. Those in attendance included Apple and other tech company executives, members of the media, celebrities, close friends of Jobs, and politicians, along with Jobs's family. Bono, Yo Yo Ma, and Joan Baez performed at the service, which lasted longer than an hour.
The service was highly secured, with guards at all of the university's gates, and a helicopter flying overhead from an area news station.
A private memorial service for Apple employees was held on October 19, 2011, on the Apple Campus in Cupertino. Present were Cook, Bill Campbell, Norah Jones, Al Gore, and Coldplay, and Jobs's widow, Laurene, was in attendance. Some of Apple's retail stores closed briefly so employees could attend the memorial. A video of the service is available on Apple's website.
Jobs is buried in an unmarked grave at Alta Mesa Memorial Park, the only non-denominational cemetery in Palo Alto. He is survived by Laurene, his wife of 20 years, their three children, and Lisa Brennan-Jobs, his daughter from a previous relationship.
His family released a statement saying that he "died peacefully". He "looked at his sister Patty, then for a long time at his children, then at his life's partner, Laurene, and then over their shoulders past them"; his last words, spoken hours before his death, were:
"Oh wow. Oh wow. Oh wow."
Honors And Recognitions
After Apple's founding, Steve Jobs became a symbol of his company and industry. When Time named the computer as the 1982 "Machine of the Year", the magazine published a long profile of Jobs as "the most famous maestro of the micro".
Jobs was awarded the National Medal of Technology by President Ronald Reagan in 1985, with Steve Wozniak, and a Jefferson Award for Public Service in the category "Greatest Public Service by an Individual 35 Years or Under" (the Samuel S. Beard Award) in 1987.
On November 27, 2007, Jobs was named the most powerful person in business by Fortune magazine. On December 5, 2007, California Governor Arnold Schwarzenegger and First Lady Maria Shriver inducted Jobs into the California Hall of Fame, located at The California Museum for History, Women and the Arts.
In August 2009, Jobs was selected as the most admired entrepreneur among teenagers in a survey by Junior Achievement, having previously been named Entrepreneur of the Decade 20 years earlier in 1989, by Inc. magazine.
On November 5, 2009, Jobs was named the CEO of the decade.
In November 2010, Jobs was ranked No.17 on Forbes: The World's Most Powerful People. In December 2010, the Financial Times named Jobs its person of the year for 2010. On December 21, 2011, Graphisoft company in Budapest presented the world's first bronze statue of Steve Jobs, calling him one of the greatest personalities of the modern age.
In January 2012, when young adults were asked to identify the greatest innovator of all time, Steve Jobs placed second behind Thomas Edison.
On February 12, 2012, Jobs was posthumously awarded the Grammy Trustees Award, an award for those who have influenced the music industry in areas unrelated to performance. In March 2012, Steve Jobs was named the "greatest entrepreneur of our time", describing him as "brilliant, visionary, inspiring", and "the quintessential entrepreneur of our generation".
Two films, Disney's John Carter and Pixar's Brave, are dedicated to Jobs.
Throughout his life, Jobs was portrayed in many books, documentaries, films, and theaters.
In Memoriam
Through it all, Steve Jobs gained millions of fans. His relaxed appearance and style during the frequent Apple keynotes is legendary, and even as new CEO Tim Cook takes over, we can't help but miss the black shirts and blue jeans we were used to seeing for so many years.
Jobs exemplified the self-made man who had a vision and, through determination and intelligence, popularized his vision, making a fortune in the process.
Steve Jobs revolutionize the way we listen to music in the form of the mp3 player with his iPods, and bringing smartphones and tablet into the tech race, the legacy of Steve Jobs is hard to miss in everyday life. His drive to create innovative products changed the way that we view mobile computing, and will probably affect what we expect of mobile media for years to come.
On October 5, 2012, Apple.com's homepage was changed to a video tribute to Jobs, because it was the first anniversary of his death, and it showed pictures with audio from some of his greatest keynotes. When the video ended, it showed a note from Tim Cook about the matter.