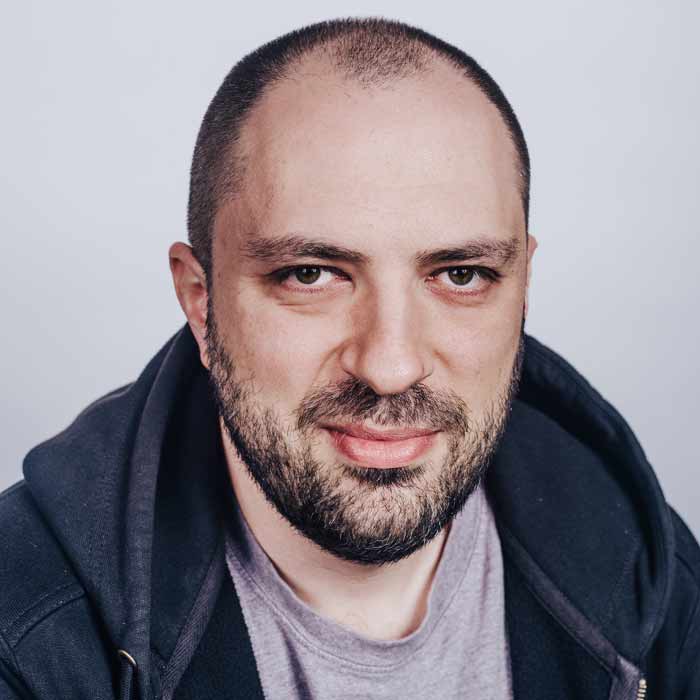 "I want to do one thing, and do it well."

- Jan Koum
People know him as an executive, building his life up from the ground. Jan Koum isn't what people say a bragger, but he has plenty to boast about. Especially when WhatsApp Inc., the company he co-founded that developed one of the largest messaging apps, was acquired by Facebook for $16 billion, plus an additional $3 billion in stock options.
Since then, Koum's name has catapulted from a relative unknown to a poster celebrity for rags-to-riches immigrant triumph.
Early Life
Jan Koum (Russian: Ян Кум) was born in February 24th, 1976, and raised in a village outside Kiev in Ukraine. Koum is the only child of a housewife mother and a construction manager father who built hospitals and schools. Koum grew up in a home without hot water, and his parents "rarely talked on the phone in case it was tapped by the state."
As a result of the exodus of Jews from the former Soviet Union in the aftermath of its collapse, at the age of 16, Koum and his mother and grandmother moved to Mountain View, California, where a social support program helped the family to get a small two-bedroom apartment. His father had intended to join the family later, but finally remained in Ukraine.
After residing in the U.S., Koum's mother who apparently brought over pens and 20 Soviet-issued notebooks in order to avoid paying for school supplies in the U.S., worked as a babysitter, while Koum himself worked as a cleaner at a grocery. Both were relying on food stamps before Koum's mother was diagnosed with cancer. Since then, they lived off her disability allowance. During this time, Koum has learned to speak English well enough but disliked the casual, flighty nature of American high-school friendships.
Koum stated that he was a troublemaker during his high school moments and "barely graduated" it in 1995. A couple of years later, Koum became interested in programming. He taught himself computer networking by purchasing manuals from a used bookstore and returning them when he was done. He joined a hacker group called w00w00 on the Efnet internet relay chat network, squirreled into the servers of Silicon Graphics and chatted with Napster co-founder Shawn Fanning.
Later, he enrolled at San Jose State University and simultaneously worked at Ernst & Young as a security tester. However, Koum also stated that he "dropped out" of the university because he "hated school".
Early Career
In 1997, Jan Koum was hired by Yahoo!, not long after Koum met Brian Acton while working at Ernst & Young. Koum first met Acton when he was sitting across a desk from Acton. Koum's "no-nonsense" profile fitted well with Acton's "to the point" personality. The two became friends shortly afterwards.
Over the next nine years, they both worked at Yahoo! with Koum as systems security and then in infrastructure engineering. In September 2007, Koum and Acton left and took a year off to decompress, traveling around South America and playing ultimate Frisbee.
The two friends later applied to work at Facebook but failed. At the time, Koum was eating into his $400,000 in savings from Yahoo!, and his savings was drifting away quickly. In January 2009, Koum bought an iPhone and realized that the then seven-month old App Store was about to create a whole new industry of apps. He visited his friend Alex Fishman, a Russian friend who would invite the local Russian community to his place in West San Jose for weekly pizza and movie. Koum and Fishman stood and talked for hours about Koum's idea for an app over tea at Fishman's kitchen counter. The app was later known as WhatsApp.
Creating WhatsApp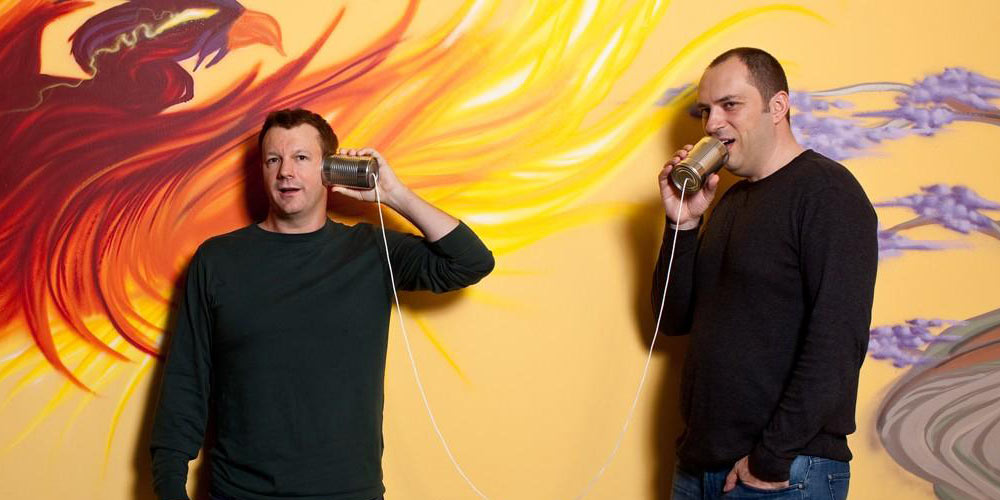 Brian Acton and Jan Koum
"Jan was showing me his address book," recalls Fishman. "His thinking was it would be really cool to have statuses next to individual names of the people." The statuses would show if you were on a call, your battery was low, or you were at the gym. Koum could do the backend, but he needed an iPhone developer, so Fishman introduced Koum to a developer in Russia.
Jan Koum's idea began when he wanted to create something that ease communication, enhancing people to connect without any gimmicks. Based on making the world more open and connected, Koum and Acton wanted to make a simple alternative to texting. The idea was to create a service where people could reach friends and family anywhere in the world on any type of smartphone without having to pay for each message.
The name of the app, WhatsApp, was chosen because it sounded like "what's up". A week later on his birthday in 2009, Koum incorporated WhatsApp Inc. in California. At that time, the app was not even written yet.
Koum's passion to create the app was partially inspired by his memories of how difficult and costly it had been for him and his family to stay in touch with relatives back in Ukraine. Koum provided an example of his mission when a young woman in 2010 begged him for access to the then-unreleased beta version of the BlackBerry version of the software, because she was alone in Australia and couldn't afford the tariffs to call home to relatives. That impressed upon him the importance of connecting people.
Koum spent days creating the backend code to sync his app with any phone number in the world, poring over a Wikipedia entry that listed international dialing prefixes. Koum spent many infuriating months updating it for the hundreds of regional nuances.
The first versions of WhatsApp was installed only by Fishman and Koum's close friends that appeared in his contact - most are local Russian friends. The app that kept crashing and had many bugs. Koum was frustrated that he thought he could be better by getting a new job for a living. Koum admitted to Acton that WhatsApp may have no future, but Acton kept persuading him to continue developing the app.
The Rise of WhatsApp
Before WhatsApp became a popular method of messaging, many people uses Yahoo! Messenger, MSN and other IMs to chat. Around that time, the only other free texting services meant for mobile devices were BlackBerry's BBM, but that was only limited to BlackBerries. There was Google's G-Talk and Skype, but WhatsApp was unique in that the login was the user's own phone number. Despite the bugs the app had, the method has made the app popular among small user base at that time.
In June 2009, Apple launched push notifications, letting developers ping users when they were not using an app. Koum updated WhatsApp so that each time users change their status, the app would ping everyone in their network. WhatsApp released version 2.0 with a messaging component, and the active users suddenly gone up to 250,000.
Koum visited Acton, who was still unemployed while managing the unsuccessful startup, and decided to join the company. The two friends frequently meet at Red Rock Cafe to code and scribble notes. Acton persuaded five ex-Yahoo! friends to invest $250,000 in seed funding, and as a result was granted co-founder status and a stake.
From their Yahoo! friends and early funding, Koum and Acton found a startup subleasing some cubicles on a converted warehouse on Evelyn Ave that was mostly occupied by Evernote. They kept their presence discreet and live with blankets for warmth and worked off cheap IKEA tables.
Koum then hired an old friend who lived in Los Angeles, Chris Peiffer, to make the BlackBerry version of WhatsApp. Since then there was no WhatsApp sign in front of the office. "Their directions were 'Find the Evernote building. Go round the back. Find an unmarked door. Knock,'" says Michael Donohue, one of WhatsApp's BlackBerry engineers recalling his first interview.
With Koum and Acton working for free for the first few years, their biggest early cost was sending verification texts to users. WhatsApp used brokers like Click-A-Tell, who sends an SMS to the U.S. for 2 cents, but to the Middle East for 65 cents. With the increasing number of users, the cost was high enough to drain Koum's bank account. Fortunately WhatsApp was gradually bringing in revenue, roughly $5,000 a month by early 2010 and enough to cover the costs. The founders eventually switched the app from "free" to "paid" so the user base wouldn't grow too fast.
At this time, WhatsApp was already a growing phenomenon. By early 2011, WhatsApp was in the top 20 of all apps in the U.S. App Store.
Koum's passion is to connect everyone with reliable platform of communication. "We won't stop until every single person on the planet has an affordable and reliable way to communicate with their friends and loved ones," said Koum.
Koum agreed to take $8 million from Sequoia Capital on top of their $250,000 seed funding to further develop the app. By February 2013, WhatsApp's user base had swelled to about 200 million active users and its staff to 50. Koum and Acton agreed to raise some more money for "insurance" and secretly held a second funding round with Sequoia investing another $50 million, valuing WhatsApp at $1.5 billion.
With over $8.257 million in the company's bank account, the founders purchased a new three-story building around the corner from a leasing and doubled the staff to 100.
WhatsApp Acquired by Facebook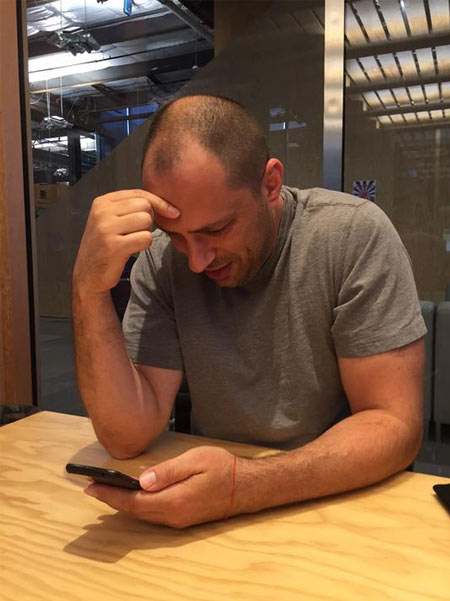 Jan Koum photographed by Mark Zuckerberg
The revenue effort for WhatsApp only came from 99 cents a year per user. Although the app was considered capable to make a lot of money from ads and selling games and stickers like its competitors, Koum stated that he has no interest to do so.
"We want to know as little about our users as possible. We don't know your name, your gender… We designed our system to be as anonymous as possible. We're not advertisement-driven so we don't need personal databases."
This was clearly stated by a note that Koum taped to his desk in his office: "No Ads! No Games! No Gimmicks!"
The massive usage, potential and popularity of the messaging app finally caught the attention of the Facebook. WhatsApp is the largest messaging app, installed by hundreds of millions of smartphones ranging from Android, iOS, Windows, BlackBerry, Windows Phone to Nokia Symbian. Its user base comes second only to Facebook's Messenger.
Facebook's founder Mark Zuckerberg first contacted Koum in the spring 2012. The two met at a coffee shop in Los Altos, California, and spoke for an hour, then took a walk for another hour and a half. Later that year, Koum and Zuckerberg began a series of dinners and continued to discuss messaging and communication services during meals and walks in the hills above Silicon Valley.
One day when Zuckerberg asked Koum to have dinner at his home on February 9th, he formally proposed a deal and invited Koum to join the Facebook board. Koum thought about it for a few days, and the two met again on Valentine's Day. Koum came over to Zuckerberg's home, crashing the dinner Zuckerberg was sharing with his wife, Priscilla Chan. They negotiated over a plate of chocolate-covered strawberries intended for Chan. And by the end of the week, the two founders struck a deal.
On February 19, 2014, Facebook agreed to acquire WhatsApp for $19 billion. The money in the deal is a sum equal to more than 10 percent of Ukraine's entire GDP.
Despite the fact that Koum has kept a quiet public presence, he has been vocal about his distaste for advertising. Which is apparently Facebook's main way to create revenue. Koum said he wanted to continue to focus on messaging as the company's core service and not turn WhatsApp into an advertising showcase.
Facebook's acquisition of WhatsApp has made Koum, that reportedly owns 45 percent of WhatsApp, a sudden billionaire and a member of Facebook's Board of Directors. But this massive increase in status didn't change Koum's objectives.
"Mobile and messaging is the only thing we do," he said. "It's in our heart and in our blood and DNA."
Personal Life
Jan Koum has kept his life discreet. His times as an immigrant and the facts of his life has fueled his passion to create something that "helps". When a company is commonly all about how to get revenue and make its founders wealthier, Koum has no interest in monetization. His dedication for creating WhatsApp was inspired by his memories and family.
When Koum decided to sign the contract with Facebook, he repeats his history by chosing the same building he used to stand and wait for food stamps when he was a young man many years ago. Koum, the man who once stood outside the building looking for food stamps, standing outside the same building signing papers that made him a billionaire. As part of the terms of the deal with Facebook, early employees of WhatsApp are entitled to a 1 percent portion of the billions of dollar deal. Koum is not the only one who will be set for life with this deal, the people who worked with him for the longest and hardest times, are also set. Not coincidentally, some of them are his friends.
Koum's father died in 1997 and his mother died of cancer in 2000. He credits Acton with reaching out and offering support. "He would invite me to his house," Koum remembers. The two went skiing, played soccer and ultimate Frisbee.
As of 2015, Koum sold more than $274 million worth of Facebook stock in a series of transactions (less than 4 percent of his total holdings). And as of 2016, he sold more than $2.4 billion worth of Facebook stock.
On April 30, 2018, Koum announced that he was leaving WhatsApp due to disputes with Facebook's strategy on WhatsApp that is against his objective. His decision also includes stepping down from Facebook's Board of Directors.