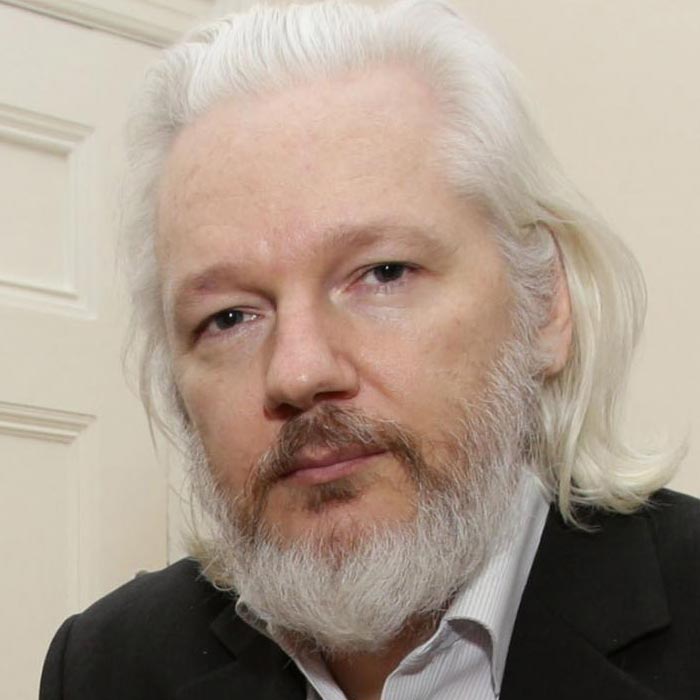 "True information does good."

- Julian Assange
Nomadic since a child, Julian Assange with his dedication to transparency and ready availability of information, began his work on Wikileaks to collect and share confidential information on an international scale by giving whistleblowers an anonymous way to publish sensitive documents.
The information his organization released has earned him strong supporters and powerful enemies.
As a controversial public face with a sketchy personal history, Julian Assange has received numerous awards, and said to be "The Most Dangerous Man in the World" in a book written by Andrew Fowler.
Early Life
Julian Paul Assange was born on July 3rd, 1971 in Townsville, Queensland from a mother, Christine Ann Assange, a daughter of Australian Army World War II veteran, academic, and principal of Northern Rivers College (Southern Cross University), and a father, John Shipton, who he did not meet until he was 25. Assange is a "a sixth-generation Australian". Assange stated to a skeptical reporter that he is of Scottish, Irish, Taiwanese, Torres Strait Islander, and French ancestry.
His mother, Christine, married theatre director Richard Brett Assange, when Assange was one year of age. In 1976, the family moved to Magnetic Island, where Christine had previously resided. They lived in Horseshoe Bay, in an abandoned farm. Later, Assange and his mother lived in a cottage at Picnic Bay.
During Assange's childhood, Brett and Christine Assange ran a touring theater company. In the mid-70's, the family moved to North Lismore, New South Wales, and Assange attended Goolmangar Primary School in the nearby town of Goolmangar from 1979 to 1983.
In 1979, his mother remarried Leif Meynall (Leif Hamilton). The couple had a son, but broke up in 1982 and engaged in a custody struggle for Assange's half-brother. His divorced mother took both of her children and fled her boyfriend by traveling and hiding in Australia for the next five years.
Assange moved thirty times before the age of 14. He attended numerous schools and sometimes forced to be home-schooled. Assange stated that he had lived in more than 50 cities and attended 37 different schools.
Julian Assange discovered his passion for computers since he was a teenager. At the age of 16, his mother gave him his first computer as a gift. With this computer, Assange developed a talent for hacking into computer systems in which he began hacking under the name "Mendax". Assange and two other hackers formed a group they named the International Subversives. The Australian Federal Police became aware of this group and set up "Operation Weather" to investigate their hacking.
It took the authorities three years to bring the case to court. Assange and other hackers were charged with 31 counts of hacking and related crimes. In May 1995 he pleaded guilty to 25 charges of hacking, after six charges were dropped, and was released on bond for good conduct with a fine of A$2,100.
Early Works
In 1993, Assange was involved in starting one of the first public internet service providers in Australia, Suburbia Public Access Network. Starting in 1994, he lived in Melbourne, where he worked on developing free software and programming. In 1995, he wrote Strobe, the first free and open-source port scanner, and in 1996, he contributed several patches to the PostgreSQL project. He helped to write the book Underground: Tales of Hacking, Madness and Obsession on the Electronic Frontier (1997). Around 1997, he co-invented the Rubberhose deniable encryption system, which he originally intended the system to be used "as a tool for human rights workers who needed to protect sensitive data in the field."
Other free software that he has authored or co-authored includes the Usenet caching software NNTPCache and Surfraw, a command-line interface for web-based search engines. In 1998, Assange co-founded his first and only Australian company, Earthmen Technology. Assange was characterised as a "cryptographer" in a Suelette Dreyfus article published in The Independent, 15 November 1999, and was said to have been the moderator of "the online Australian discussion forum AUCRYPTO". During this time Assange claimed to have found a new patent relating to the US National Security Agency's technology for monitoring calls, "while investigating NSA capabilities".
From 2002 to 2005, Assange attended the University of Melbourne and University of Canberra as an undergraduate student, he started a Bachelors of Science degree, studying physics, mathematics, and a brief philosophy and neuroscience which he did not graduate. He dropped out without finishing his degree, later claiming that he left the university for moral reasons. The fact that his fellow students were doing research for Pentagon's DARPA was reportedly a factor in motivating him to drop out and start WikiLeaks.
Birth Of WikiLeaks
WikiLeaks was founded in 2006. A website intended to collect and share confidential information on an international scale. WikiLeaks describes itself as a "an anonymous global avenue for disseminating documents the public should see."
The site officially launched in 2007 and was run out of Sweden at the time because of the strong laws protecting a person's anonymity in the country. That year, Assange wrote two essays setting out the philosophy behind WikiLeaks: "To radically shift regime behavior, we must think clearly and boldly for if we have learned anything, it is that regimes do not want to be changed. We must think beyond those who have gone before us and discover technological changes that embolden us with ways to act in which our forebears could not." In his blog he wrote, "the more secretive or unjust an organization is, the more leaks induce fear and paranoia in its leadership and planning coterie.... Since unjust systems, by their nature, induce opponents, and in many places barely have the upper hand, mass leaking leaves them exquisitely vulnerable to those who seek to replace them with more open forms of governance."
Assange is the most prominent media spokesman on WikiLeaks' behalf. He is described as a "director" or "founder" of WikiLeaks. Assange stated that he is not calling himself a founder, describing himself as the editor in chief of WikiLeaks. He also stated that he has the final decision in the process of vetting documents submitted to the site. Assange says that WikiLeaks has released more classified documents than the rest of the world press combined. He advocates a "transparent" and "scientific" approach to journalism.
In 2006, CounterPunch called him "Australia's most infamous former computer hacker." The Age has called him "one of the most intriguing people in the world" and "internet's freedom fighter." Assange has called himself "extremely cynical".
WikiLeaks has been involved in the publication of material documenting killings in Kenya, a report of dumping toxic waste on the coast of Côte d'Ivoire, Church of Scientology manuals, Guantanamo Bay procedures, the 12 July 2007 Baghdad airstrike video, and material involving large banks such as Kaupthing and Julius Baer among other documents.
On 28 November 2010, WikiLeaks began releasing some of the 251,000 American diplomatic cables in their possession, of which over 53 percent are listed as "Unclassified", 40 percent are "Confidential", and over six percent are classified "Secret".
The United States Department of Justice launched a criminal investigation related to the leak. U.S. prosecutors are reportedly considering charges against Assange under several laws, but any prosecution would be difficult. In relation to its ongoing investigations of WikiLeaks, on 14 December 2010, the U.S. Department of Justice issued a subpoena ordering Twitter to release information relating to Assange's account, amongst others.
The WikiLeaks diplomatic cable revelations have been credited by some commentators with being a factor in sparking the Tunisian Revolution, as such leaked cables revealed the degree of corruption in the then ruling government.
Financial
On 6 December 2010, the Swiss bank announced that it had frozen assets of Assange's totalling €31,000, because he had provided false information regarding his residence when opening the account. MasterCard, Visa Inc., and Bank of America also stopped their dealings with WikiLeaks.
The English-language Swedish newspaper website Local quoted Assange on 27 December 2010, as saying that legal costs for the whistleblowing website and his own defense had reached £500,000. The decisions to halt donations to WikiLeaks by Visa, MasterCard and PayPal had cost £425,000, the same amount it costs the website to publish for six months. Assange said WikiLeaks had been receiving £85,000 a day at its peak, before the financial blockade.
Friends And Enemies
With his creation, WikiLeaks, Julian Assange has made more than many strong friends and powerful enemies.
Australian Prime Minister, Julia Gillard, has come under widespread condemnation and a backlash within her own party for failing to support Assange after calling the leaks "an illegal act" and suggesting that his Australian passport should be cancelled. Hundreds of lawyers, academics and journalists came forward in his support with Attorney-General Robert McClelland, unable to explain how Assange had broken Australian law.
Former Foreign Minister Kevin Rudd, who supports Assange, stated that any decision to cancel the passport would be his, not Gillard's. Queen's Counsel Peter Faris, who acted for Assange in a hacking case 15 years ago, said that the motives of Swedish authorities in seeking Assange's extradition for alleged sex offences are suspect.
On 10 December 2010, over 500 people gathered outside Sydney Town Hall and about 350 people gathered in Brisbane where Assange's lawyer, Rob Stary, criticised Julia Gillard's position. On a full page ads in support of Assange in The New York Times and The Washington Times, received more than 50,000 supporting signatures.
Daniel Ellsberg, who was working in the U.S. Department of Defense when he leaked the Pentagon Papers in 1971, was a signatory to a statement by an international group of former intelligence officers and former government officials in support of Assange's work, which was released in late December 2010. Other signatories included David MacMichael, Ray McGovern, and five recipients of annual Sam Adams Award.
Luiz Inacio Lula da Silva, then president of Brazil, expressed his solidarity with Assange following his 2010 arrest in the United Kingdom. He further criticised the arrest of Assange as "an attack on freedom of expression".
Vladimir Putin, the Prime Minister of Russia, condemned Assange's detention as "undemocratic". A source within the office of Russian President Dmitry Medvedev suggested that Assange be nominated for a Nobel Prize, and said that "Public and non-governmental organizations should think of how to help him."
In December 2010, the United Nations' Special Rapporteur for Freedom of Opinion and Expression, Frank LaRue, said Assange or other WikiLeaks staff should not face criminal charges for any information they disseminated.
On the other hand, in the United States of America, current and former U.S. government officials have accused Assange of terrorism. In May 2010, Senate Minority Leader, Mitch McConnell, had used the phrase, calling Assange "a high-tech terrorist", and said that Assange has done enormous damage to the country and thinks that Assange needs to be prosecuted to the fullest extent of the law. Also in May 2010, former House Speaker, Newt Gingrich, said "information terrorism, which leads to people getting killed, is terrorism, and Julian Assange is engaged in terrorism. He should be treated as an enemy combatant."
On November 30, 2010, former Vice-Presidential candidate, Sarah Palin, called for Assange to be "hunted down like Osama bin Laden". Tom Flanagan, a former aide to the Canadian prime minister, called for Assange's assassination. Flanagan later retracted his comments, after a Vancouver lawyer filed a complaint with the Calgary Police against Harper, and Canadian nationals filed complaint.
On December 1, 2010, former Republican Presidential nominee Michael Huckabee called for those behind the leak of the cables to be assassinated, a view which was shared by Kathleen McFarland, former Pentagon advisor under Nixon, Ford and Reagan and current Fox News national security expert.
On 29 November 2010, Rep. Peter King, Chairman of the House Permanent Select Committee on Intelligence (HPSCI) wrote to Attorney General Eric Holder, asking that Assange should be prosecuted under the Espionage Act of 1917, and that he should be declared a terrorist. The same day, Rep. King also wrote to Secretary of State Hillary Clinton, requesting that she designate Wikileaks as a Foreign Terrorist Organization (FTO). The next day, Rep. King repeated his assertions that Wikileaks was a terrorist organization. He continued to repeat these assertions on other news media channels for the following week.
On 2 December 2010, Senator Feinstein and Senator Kit Bond, (respectively, the) Chairman and Ranking Member of the Senate Select Committee on Intelligence (SSCI), sent a joint-letter to Attorney General Holder, asking him to prosecute Assange under the Espionage Act [18 U.S.C. 793(e)], offering to "close those gaps in the law" if the DOJ found it difficult to apply the law to Assange's case.
On 7 December 2010, Senator Dianne Feinstein published an editorial commentary on Assange entitled "Prosecute Assange Under the Espionage Act," in which punishments can include a death penalty.
Since 2012, facing extradiction to Sweden, Assange sought refuge at the Embassy of Ecuador in London and was granted political asylum by Ecuador. There, he continued his work. Ecuadorian President Rafael Correa confirmed that Assange could stay at the embassy indefinitely.
Making it as his home, he has converted the office space into a studio apartment, equipped with a bed, telephone, computer, a shower and others.
In 2015, during a video conference to promote a documentary film about Edward Snowden, Bolivia's Ambassador to Russia, María Luisa Ramos Urzagaste, accused Assange of putting the life of Bolivian President at risk by Assange intentionally providing the U.S. with false information about Snowden on board the President's plane.
On that same year, Assange urged the French government to grant him a refugee status. On July, the French President refused and "cannot act on his request." The reason for this is because the situation Assange's was on didn't present any immediate danger. The next day, a spokesman for Assange denied that Assange had filed an asylum request in France. What Assange did was only expressing his willingness "to be hosted in France if and only if an initiative was taken by the competent authorities".
On 17 October 2016 WikiLeaks announced that a "state party" had severed Assange's internet connection at the Ecuadorian embassy. The Ecuadorian government stated that it had temporarily severed Assange's internet connection because of WikiLeaks' has released documents that could impact the U.S. election campaign".
Assange himself wrote on WikiLeaks in February 2016, stating that "I have had years of experience in dealing with Hillary Clinton and have read thousands of her cables. Hillary lacks judgement and will push the United States into endless, stupid wars which spread terrorism. ... she certainly should not become president of the United States."
Awards
Among his controversial life and work that made him a more controversial figure, Julian Assange has received numerous awards.
Assange received the 2009 Amnesty International UK Media Award (New Media), for exposing extrajudicial assassinations in Kenya by distributing and publicizing the Kenya National Commission on Human Rights (KNCHR)'s investigation The Cry of Blood – Extra Judicial Killings and Disappearances. He has been recognized as a journalist by the Centre for Investigative Journalism.
In 2010, Assange was awarded the Sam Adams Award, Readers' Choice in Time magazine's Person of the Year poll, and runner-up for Person of the Year. In April 2011 he was listed on the Time 100 list of most influential people.Le Monde named him person of the year with fifty six percent of the votes in their online poll.
In February 2011, it was announced that Assange had been awarded the Sydney Peace Foundation gold medal by the Sydney Peace Foundation of the University of Sydney for his "exceptional courage and initiative in pursuit of human rights."
In June 2011, Assange was awarded the Martha Gellhorn Prize for Journalism. The prize is awarded on an annual basis to journalists "whose work has penetrated the established version of events and told an unpalatable truth that exposes establishment propaganda, or 'official drivel'". The judges said that WikiLeaks has been portrayed as a phenomenon of the hi-tech age. It is goal of justice through transparency is in the oldest and finest tradition of journalism.
Snorre Valen, a Norwegian parliamentarian, nominated him for the 2011 Nobel Peace Prize.
On 14 February 2011, Assange filed for the trademark "JULIAN ASSANGE" in Europe. On the same year, court records revealed that in 1993, Assange helped the Victoria Police Child Exploitation Unit by providing technical advice and assisted in prosecuting persons.
His work and life has been documented on many films, books and essays.
Personal Life
Though an Australian citizen and nationality, Assange has not lived in Australia since he left and started work on WikiLeaks. In 2007 Assange moved to Nairobi, Kenya, he then also spent time in Tanzania, stayed in Cairo, Egypt, Paris, France and Wiesbaden, then Germany for two months at the end of 2008.
On 10 June 2010, it was reported that Pentagon officials were trying to determine his whereabouts. Based on this, there were reports that U.S. officials wanted to apprehend Assange. On 4 November 2010, Assange told Swiss public television TSR that he was seriously considering seeking political asylum in neutral Switzerland and moving the operation of the WikiLeaks foundation there.
At the City of Westminster Magistrates' Court on 7 December 2010, Assange identified a post office box as his address. When told by the judge that this information was not acceptable, he submitted "Parkville, Victoria, Australia" on a sheet of paper. His lack of permanent address and nomadic lifestyle were cited by the judge as factors in denying bail. With the help of a journalist, Vaughan Smith, who offered to provide Assange with an address for bail during the extradition proceedings, Smith's Norfolk mansion, Ellingham Hall, Assange was released. He lived there for a year, then moved out in December 2011 to a 3,000-acre estate in East Sussex on Lord Abergavenny's Eridge Park estate, near Tunbridge Wells.
When he was still a teenager, Assange was married to a woman known only as Teresa. The couple's son is Daniel Assange. Assange's family often received death threats which forced them to change identity.
Assange was Daniel's primary caregiver for much of his childhood. For a time he was the partner of WikiLeaks' journalist Sarah Harrison.
On April 11th, 2019, Assange was arrested after the Ecuadorian ambassador allowed the UK police to enter the London embassy. This followed the Ecuadorian president who said on 27 July 2018 that he had begun talks with British authorities to withdraw the asylum for Assange, saying that Assange repeatedly violated international conventions regarding domestic interference.
Assange was arrested "for violating U.S. secrecy laws", conspiracy to commit computer intrusion, and also in connection with his failure to surrender to the court in June 2012 for extradition to Sweden.