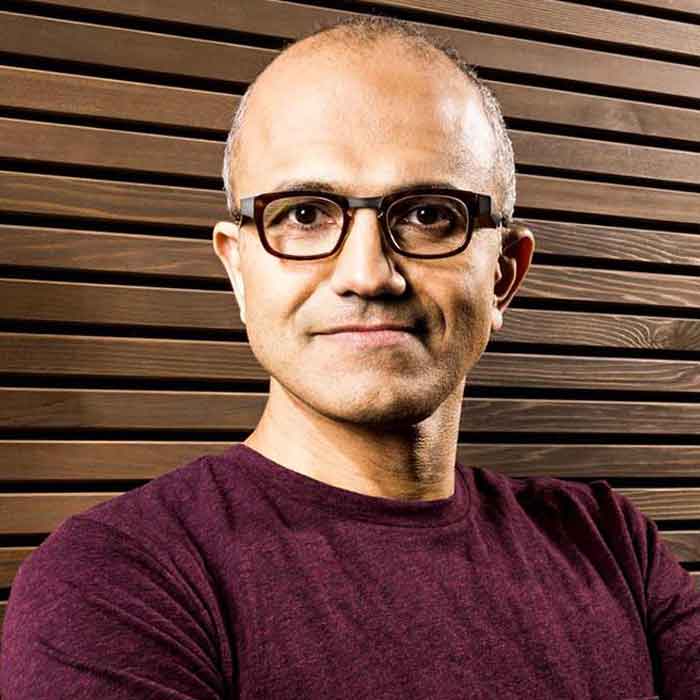 "Our industry does not respect tradition - it only respects innovation."

- Satya Nadella
Few people outside Microsoft had ever heard of his name. Until the time when the Indian-born executive was named as the most likely candidate to become Chief Executive of the technology giant.
Trusted to bring the company's morale back, Satya Nadella is aiming for Microsoft to stand up on its feet to create new innovations that would again change the world.
With his appointment as CEO, the multibillion dollar Microsoft has made him the most powerful Indian-born tech executive in the world.
Early Life
Satya Nadella and his parents.
Satya Nadella born Nadella Satya Narayana (Telugu: సత్య నాదెళ్ల) was born in 1967 in Hyderabad, Andhra Pradesh, India in a Telugu Brahmin family to an IAS officer, B. N. Yugandhar who was a member of the Planning Commission during 2004–2009 under Prime Minister Manmohan Singh. As a boy, Nadella attended the Hyderabad Public School in Begumpet.
When speaking about his early days, Nadella said that while growing up, playing cricket was his passion, and he played it competitively as a member of his school's team. "I think playing cricket taught me more about working in teams and leadership that has stayed with me throughout my career," said Nadella.
After that he attained a bachelor of engineering in electronics and communication degree from Manipal Institute of Technology, Manipal, Karnataka. Though the Microsoft's website, Nadella said that he has his institution at Mangalore University.
After moving to the U.S., Nadella earned a master's degree in Computer Science from the University of Wisconsin - Milwaukee, and an MBA from the University of Chicago Booth School of Business.
Nadella always wanted to build things. He knew that computer science was what he wanted to pursue later in life. But at that time he couldn't pursue it since it wasn't available when he attended Manipal University in Karnataka, where he got a bachelor's degree in electrical engineering. "And so it was a great way for me to go discover what turned out to become a passion," he says.
Career
Satya Nadella worked with Sun Microsystems before it was acquired by Oracle Corporation. He was a member of its technology staff, prior to joining Microsoft in 1992, and has held a variety of marketing, product development and general management roles. His first assignment at Microsoft was in the Windows Developer Relation group were he was a Product Manager helping to develop Windows NT.
Nadella serves as President of Server & Tools at Microsoft and served as its Executive Vice President of Cloud & Enterprise group where he was responsible for building and running the company's computing platforms, developer tools and cloud services.
Nadella and his team deliver the "Cloud OS", Microsoft's next generation backend platform. Designed for modern application needs that also not only powers all of Microsoft's internet scale cloud services (including O365, Bing, SkyDrive, Xbox Live, Skype and Dynamics) but also fuels global enterprises around the world to meet their most challenging and mission-critical computing needs.
Nadella was the one who leads Microsoft's engineering efforts in the Online Services Division, which includes the Search (Live Search), Portal (MSN) and Advertising platforms. Nadella served as the Head of Dynamics business software development of Microsoft Corporation and also served as its Corporate Vice President of Microsoft Business Solutions and Search & Advertising Platform Group.
Nadella became part of Business Solutions when the division was formed by combining the bCentral, Great Plains and Navision a/s groups. Before that, he served as General Manager for the Commerce Platforms Group and led the development efforts for Microsoft Commerce Server and Microsoft BizTalk Server. He was also a key member of several advanced technology incubation efforts inside Microsoft, including interactive television (ITV) and digital rights management (DRM).
He has been a Director of Riverbed Technology, Inc., since March 1, 2013. He serves as a Director of BravoSolution US, Inc. and serves as a Member of Advisory Board at Nirvaha, Inc. He served as a Director of Intelliprep Technologies Inc..
CEO Of Microsoft
On January 30th, 2014, news reports started surfacing that he was the frontrunner to succeed Steve Ballmer as the CEO of Microsoft. As a candidate for leading the tech giant up from the mud, Nadella has shown the skills from his experiences.
As a technologist, Nadella believe that hardware is Microsoft's way to stay in the competition. Microsoft co-founder and Chairman Bill Gates approved that and believe that Nadella is no one but the best that can lead the company he founded in 1975. Beside having his back in leading the company, Gates also steps down from the Chairman and assume the new title of Technology Advisor, which will increase his time at the company.
On February 4th, 2014, Nadella was officially announced as the new CEO of Microsoft. He's the third Chief Executive in the company's history.
In June 2021, it is said that Nadella is becoming the chair of the company's board, replacing independent director John Thompson, following a unanimous vote of the software company's board.
The change reflects Nadella's success in making Microsoft more prominent in technology and business altogether.
Personal Life
Satya Nadella and his wife, Anupama, and their eldest son, Zain.
In 1992, Satya Nadella married Anupama, daughter of his father's IAS batchmate in 1992. The couple have three children, a son and two daughters. They live in Bellevue, Washington.
Nadella is an avid reader of American and Indian poetry. He is also highly educated. Although keeping a low profile and does not like to be in public that often, he gets excited about new things. He buys more books than he can read or finish, he signed up for more online courses than he can actually finish, but the thing was about being able to watch people do great things. He always likes learning new things and having to have new concepts is something that excites him.
Nadella loves cricket since he was a child, and is still his passion to play ever since.
On May 2022, Nadella's and Anupama's eldest son Zain past away.
Zain who was 26 years old, suffered from asphyxia in utero that left him with cerebral palsy, and fought with it for all his life.
The software maker told its executive staff in an email that Zain had passed away, and asked executives to hold the family in their thoughts and prayers while giving them space to grieve privately.
Since taking on the CEO's role in 2014, Nadella has focused the company on designing products to better serve users with disabilities, citing lessons he learned while raising and supporting Zain. Last year, the Children's Hospital, where Zain received much of his treatment, joined with the Nadellas to establish the Zain Nadella Endowed Chair in Pediatric Neurosciences, as part of Seattle Children's Center for Integrative Brain Research.
"Zain will be remembered for his eclectic taste in music, his bright sunny smile and the immense joy he brought to his family and all those who loved him," Jeff Sperring, CEO of Children's Hospital, wrote in a message, which was shared with Microsoft executives.