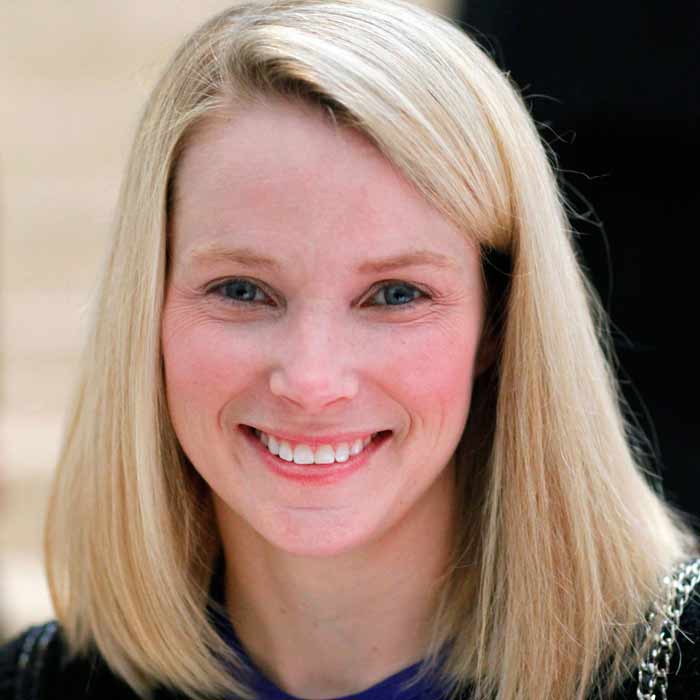 "The market is fast-moving, fast-growing. Things that are true today may not be true tomorrow. "

- Marissa Mayer
Other than the two Google's co-founders, Larry Page and Sergey Brin, perhaps there is no other executive better symbolized the new breed of brilliant young technologist in charge than Marissa Mayer.
As the first female engineer and 20th employee overall hired by Google, Mayer rapidly distinguished herself among others in the company. She was put in charge of fast-growing businesses that proved instrumental to Google's exponential growth in the last decade. Mayer solidified her cred while running the show when the number of daily searches on Google exploded from a few hundred thousand to over a billion searches with her helping hand in the design and development of the search interface.
Mayer, with her accomplishments and astonishing resumé, was appointed as new Chief Executive to one of Silicon Valley's pioneer, Yahoo!.
Early Life
Marissa Ann Mayer was born May 30, 1975, in Wausau, Wisconsin. She is the first child out of three, and the only daughter of Michael Mayer, an environmental engineer who worked for water-treatment plants, and Margaret Mayer, an art teacher and stay-at-home mother.
Mayer states her childhood was "wonderful" with a world-class ballet school and many opportunities right in town. Both of her parents were dedicated to nurturing their children's interests. Mayer attended numerous lessons and activities over the years. Among those she sampled: swimming, ice skating, ballet, piano, embroidery and cross stitch, cake decorating, skiing and golf. From her activities, Mayer learned valuable life lessons that explores her creativity skills.
In 1993, Mayer attended Wausau West High School. She was the president of the Spanish Club, treasurer of the Key Club, and involved in debate, Math Club, academic decathlon and Junior Achievement. She also played the piano, took babysitting lessons, and continued to dance; her years of classical ballet training helped her earn a place on the precision dance team. Her debate team won the state championship her senior year which helped her hone her skill of identifying problems and solutions quickly.
While still attending high school, Mayer took a job as a cashier at a supermarket. She was credited for her work when she is able to memorize the produce codes, making her work checking out items streamlined and as fast as other cashiers that worked for 20 years, averaging 38-41 items per minute.
"The more numbers you could memorize, the better off you are. If you had to stop to look up a price in a book, it totally killed your average," said Mayer.
Mayer graduated high school and was accepted to all ten colleges she applied to. She chose Stanford thinking she'd be a pediatric neurosurgeon. But a required computer course for pre-med students intrigued and challenged her. She then decided to study Symbolic Systems which included courses in cognitive psychology, philosophy, linguistics and computer science.
At Stanford, she kept her passion in ballet and debate. She danced in "The Nutcracker" ballet, engaged in parliamentary debate, volunteered at a children's hospital, was involved in bringing computer science education to schools in Bermuda and began teaching her junior year.
Later she held M.S. in computer science. For both her undergraduate and postgraduate academic degree, she specialized in artificial intelligence. Mayer served at the UBS research lab in Zurich, Switzerland for nine months and at SRI International in Menlo Park prior to joining Google.
Career at Google
Mayer's initial introduction to Google was decidedly inauspicious. A recruiting email arrived from a search engine company when she was a graduate student in a long-distance relationship that she recalls "pathetically eating a bad bowl of pasta in my dorm room by myself on a Friday night". Since she'd heard about the company from her professor and her graduate studies focused on the same area the company wanted to explore, although she'd already received job offers Oracle, Carnegie Mellon and McKinsey, she accepted the interview with the will be the biggest search engine company, Google.
Google was Mayer's 14th job offer. On the interview, the founders quizzed her on artificial intelligence while sitting at a ping-pong table that the company used for conferences. At that time, Google only had seven employees and all were male. Realizing that a better gender balance would make for a stronger company, Google was eager for her to join the team but Mayer didn't immediately accept.
She accepted the offer and joined Google in June 1999 as he 20th employee hired by Google and its first female engineer. She went on to establish the look of Google's interface as a search engine and oversee the development, code-writing, and launch of Gmail, Google Maps, iGoogle, Google Chrome, Google Health, and Google News. She heavily influenced the company's biggest successes such as Google Earth, Books, Images and more, and she curated Google Doodle, the morphing of the familiar homepage logo into designs and images celebrating special events around the world.
Named a Vice President in 2005, Mayer's most recent role had her supervising the company's mapping products, location services, Google Local, Street View and many other products. She helped create Google's flagship search service and the well-known white-background home page the company is still known for. During her 13-year tenure she led the product management effort for more than a decade during which Google Search grew from a few hundred thousand to over a billion searches per day.
Several patents in artificial intelligence and interface design carry her name as inventor. She has been very vocal in her support of smart product design, intense corporate teamwork and girl power.
"I'm not a woman at Google, I'm a geek at Google," Mayer once told an interviewer. "If you can find something that you're really passionate about, whether you're a man or a woman comes a lot less into play. Passion is a gender-neutralizing force."
Career at Yahoo!
On July 17, 2012, Marissa Mayer assumed the reins at Yahoo! as the President and CEO of Yahoo!, effective the following day, where she faces a tough battle to restore morale, confidence, and profitability from declining stock prices, layoffs and slowing ad revenue. Mayer is the company's eighth CEO, the third in a year, and the fifth in the past 5 years. She is also one of only 20 women running a Fortune 500 company.
"Since arriving at Google just over 13 years ago as employee number 20, Marissa has been a tireless champion of our users," Page said in a prepared statement. "She contributed to the development of our Search, Geo, and Local products as well as many other product areas. We will miss her talents at Google."
At Yahoo! as its CEO, she attempted to regain the company's profit and influence. With her many strategies and acquisitions, Mayer has been criticized for many of her management decisions. While Yahoo! for a while did improve its performance, it didn't take long before stocks continued to fall by more than 30 percent throughout 2015
In December 2015, a shareholder released a statement arguing Mayer's competence as CEO. As of January, it was estimated that Yahoo!s core business has been worth less than zero dollars.
In February 2016, Mayer confirmed the possibilities of Yahoo! in selling its core business. And later that year, it was revealed that she would receive $55 million if she is terminated from her position without certain cause after a year of Yahoo!' sale.
Awards and Honors
As well as sitting on the board of directors of Yahoo! and Walmart, Mayer also sits on several non-profit boards such as Cooper–Hewitt, National Design Museum, New York City Ballet, San Francisco Ballet and San Francisco Museum of Modern Art.
Mayer actively invests in technology companies, including crowd-sourced design retailer Minted, live video platform Airtime, and mobile payments processor Square.
Mayer was named to Fortune magazine's annual list of "America's 50 Most Powerful Women" in Business in 2008, 2009, 2010 and 2011. She was ranked 50, 44, 42 and 38, respectively. In 2008, at age 33, she was the youngest woman ever listed. Mayer was named one of Glamour Magazine's "Women of the Year" in 2009.
She also received the "Matrix Award" by the New York Women in Communications, awarded "Young Global Leader" by the World Economic Forum, and placed at #42 on Forbes' annual list of the 100 Most Powerful Women.
After six months at the top of the executive tree, Mayer that started re-energizing Yahoo!'s workplace by springing for free food and the latest smartphones, and implementing more discipline in product development and accountability among the staff, claimed her small victory. The company showed revenue growth for the first time in 4 years, up 2 percent year-over-year. Yahoo!'s fourth-quarter financial results indicate that Yahoo! isn't going backward. Since Mayer's appointment, Yahoo!'s ratings have improved - the stock price is up more than 30 percent and the cloud hanging over employee moral is slowly moving away. According to Mayer, 95 percent of Yahoo'!s employees are now optimistic about the company's future.
Mayer has an ambitious plan to transform Yahoo! into a mobile content portal, with deep personalization to drive the user experience and monetization.
In 2014, she was ranked sixth on Fortune's 40 under 40 list,
Personal Life
Marissa Mayer once dated Larry Page for three years before being married to Zachary Bogue, a lawyer and investor, on December 12, 2009. The couple has a home in Palo Alto, where she's known to throw lavish parties and fundraising dinners. Mayer also owns a penthouse in the Four Seasons in San Francisco.
Mayer is an art collector and commissioned preeminent glass artist Dale Chihuly to create a 400-piece ceiling installation featuring blown glass sea flora and fauna. She also owns original art by Andy Warhol, Roy Lichtenstein and Sol LeWitt.
Mayer that once stated that she requires only 4 hours of sleep at night has a passion for cupcakes, art and designer clothes. She wore a Naeem Khan wedding gown and once paid $60,000 at a charity auction to have lunch with Oscar de la Renta, one of the world's leading fashion designers. She is a former dancer and describes herself as a really physically active woman; she is an avid runner and world traveler who has climbed Mt. Kilimanjaro and snorkeled over the continental fissure off the coast of Iceland.
On the same day Yahoo! announced her hiring, Mayer, that is also known to study cupcake cookbooks, create spreadsheets of ingredients, and test versions of her own before writing new recipes, revealed that she was pregnant. Mayer gave birth to a baby boy (Macallister) on September 30, 2012.
On December 10, 2015, she announced that the had given birth to identical twin girls, Marielle and Sylvana.