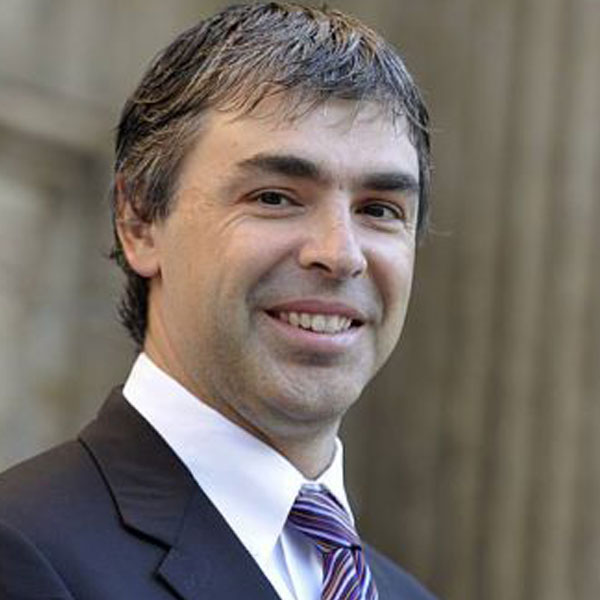 "If you're changing the world, you're working on important things. You're excited to get up in the morning."

- Larry Page
After it started in a garage-office in Menlo Park with no plans for business, years later, it aims for world domination. Larry Page, co-founder of Google Inc, an ambitious, arrogant and secretive person who values conflict, is now known as one of the world's most powerful people due to his passionate technological endeavours.
Larry Page and his business partner Sergey Brin changed the way most people use the internet. The pair started the Google search engine while working on their Ph.D.s in Computer Science at the Stanford University. They initially had no plans to start a business, but were simply doing research for their Ph.D. Google quickly went from a research project of two Stanford students to being one of the most visited websites on the internet.
On April 4, 2011, Page took on the role of Chief Executive Officer of Google, replacing Eric Schmidt, and later became the CEO of Alphabet.
Early Life
Lawrence "Larry" Page was born on March 26, 1973 in Lansing, Michigan. His father, Carl Page, earned a Ph.D. in computer science in 1965. Both he and Page's mother were computer science professors at Michigan State University. Gloria Page, his mother, is Jewish, taught computer programming. Both of his parents are computer experts which gave Page an influence in technology.
Page attended the Okemos Montessori School (Montessori Radmoor) in Okemos, Michigan from 1975 to 1979, and graduated from East Lansing High School in 1991. He holds a Bachelor of Science in computer engineering from the University of Michigan with honors and a Master of Science in computer science from Stanford University.
Larry Page never finished his Ph.D. because of the great success of his Google search engine. It was started in 1998 and grew rapidly every year since its beginnings. Page and Brin started with their own funds, and that of their friends and family but the site quickly outgrew their own available resources. They eventually received private investments through Stanford to fund the rapid growth of up to 20% per month.
The Birth of Google
After enrolling for a Ph.D. program in computer science at Stanford University, Larry Page was in search of a dissertation theme and considered exploring the mathematical properties of the World Wide Web, understanding its link structure as a huge graph. His supervisor Terry Winograd encouraged him to pursue this idea, which Page later recalled as "the best advice I ever got". Page then focused on the problem of finding out which web pages link to a given page, considering the number and nature of such backlinks to be valuable information about that page. In his research project, nicknamed "BackRub", he was soon joined by Sergey Brin, a fellow Stanford Ph.D. student.
Page and Brin originally met in March 1995, during a spring orientation of new computer Ph.D. candidates. Brin, who had already been in the program for two years, was assigned to show some students, including Page, around campus, and they later became good friends.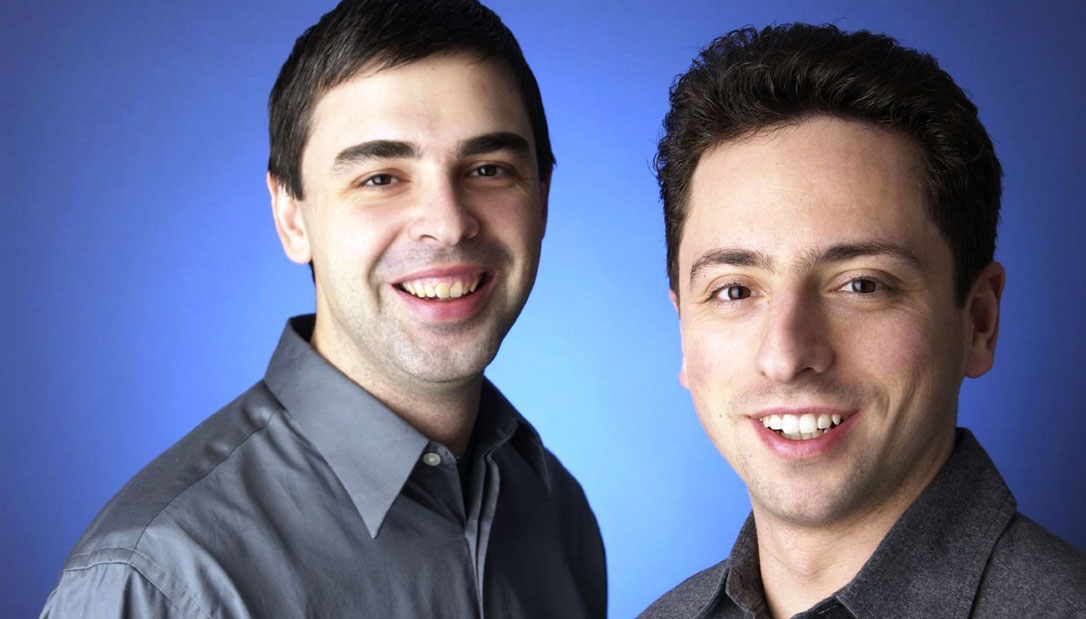 Page and Brin began to work on a project called "The Anatomy of a Large-scale Hypertextual Web Search Engine" or simply, The Anatomy of a Search Engine. Their challenge was to crawl the web efficiently and provide more relevant results than the search engines that were available at that time.
The dramatic growth of the web presented problems in crawling the web, keeping the crawled information up to date, storing the indices efficiently, and handling many queries quickly. To convert the backlink data gathered by web crawler into a measure of importance for a given web page, Page and Brin developed the PageRank algorithm, and realized that it could be used to build a search engine far superior to existing ones. It relied on a new kind of technology that analyzed the relevance of the backlinks that connected one web page to another.
They called the search engine Google after the mathematical term "Googol," which is a 1 followed by 100 zeros, to reflect their mission to organize the immense amount of information available on the web. And in August 1996, the initial version of Google was made available, still on the Stanford University website.
Soon after they started the Google project and after trying to sell the idea failed, they wrote up a business plan and brought in a total initial investment of almost $1 million to start their own company by the help from family and friends. In September 1998 Google Inc. opened in Menlo Park, California after previously renting Susan Wojcicki's garage. In its early years, Google allowed no advertising in their search engine results. The search engine became profitable in the year 2000 with the introduction of unobtrusive text advertisements placed along side search results. The company grew so quickly and gained so many employees' a few office relocations were made due to lack of space, with Google Inc. finally settled in its current place at Mountain View, California. Over the next few years headed by Larry and Sergey Google made many innovations and added to its list of products and employee's.
Google held its initial public offering in August 2004, making Page and Brin billionaires. By October 2004, Google announced their first quarterly results as a public offered company, with record revenues of $805.9 million. Page continues to share responsibility for Google's day-to-day operations with Sergey Brin and CEO Eric Schmidt. In 2006, Google purchased the most popular website for user-submitted streaming videos, YouTube, for $1.65 billion in stock.
Page is currently the CEO of Google Inc. since April 4, 2011, replacing Eric Schmidt.
Creating the Alphabet
As Google became larger, it encompasses more industries that its original aim. On August 10th, 2015, Page posted a blog post on Google, saying that the company has restructured into a number of subsidiaries, and putting them under a company calls Alphabet, Inc..
Page becomes the CEO of Alphabet while Sundar Pichai took Page's position as CEO of Google.
"Alphabet is mostly a collection of companies. The largest of which, of course, is Google. This newer Google is a bit slimmed down, with the companies that are pretty far afield of our main internet products contained in Alphabet instead. [...] Fundamentally, we believe this allows us more management scale, as we can run things independently that aren't very related."
Page explained that the name Alphabet was chosen because the people behind it liked the name, and also because "it means a collection of letters that represent language."
"We also like that it means alpha‑bet (Alpha is investment return above benchmark), which we strive for! "
Page also wrote that the motivation behind the reorganization and the creation of Alphabet is to make Google "cleaner and more accountable," and the desire to improve "the transparency and oversight of what we're doing, and to allow greater control of unrelated companies previously within the Google ecosystem."
Recognition and Awards
Google was praised by PC Magazine to be among the Top 100 Web Sites and Search Engines (1998) and awarded Google the Technical Excellence Award, for Innovation in Web Application Development in 1999. In 2000, Google earned a Webby Award, a People's Voice Award for technical achievement, and in 2001, was awarded Outstanding Search Service, Best Image Search Engine, Best Design, Most Webmaster Friendly Search Engine, and Best Search Feature at the Search Engine Watch Awards."
In 2002, Page, along with Sergey Brin, was named to the MIT Technology Review TR100, as one of the top 100 innovators in the world under the age of 35. In 2003, both Page and Brin received an honorary MBA from IE Business School "for embodying the entrepreneurial spirit and lending momentum to the creation of new businesses." In 2004, they received the Marconi Foundation Prize, the "Highest Award in Engineering," and were elected Fellows of the Marconi Foundation at Columbia University. "In announcing their selection, they are congratulated for their invention that has fundamentally changed the way information is retrieved today." And in the same year, they were named "Persons of the Week" by ABC World News Tonight. Page received an honorary doctorate from the University of Michigan in 2009 during graduation commencement ceremonies.
Personal Life and Wealth
Larry Page married Lucinda Southworth at Richard Branson's Caribbean island, Necker Island in 2007. Southworth is a research scientist and sister of actress and model Carrie Southworth. The couple have one child.
Page is a fan of alternate energy and is known as an active investor in alternate energy companies like Telsa Motors. He also promotes adoption of plug-in hybrid electric cars and other alternate energy investments. Page along with Brin has also produced 2007 Hollywood film Broken Arrows.
Page has been reported to have dated Marissa Mayer, the current CEO for Yahoo!, and former executive and key spokesperson for Google.
Page owns a superyacht called 'Senses' that is accommodates 14 crew, a helipad, gym, multi-level sun decks, ten luxury suites, and advanced hardware for sea exploration. The interior was designed a French designer Philippe Starck.
In May 2013 on his Google+ profile, Page announced that his right vocal cord is paralyzed from a cold he got in the previous summer. This wasn't the first time since his left vocal cord was paralyzed in 1999. Page stated that he has been suffering from this vocal cord issues since 1999. It was later reported that Page's paralyzed vocal cords are caused by an autoimmune disease called Hashimoto's thyroiditis.
Forbes ranked Larry Page as the 55th richest man in the world at just 32 years of age. In 2011, he was ranked 24th on the Forbes list of billionaires and as the 11th richest person in the United States.
In 2012, his personal wealth was estimated to be $18.7 billion, almost tripled what he had in 2005. In 2013, his net worth increased to $23.0 billion. And in January 2015, he was estimated to worth $29.8 billion. After Alphabet first announced its profit, Forbes on February 2016 estimated Page to worth $40.1 billion.
In 2021, both Larry Page and Sergey Brin became centibillionaires, or individuals with wealth surpassing $100 billion.
Page's fortune rose by $21.2 billion in the year to April 2021, according to Bloomberg's calculations, while Brin's grew by $20.4 billion.