The internet sphere and the mobile world are vast. Billions upon billions of dollars can be made.
But unfortunately, they are not decentralized. Both the internet and mobile are controlled by only a number of big corporations, which include the most notable ones: Google, Facebook, and Apple.
Many companies and individuals around the world that conduct businesses using the internet and social media, on both mobile and desktop, rely on the three to survive.
Snapchat is a famous name in the social media industry.
But Snap, its parent company, is admitting that its reliance on Big Tech is affecting it badly.
Snap's share year-to-date chart. Snap's share drops to almost to the same level it was on January 2021.
Snap Inc. announced that the long-feared internet advertising meltdown due Apple's privacy changes through iOS 14.5 had affecting its revenue.
With Apple's App Tracking Transparency and others, many companies conducting businesses through internet advertising have been suffering from the impact of losing their ability to track people.
Since Apple started giving users the option to not share their data and block trackers from following them all around the web and apps, Apple is making things more difficult for software developers to track users across their apps, and for advertisers to target their ads.
As a result, Snap, the company behind Snapchat, which was once considered the pioneer of ephemeral messaging, blamed Apple's privacy changes for its $3 million third-quarter of 2021 revenue shortfall.
Evan Spiegel, Snap's CEO who has previously avoided aiming any specific attacks at rivals, said that the privacy changes have proved more problematic than he expected, specifically mentioning that Apple even changed the tools that advertisers have to measure results of their ads.
"I think what we really underestimated were the tooling changes," said Spiegel.
"Advertisers have essentially for a long time now used a set of really sophisticated tools to measure and optimize their campaigns, so that allows them to test out a bunch of different creative and see what's performing."
With Apple's changes, he said, those tools "were essentially rendered blind."
"We're now operating at the scale necessary to navigate significant headwinds, including changes to the iOS platform that impact the way advertising is targeted, measured, and optimized, as well as global supply chain issues and labor shortages impacting our partners," Spiegel said.
Following the news, Snap's stock performance plunged more than 20% in after-hours trading.
But Snap is not alone, as it is dragging some big names in tech with it. They include Facebook (-5%), Alphabet (-2%), Google (-3%), Twitter (-4%) and also Pinterest (-5%).
All of these tech companies saw their shares fall after Snap revealed its earnings.
Still, Spiegel said that privacy changes Apple made were "important to the long-term health of the ecosystem," and saying that they are something that "we fully support."
As a matter of fact, he once said that Snapchat exists because of the "amazing platform" Apple has created.
Snap expects the impact to continue to at least the foreseeable future, saying that its revenue growth will slow meaningfully as a result.
"We grappled with industry changes to the way advertising is targeted, optimized, and measured on iOS that created a more significant impact on our business than we had expected," said Jeremi Gorman, Snap's Chief Business Officer, who previously hoped that Snap wouldn't be hit by the changes too badly.
"I think we prepared it the best that we can," Gorman said, in the previous quarter of 2021.
"So what you're seeing when we go into Q4 is a full-quarter impact of those issues, on Q4, and you know the reason that we're mentioning, you know, iOS 15, is that that's going to continue to disrupt the advertising ecosystem," said Derek Anderson, Snap's Chief Financial Officer.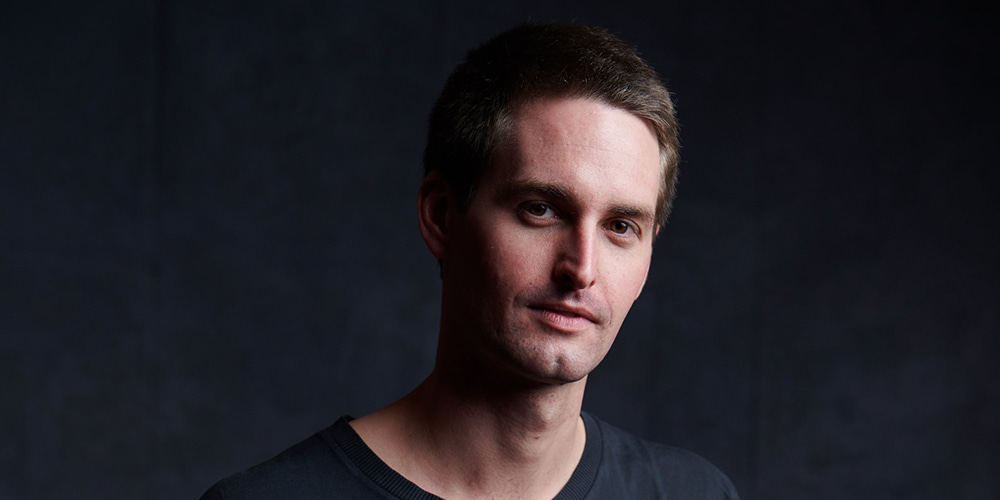 Evan Spiegel, founder and CEO of Snap.
For its part, Snap tries to rely less on its ads for Apple users, by developing its own alternative tools for advertisers.
But the tool it calls 'Advanced Conversations', "will take time to be fully adopted," the company warned.
It's worth noting that, despite having its revenue to drop because of Apple, Snap the company crossed $1 billion in revenue for the first time.
"Snap celebrated its 10th anniversary this quarter, and we are excited about the long-term opportunity and potential for our business, as we grew our community to 306 million daily active users, and grew our revenue 57% year-over-year to reach $1.067 billion for the quarter," said Evan Spiegel, as quoted on Snap's Quarterly Results' page for Q3 of 2021.
"We're now operating at the scale necessary to navigate significant headwinds, including changes to the iOS platform that impact the way advertising is targeted, measured, and optimized, as well as global supply chain issues and labor shortages impacting our partners. We will continue to focus on delivering strong results for our advertising partners and innovating to expand the capabilities of our platform and better serve our community."