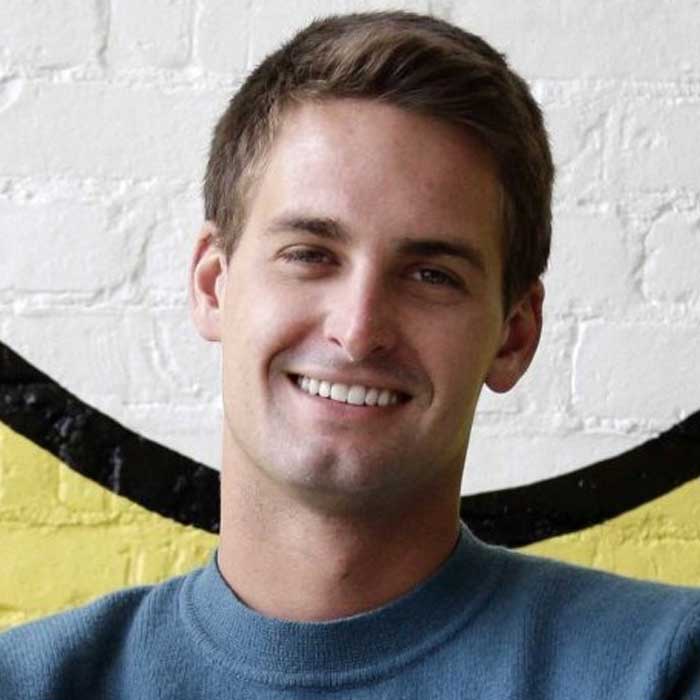 "There is real value in sharing moments that don't live forever."

- Evan Spiegel
From his early age, Evan Spiegel has shown his interests of what he will become. He is an easy poster boy of Silicon Valley and all of its tech atmosphere. With his smart, confident and innovation, he co-founded Snapchat, a product that made him one of the youngest billionaire.
Snapchat which gained traction in the privacy-concerned world, is influenced by how young people of the generation are using technology to communicate.
As the public is demanding for rapid growing companies to persist the growth of mobile devices and internet, Snapchat is a heavy influence for brands and advertisers who are looking for a way to get their attentions.
Early Life
Evan Thomas Spiegel was born on June 4th, 1990, in Los Angeles, California. Growing up in Pacific Palisades, California, he's the son Melissa Ann Thomas and John W. Spiegel who were both attorneys. The young Spiegel was raised a Catholic along with his siblings Lauren Spiegel, Caroline Spiegel.
When Spiegel went to Crossroads School for Arts and Science in Santa Monica, he was showing a high interest in art. He took classes with that focus at the Otis College of Arts and Design while still in highschool. After graduating his senior high, he attended Sanford University.
While still an undergraduate student, he was an unpaid internship salesman at Red Bull. He was also an intern at a biomedical company, an instructor, and at an the American software company Intuit.
Coming from a wealthy background, Spiegel is used to living a life of luxury. He often had fights with his parents concerning his spending habits. He has never been shy to admit how lucky he is, and was, in his career.
"I am a young, white, educated male. I got really, really lucky," Spiegel said. "And life isn't fair. So if life isn't fair - it's not about working harder, it's about working the system."
The Birth of Snapchat
The idea to create Snapchat started when Reggie Brown stepped into Spiegel's room to discuss a photo he wished he didn't send. Spiegel immediately saw this as a brilliant opportunity, calling it a"million dollar idea".
As an attempt, Spiegel partnered with Bobby Murphy who was two years ahead of him and studying math. The two created a product that was the initial attempt of Snapchat. At that time, Spiegel was majoring Product Design.
Spiegel made Snapchat his final project for his class. When he announced the idea in April 2011 in front of his college friends under the name "Picaboo", they liked the idea. They even suggested that Picaboo should feature a way to store photos temporary. The two founders then developed the app so it can send photo messages to contacts with a timer that would remove them in 10 seconds or less.
Released under the name Picaboo, Snapchat was a product that came out of his Spiegel's father's living room. Not long afterwards, the Picaboo was rebranded and renamed to be "Snapchat" because the former name made it flop.
A few months later, on July 2011, with a new brand, Snapchat was formally launched.
It didn't take long until Snapchat gained popularity. Spiegel left Stanford not long before completing his degree just to focus his mind and time on the project. Spiegel took his position as CEO of Snapchat.
To promote the service, Snapchat created its own official blog to describe its mission. There, Spiegel intended to capture the audience by differentiating Snapchat from any other photo-related service. Spiegel wanted Snapchat to be "about communicating with the full range of human emotion - not just what appears to be pretty or perfect."
With that aim, Spiegel led his team to focus on Snapchat's usability and technical aspects, rather than branding efforts social media and others usually do in common.
As of 2012, or a year after its launch, Snapchat haven't had any revenue. At that time, Spiegel said that the company was not open to being acquired whatsoever. After attempts in raising funds, Snapchat confirmed a $13,5 million Series A funding in February 2013. This made the company worth about $70 million. On June 2013, Snapchat again welcomed another investor from a financing round, making it valued at $860 million.
Snapchat fast growth started to attract the eyes of several tech giants. Facebook was once tempted to acquire Snapchat, offering $3 billion in cash, but Spiegel declined. Google then came with a higher price on November 2013, offering $4 billion. Again, Spiegel declined. He opted to grow the company on his own terms. This was a month before Snapchat was getting another funding that came from a Series C with $50 million.
Spiegel saw a huge potential in Snapchat. And for that, he's sticking to it without any attempt on selling it.
"I am now convinced that the fastest way to figure out if you are doing something truly important to you is to have someone offer you a bunch of money to part with it," he said. "The best thing is that no matter whether or not you sell, you will learn something very valuable about yourself. If you sell, you will know immediately that it wasn't the right dream anyways. And if you don't sell you're probably onto something."
In its forth year, Snapchat is employing 550 people. With more than 100 million active daily users, it's serving more than 5 billion video views a month.
Under Spiegel's leadership, Snapchat grew its popularity. But with his controlling manners, the startup has also lost a few strings of executives over the years.
Reggie Brown's Lawsuit
Snapchat's logo which is derived from Ghostface Killah, was created by Reggie Brown, a former classmate of Spiegel and Murphy. He was also the person behind the Snapchat's initial "Picaboo" name. Because Brown had contributed to Snapchat, but wasn't considered to be one of its co-founders, he filed a suit claiming his own part of the company.
At first, Brown failed. He tried his second filing on October 23rd, 2013, when Snapchat was valued around $4 billion,
Snapchat tried to settle with Brown on two prior occasions. Afterwards, they reached an undisclosed agreement to settle the lawsuit on September 2014. As a part of the settlement, Brown was credited with the creation of Snapchat, making him one of the co-founders along with Spiegel and Murphy.
Personal Life
Evan Spiegel began dating Australian supermodel Miranda Kerr in June 2015. The two first met at a Louis Vuitton dinner in New York in 2014.
Some people have said that they had a hard time in getting to know Spiegel, and also had a hard time in liking him. As one of his controversies, he sent disturbing emails back in his college days. There he described his illegal activity, drug use, sexist, and borders on racist. The emails were written when he was underage or under 18.
The emails also imply that he and his father, a highly esteemed lawyer, condoned underage drinking.
When the email was leaked and went viral, despite it was sent during his college days in Stanford, Spiegel apologized for the inconvenient it has done, especially he's the star of Snapchat. In a public statement he made, Spiegel admitted that the emails were embarrassing.
"I'm obviously mortified and embarrassed that my idiotic emails during my fraternity days were made public. I have no excuse. I'm sorry I wrote them at the time and I was jerk to have written them. They in no way reflect who I am today or my views towards women."
Some people have described him as "deeply insecure" and "immature". But at other times, he can show his smart innovative perspectives with confidence. He has been called the "most stylish tech CEO" and the "Kanye West of Silicon Valley", having himself featured in magazines for his fashion style.
Spiegel that is known for being a fan of partying, is also the co-founder of Toyopa Group. Forbes valued him at $2.1 billion as of 2015, making him one of the youngest self-made billionaire. His name is famed into Forbes 400 at the age of 25.
Then in 2017, Spiegel became one of the youngest public company CEOs at age 26. That year, the couple was expecting their first child, which was then born on May 2018.
Kerr named their son Hart Kerr Spiegel.
In 2019, Kerr gave birth to Myles Spiegel, the couple's second child.
Spiegel has a French citizenship he received through a clause in the naturalization laws that waives French residency requirements for those who contribute to the French culture or economy.