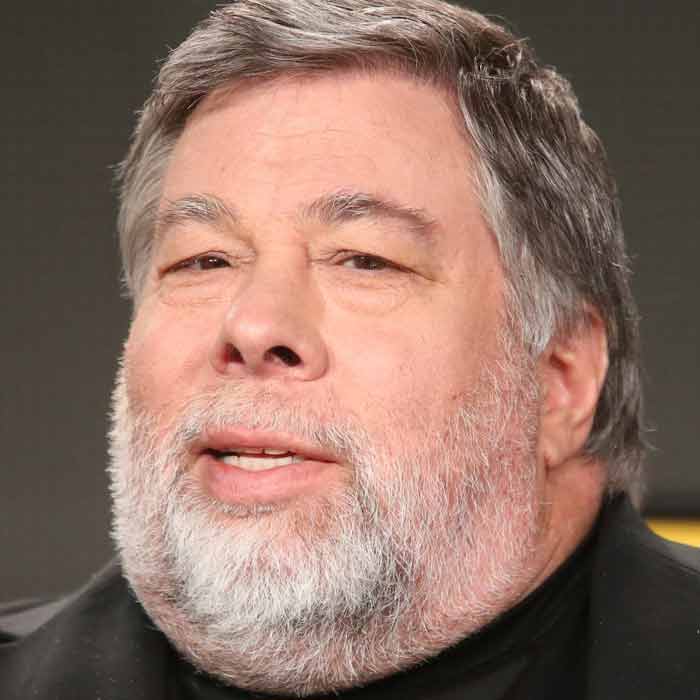 "Creative things have to sell to get acknowledged as such."

- Steve Wozniak
It all started as a talk between young people about being a computer revolution. From an idea that springs from a TV set and a typewriter, Steve Wozniak didn't expect that his small idea will eventually change the world and how the people in it live.
With his passion in science, mathematics and electronics, Wozniak contributed significantly to the microcomputer revolution, and took a big part in building one of the most admired company in the world: Apple, Inc..
Early Life
Stephan Gary Wozniak or Stephen Gary Wozniak was born in August 11th, 1950, from Francis Jacob "Jerry" Wozniak and a German mother, Margaret Louise Wozniak. He spent his childhood and grew up in Sunnyvale, California.
Steve Wozniak has been into electronics all his life. By fifth grade he was building a large computer-like project. For his sixth grade Science Fair Project, he built a machine that played Tic-Tac-Toe. He got his HAM radio license in sixth grade as well. As Wozniak got older, he built more and more sophisticated computer projects. "It was all self-done; I didn't ever take a course, didn't ever buy a book on how to do it. Just pieced it together in my own head," described Wozniak.
Wozniak tried to top his own design every time, and eventually it paid off. He has described himself as trying to design things smaller each time by building and designing computers will lesser part. When he got a job at designing calculators, he slowed down his computer work. Then he realized that a calculator was a kind of computer, too, except that it used little tiny parts called microprocessors.
The Apple Computer
Steve Wozniak first met Steve Jobs when a mutual friend at Homestead High School student introduced them to each other. In 1970, they became friends.
According to Wozniak's autobiography, iWoz, Jobs had the idea to sell a computer as a fully assembled printed circuit board which Wozniak at first skeptical. They started out with fifty boards, hoping to sell them all. It was a big investment for them, but they were young and having fun. Steve Jobs had said, "Even if we lose our money, at least we had a company."
Together they sold some of their possessions and raised $1,300.They assembled the first prototypes in Jobs' bedroom and later in Jobs' garage. Wozniak's apartment in San Jose was filled with monitors, electronic devices, and some computer games Wozniak had developed.
Working out of a family garage, he and Jobs attempted to design a more user-friendly alternative to the computers being introduced by International Business Machines (IBM).
Apple I
In 1971, Wozniak withdrew from the University of California, Berkeley, and developed the computer that eventually made him famous. By himself he designed the hardware, circuit board designs, and operating system for the Apple I.
On April 1, 1976, Jobs and Wozniak formed Apple Computer. Wozniak quit his job and became the vice president in charge of research and development at Apple. Their first product, the Apple I computer, was similar to the Altair 8800, the first commercially available microcomputer, except it had no provision for internal expansion cards. With the addition of expansion cards, the Altair could be attached to a computer terminal and could be programmed in BASIC.
The Apple I was a hobbyist machine, a $25 microprocessor on a single-circuit board with 256 bytes of ROM that lacked a case, power supply, keyboard, or display.
The Apple I was priced at $666.66. Jobs and Wozniak sold their first 50 system boards to Paul Terrell, who was starting a new computer shop, called the Byte Shop, in Mountain View, California.
Apple II
After the success of the Apple I, Wozniak continued and designed the Apple II, which was the first personal computer that had the ability to display graphics in color. After its introduction in 1977, the Apple II became one of the first highly successful mass-produced personal computers.
The Apple II is noted as the first commercially successful line of personal computers, featuring a central processing unit, a keyboard, color graphics, and a floppy disk drive.
Apple Employment
After an airplane crash on February 7, 1981, at Sky Park Airport in Scotts Valley, California, Steve Wozniak did not immediately return to Apple. After his recovery from variety of injuries and amnesia that lasted two years, in 1983, he returned to Apple product development, desiring no more of a role than that of an engineer and a motivational factor for the Apple workforce.
He married Candice Clark and returned to UC Berkeley, finally earning his undergraduate degree in Electrical Engineering and Computer Sciences (EECS) in 1986.
By 1983, the company which began in Jobs' garage had a stock value of $985 million. Wozniak permanently ended his full-time employment with Apple on February 6, 1987, 12 years after having created the company.
He still remains Apple's shareholder and employee, receiving paychecks of roughly $120,000 per year. He also maintained connections with Steve Jobs until Jobs' death in October 2011.
Post Apple Employment
After departing from Apple, Wozniak founded CL 9 that developed and brought the first programmable universal remote control to market in 1987.
In 2001, Wozniak founded Wheels of Zeus (WoZ), to create wireless GPS technology. In 2002, he joined the Board of Directors of Ripcord Networks, Inc. in a new telecommunications venture. Later the same year he joined the Board of Directors of Danger, Inc., the maker of the Hip Top (Side Kick from T-Mobile).
In 2006, WoZ was closed, and Wozniak founded Acquicor Technology, a holding company for acquiring technology companies and developing them, with Apple alumni Ellen Hancock and Gil Amelio.
In September 2006, Wozniak published iWoz: From Computer Geek to Cult Icon: How I Invented the Personal Computer, Co-Founded Apple, and Had Fun Doing It, his autobiography.
In February 2009, Steve Wozniak joined Fusion-io, a data storage and server company, in Salt Lake City, Utah as their chief scientist.
Honors, Awards And Philanthropy
Steve Wozniak has received numerous honors and awards. Some of them are the ACM race Murray Hopper Award, the National Medal of Technology from the U.S. President Ronald Readan, and an honorary Doctor of Engineering degree from Kettering University.
Wozniak also received honorary degrees from North Carolina State University as well and Nova Southeastern University, and the Telluride Tech Festival Award of Technology.
In May 2011, Wozniak received an honorary Doctor of Engineering degree from Michigan State University. In 2012, he was awarded an honorary Doctor of Engineering degree from Santa Clara University.
Wozniak was awarded the Global Award of the President of Armenia for Outstanding Contribution to Humanity Through IT in 2011.
On February 2014, Wozniak was awarded the 66th Hoover Medal from IEEE President & CEO J. Roberto de Marca. In October, he received 2014 Lifetime Achievement Award from The New York City Chapter of Young Presidents' Organization.
In November, he was included in Industry Week's Manufacturing Hall of Fame.
In June 2015, Wozniak received the Legacy for Children Award from the Children's Discovery Museum in San Jose. He earned the reward because his legacy has benefited the learning and lives of children. Later that month, UC Berkeley's Alumni Association presented him with the 2015 Alumnus of the Year Award.
Since leaving Apple, Wozniak has resources and technical support for the technology program in his local school district. Wozniak also lent his name to the Stephen G. Wozniak Achievement Awards (Wozzie Awards).
Wozniak donated funds to create the "Woz Lab" at the University of Colorado at Boulder.
Three people were responsible for Apple's early success: Steve Jobs, Mike Markkula, and Steve Wozniak. Jobs had the idea of selling, ready-to-use computers. Mike Markkula provided early critical funding, credibility and managerial support. And Wozniak was the engineer who made it all fit together.
Ronald Wayne was one of the co-founder that provided key administrative oversight for the new venture. But sold his share of the company back to Jobs and Wozniak for $800.
With such a revolutionary idea, the young Jobs and Wozniak were just like a couple of kids trying to make money. Maybe that's true, but they succeeded it far beyond their dreams.
Personal Life
Steve Wozniak lives in Los Gatos, California. He is also a member of the Freemasons, despite not believing in a supreme being (which is required by mason rules). Wozniak describes his impetus for joining the Freemasons as being able to spend more time with his wife at the time, Alice.
Alice belonged to the Order of the Eastern Star, associated with the Masons. Wozniak has said that he quickly rose to a third degree Freemason because, whatever he does, he tries to do well. He was initiated in 1979 at Charity Lodge No. 362 in Campbell, California, now part of Mt. Moriah Lodge No. 292 in Los Gatos, California.
Wozniak that is known to have prosopagnosia, or face-blindness, is a member of a Segway Polo team and the Silicon Valley Aftershocks. He has married more than a couple of times.
After being divorced from Alice, he married Candice Clark (1981 – 1987) and Suzanne Mulkern (1990 – 2004) before being married to Janet Hill. Wozniak has five children.
Wozniak's favorite video game is Tetris. In the 1990s when the game was a hit, he submitted so many high scores for the game to Nintendo Power that they would no longer print his scores, so he started sending his score with the name "Evets Kainzow", his name reversed alphabetically.