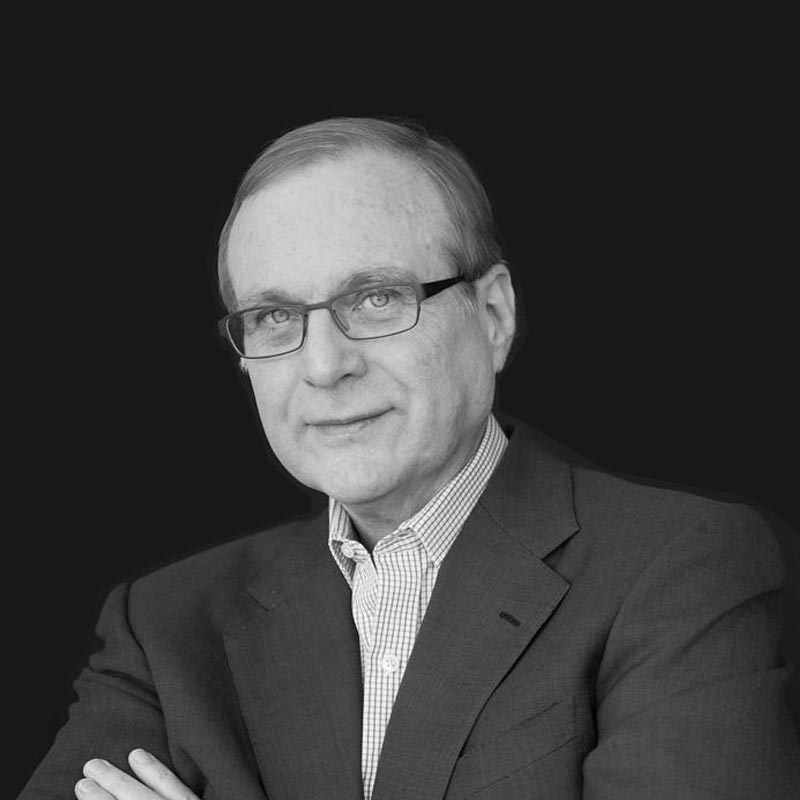 "What should exist? To me, that's the most exciting question imaginable. What do we need that we don't have? How can we realize our potential?"

- Paul Allen
A relentless investor, Paul Allen is best known as the co-founder of Microsoft, one of the most recognized name in the computer industry, with Bill Gates. Though Allen currently does not share a good rapport with Gates, but it was Allen, who had convinced Gates to drop out of Harvard in order to create Microsoft.
His name is rarely out of the headlines, thanks to his philanthropic deeds rather than his heritage as one of Microsoft's co-founders. Allen with his multibillion dollars investment portfolio, he is known as a business magnate, investor and philanthropist.
He was named as the most charitable living American in 2011.
Early Life
Paul Gardner Allen was born on January 21st, 1953 in Seattle, Washington, and grew up in the nearby suburb of Wedgewood. His parents, Faye and Kenneth Allen, were both librarians at the University of Washington. From an early age, Allen and his siter, Jody, were introduced to a wide variety of cultural offerings, regularly taking their children to museums, galleries, and concerts by their parents. Allen's parents also encouraged his early love of reading and science, and his mother hosted meetings for his grade school science club.
Allen melded these two interests in his avid enthusiasm for science fiction novels, including the Tom Swift series. "Tom Swift was very futuristic - he went to outer space, and there were rockets and submarines and all kinds of machines," Faye Allen told People magazine. "He was a role model for Paul."
In 1965, Allen began seventh grade at Lakeside School in Seattle. Three years later he met Bill Gates who shared the same hobby and interest. They both spend most of their free time figuring out the inner workings of their school's new computer. The pair became so adept with computer technology that, while still in school, they were both invited to serve as amateur technicians at a local computer center in exchange for free computer time. Even though they were very different, they both spent much of their free time together working on programs in BASIC using a teletype terminal. .
"At the end of every school day, a bunch of us would take our little leather satchel briefcases and ride the bus downtown to the computer center," Allen recalled. "Bill and I were the guys that stayed the latest, and afterward we'd go eat pizza at this hippie place across the street." Despite Allen and Gates' efforts, the center eventually went bankrupt and the pair cites the ensuing repossession activities as their early introduction to the realities of the business world.
Early Career
In 1970, at the age of 15, Allen and Gates went into business to develop Traf-o-Data, a computer program that monitored traffic patterns in Seattle based on the Intel 8008 processor, and netted $20,000 for their efforts.
After graduating high school in 1971, Allen attended Washington State University, where he was a member of Phi Kappa Theta Fraternity but dropped out after two years in order to work as a programmer for Honeywell in Boston, placing him near Bill Gates again. During those years, Allen read about the Intel Corporation's 4004 chip, the first computer microprocessor. In 1972, he and Gates purchased the next generation of the chip, the 8008, for $360.
Allen and Gates used the chip to develop a computer that conducted traffic - volume - count analysis and started a company called Traf-o-Data, planning to sell the computers to traffic departments. Allen and Gates eventually abandoned the company, but applied the technology to their next venture. In 1973, they both took jobs at a company called TRW in Vancouver, Washington, where they used minicomputers to distribute power from hydroelectric dams.
The following year after seeing the release of the MITS Altair 8800 in the January 1975 issue of Popular Electronics, Allen and Gates saw an opportunity to start their own computer software company. Allen later convinced Gates to drop out of Harvard University in order to create Microsoft.
The Microsoft Partnership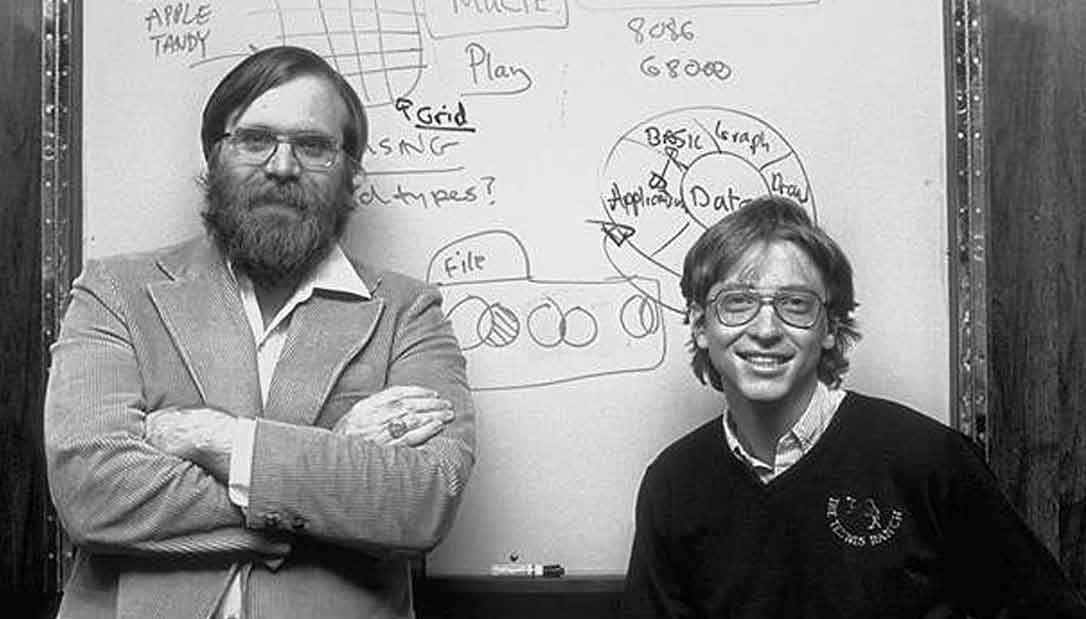 In 1975, Paul Allen and Bill Gates formed a partnership called Micro-Soft, a blend of "micro-computer" and "software."
Under the auspices of their new corporation, Micro-Soft, they convinced MITS to sell their programming language. According to an interview, the credit line in the source code of their first product read: "Micro-Soft BASIC; Bill Gates wrote a lot of stuff; Paul Allen wrote some other stuff."
Allen and Gates soon changed the company's spelling (Micro-Soft to Microsoft) and moved their business to MITS' headquarters in Albuquerque, New Mexico. The young entrepreneurs launched quickly into the technology side of their new business; their management technique developed more slowly. They did not even incorporate their company until 1981. "Our management style was a little loose in the beginning," Allen recalled, "We both took part in every decision, and it's hard to remember who did what. If there was a difference between our roles, I was probably the one always pushing a little bit in terms of new technology and new products, and Bill was more interested in doing negotiations and contracts and business deals." Gates remembered the work atmosphere as congenial. "We didn't have many major disagreements, but there was one tiny source of tension: I would always be calling Paul in the morning to tell him it was time to come work on this stuff," he said in the same interview. "He slept even later than me."
Allen and Gates soon built up an impressive client list that included Ricoh, Texas Instruments, Radio Shack and another new startup, Apple Computers. In 1978, with sales already over $1 million, they relocated their company to Bellevue, a suburb of Seattle. There, they experienced significant growth, and by 1979 had hired more than 35 employees and a professional manager.
As the computer industry began to grow, Microsoft blooms with companies like Apple, Intel, and IBM.
The company entered into one of the most significant business in 1980. That year, IBM approached Microsoft seeking a programming language for its new personal computer, secretly under development. Allen that had contacts with a small Seattle company that had developed a rudimentary operating system, QDOS (for "quick and dirty DOS"), and negotiated a deal to buy the rights to it, thereby enabling Microsoft to offer the increasingly frantic IBM designers a solution to their problem.
In addition, Gates and Allen convinced IBM to allow other companies to copy the specifications of their PC, spurring the ensuing flood of PC "clones." The widespread availability of PCs necessitated compatible software programs which, in turn, required a universal operating system. In addition to Microsoft Disk Operating System, or MS-DOS, programmers had the option of using a competing system developed by Digital Research in Monterey, California. Gates and Allen urged software developers in both the U.S. and Europe to write to their specifications and met with much success.
As the PC, supported by MS-DOS, became the most widely used computer in the world, Microsoft became the domineering force in the computer programming industry.
Leaving Microsoft
In 1982, Allen was diagnosed with Hodgkin's disease, a form of cancer. He continued to work part - time at Microsoft during 22 months of radiation treatments. His cancer was successfully treated but he did not return to Microsoft and began distancing himself from the company. In March 1983 he retired from the company and spent the next two years traveling, scuba diving, yachting, skiing and spending time with his family.
Allen officially resigned from his position on the Microsoft Board of Directors in November 2000 but was asked to consult as a senior strategy advisor to the company's executives. He sold 68 million shares of Microsoft stock that year, but still owns a reported 138 million shares, or about 13 percent of the company and continued to serve on its board.
Investments
Vulcan
In 1986, Paul Allen founded Vulcan Inc., an investment and project management company to manage his investments. It is headquartered in Seattle, Washington. With Vulcan, Inc., Allen invested on many companies which include:
Media: Charter Communications, DreamWorks Animation SKG, Oxygen Network, Rose City Radio Corporation, The Sporting News and Sporting News Radio and TechTV.
Sport teams and venues: Vulcan Sports and Entertainment, which includes: Seattle Seahawks, Portland Trail Blazers, Seattle Sounders FC, Rose Garden.
Museums, theaters, and galleries: Seattle Cinerama theater, The Hospital studios and gallery, Experience Music Project and Science Fiction Museum and Hall of Fame, Flying Heritage Collection and Living Computer Museum.
Real estate: 505 Union Station and Union Station, Sammamish Park Place, South Lake Union and Tempe Gateway.
Paul Allen was a key developer and investor in the development of the South Lake Union neighborhood of Seattle as a biotechnology hub and mixed-use community. He was also the largest private landowner in South Lake Union and owns nearly 2,600,000 square feet (240,000 m2) in the neighborhood.
His holdings company has a development capacity of more than 10,000,000 square feet (930,000 m2) of new residential, office, retail and biotech research space. The South Lake Union redevelopment represents one of the largest urban revitalization projects in the country. Allen has made investments estimated at $200 million as of 2005.
Technology and medicine: Internap Network Services Corporation, Allen Brain Atlas, PTC Therapeutics and Stratolaunch Systems.
Technology: Wireless spectrum, Vulcan FlipStart and Project Halo.
Vulcan Productions
Paul Allen and Jo Lyn Allen are the owners and executive producers of Vulcan Productions, a production company headquartered in Seattle, Washington. Vulcan Productions' mission is to initiate, develop and finance independent film projects of substance and enduring significance. Their projects support the passionate vision of the artist, while challenging and celebrating the world of ideas and human values. Through their collaborative partnerships with established and emerging filmmakers, Vulcan Productions explores creative opportunities that result in engaging and inspirational storytelling.
Their films have received prestigious recognition, ranging from a Peabody to Independent Spirit Awards to Golden Globes, Emmys and Grammys, and have also been nominated for Academy Awards, among many others.
Ticketmaster
In 1993, Paul Allen acquired 80% of Ticketmaster by investing $243 million. The company went public on 19 November 1996. In May 1997, Home Shopping Network acquired 47.5% of Allen's stock for $209 million worth of HSN stock.
Interval Research Corporation
In 1992, Paul Allen co-founded Interval Research Corporation with and David Liddle. It was a Silicon Valley-based laboratory and new business incubator that was dissolved in 2000 after generating over 300 patents, four of which were the subject of Allen's August 2010 patent infringement lawsuit against AOL, Apple, eBay, Facebook, Google, Netflix, Office Depot, OfficeMax, Staples, Yahoo!, and YouTube.
Spacecraft
Paul Allen provided the funding of approximately $25 million for Burt Rutan's Scaled Composites' SpaceShipOne suborbital commercial spacecraft on October 4, 2004.
SpaceShipOne climbed to an altitude of 377,591 feet (115,090 m) and was the first privately funded effort to successfully put a civilian in suborbital space. That same year, it won the US$10 million Ansari X Prize and was immediately retired from active service.
On December 13, 2011, Allen announced Stratolaunch Systems.
Other Investments
Paul Allen founded Asymetrix, which produced applications that allowed both programmers and non-programmers to develop their own software, and then Vulcan Ventures, an investment firm focused on technology. Allen also invested in numerous companies, including America Online, Egghead Software and the pharmaceutical company Darwin Molecular Corporation. Later investments focused on cable television, wireless modems, and web portals.
In 1992, Allen founded Interval Research, a think tank focused on the internet and compatible technologies.
Allen is also a founding member of The International SeaKeepers Society and hosts its proprietary SeaKeeper 1000TM oceanographic and atmospheric monitoring system.
Allen is a major contributor to the SETI, or Search for Extra-Terrestrial Intelligence project. He provided the search for extra-terrestrial life a boost when he invested $11.5 million to construct an array of powerful telescopes, aptly named "The Allen Telescope Array", which is installed in SETI complex.
Philanthropy
Paul Allen has made contributions to organizations related to health and human services, and toward the advancement of science and technology. The Paul G. Allen Family Foundation was established in 1986 to administer most of his contributions.
Through the Foundation, Allen annually grants approximately $30 million in which about 60% of the Foundation's money goes to non-profit organizations in Seattle and the state of Washington, and 12% to Portland, Oregon. The remaining 28% is distributed to other cities within the Pacific Northwest and internationally.
Since 1990, The Paul G. Allen Family Foundation has awarded $428 million to non-profit organizations, as of 2010.
In December 2010, it was announced that Allen had donated his almamater, Washington State University. And also in 2010, he became a signatory of The Giving Pledge, promising to give at least half of his fortune to philanthropic causes.
Along with his sister Jo Lynn, and through Vulcan, Inc., Allen pledged hundreds of millions of dollars to found the Allen Institute for Brain Science, a nonprofit corporation and medical research organization, and Allen Spinal Cord Atlas. And on May 24, 2010, Allen launched the Allen Human Brain Atlas, a publicly available online atlas charting genes at work throughout the human brain.
In February, 2012, named Allen as the most charitable living American in 2011. In March 2012, he continued the funding of the Allen Institute for Brain Science with a contribution of $300 million.
Since August 2014, Allen pledged $100 million to fight Ebola. He also created a $2.5 million fund that would help evacuate infected health care workers for treatment outside the most-affected regions.
Personal Life And Death
Paul Allen is known for his ostentatious lifestyle unlike the frugal lifestyle of Bill Gates.
Allen is known for his love for megayachts, owning several yachts, including the Octopus and Tatoosh, where he occasionally throws huge, celebrity-studded parties.
With his passion for aviation and history, beside acquiring the Mig-29, Allen acquired, preserved and shared his collection of combat aircraft from World War II. The Flying heritage is a collection of finely crafted aircrafts made by distinguished design bureaus with leading technologies of the 1930s and 1940s. Allen' s love for music can be seen through his collection of Jimmy Hendrix guitars which the star has used during his career, him maintaining a complete band and owning a dedicated recording studio in each of his yachts and homes.
Allen that owns a condo, an island and several estates, is also known for his fine-art holdings collected paintings from Monet, Pierre-Auguste Renoir and Roy Lichtenstein. His other art collection that includes works of Picasso, Montelo and other famous artists is reportedly worth more than $250 million.
Paul Allen authored Idea Man: a memoir by the co-founder of Microsoft, which talks about the development of Microsoft in its early stage, and describes in details about his troubled relationship with his long time friend Bill Gates. The book was released on April 19, 2011.
Allen that has never married and has no children, was estimated to have a net worth of $15 billion in March 2013. In December 2014, it increased to $17.1 billion. As of August 2016, he was estimated to be the 40th richest person in the world, with $18.6 billion.
Death
Allen died when he was 65 years old. In Seattle, he passed away due to complications of non-Hodgkin's lymphoma. The news was published from his Vulcan company on October 15, 2018.
"Millions of people were touched by his generosity, his persistence in pursuit of a better world, and his drive to accomplish as much as he could with the time and resources at his disposal," said Vulcan CEO Bill Hilf in a statement.
In a statement confirming his death on Monday afternoon, his sister Jody described Allen as a remarkable individual. "Paul's family and friends were blessed to experience his wit, warmth, his generosity and deep concern. For all the demands on his schedule, there was always time for family and friends," the statement said.
"At this time of loss and grief for us - and so many others - we are profoundly grateful for the care and concern he demonstrated every day."
His Microsoft co-founder Bill Gates said: "I am heartbroken by the passing of one of my oldest and dearest friends... Personal computing would not have existed without him."
"From our early days together at Lakeside School, through our partnership in the creation of Microsoft, to some of our joint philanthropic projects over the years, Paul was a true partner and dear friend," said Gates."He deserved much more time, but his contributions to the world of technology and philanthropy will live on for generations to come. I will miss him tremendously."
Allen left Microsoft back in 1983 following his first diagnosis of the blood cancer Hodgkin's disease, but later recovered to become a successful venture capitalist with his media and communications investment firm. He had beaten cancer, and confident that he could beat it again. Until the very end, Allen was active offering people his advice, strategy and insights, especially to those who seek him for support.