 Opera may not be the most popular browser, and may had troubled years behind it. But those don't stop the Norwegian browser maker in trying to appeal new and old users.
Before being sold to a Chinese consortium, Opera offered a useful stand-alone and built-in VPN service. But somehow the built-in VPN stopped working after the acquisition. It also stopped offering the popular Opera VPN for mobile devices.
With the market having more and more people demanding for VPNs to protect their privacy from the government and authorities alike, Opera returned its VPN service as part of its Android browser app.
Starting Opera for Android 51, the browser maker brings its VPN so users can better control their privacy, and improve their online security, especially when accessing the internet through public WiFi networks.
According to Opera, its VPN service has no usage limits, comes with a strong 256-bit encryption, doesn't require any login, and doesn't keep a log or retain any activity data.
Read: Choosing The Best VPN: Know How To Protect Yourself
"Once the built-in VPN is enabled in the browser settings, the feature will create a private and encrypted connection between your mobile device and a remote VPN server. This gives you enhanced privacy as it will hide your physical location and make it harder for others to track your behavior on the Web."
The version of the Opera browser also comes with a support for crypto-pairing with the upcoming stable release of Opera for computers, providing users with the convenient of accessing its built-in Crypto Wallet on both Android on their PC.
Opera also simplified the acquisition of funds, hoping the browser to be ready for the so-called Web 3.0.
Other improvements include faster startup time, speech-to-text API support, and a polished and faster scroller feature. Meanwhile, Opera started deprecating support for Jelly Bean (Android 4.1 – 4.3), which was released in 2012.
"We're not planning any more updates as the Chromium browser engine no longer supports Jelly Bean," said Opera.
VPN, or virtual private network, is a software which extends a private network across a public network, enabling users to send and receive data across shared or public networks as if their computing devices were directly connected to the private network.
To do this, VPN creates a virtual point-to-point connection (also called a 'secret tunnel'), where users' connection and traffic are protected.
What this means, when using Opera's VPN service, users' ISP or government can only see that the users have connected to Opera's VPN server and nothing else.
Connecting to the VPN is easy, as Opera promises: users can simply access the Settings menu and turn on the VPN. Users can also customize the VPN's settings to spoof their physical location, but only to generalized regions like 'America' or 'Europe'.
Many VPN apps on the market are either ad-supported or available through purchase. Free ones are generally slow, and they usually don't have formal privacy protections or user support. So it's surprising that Opera is offering its well-known unlimited VPN for free.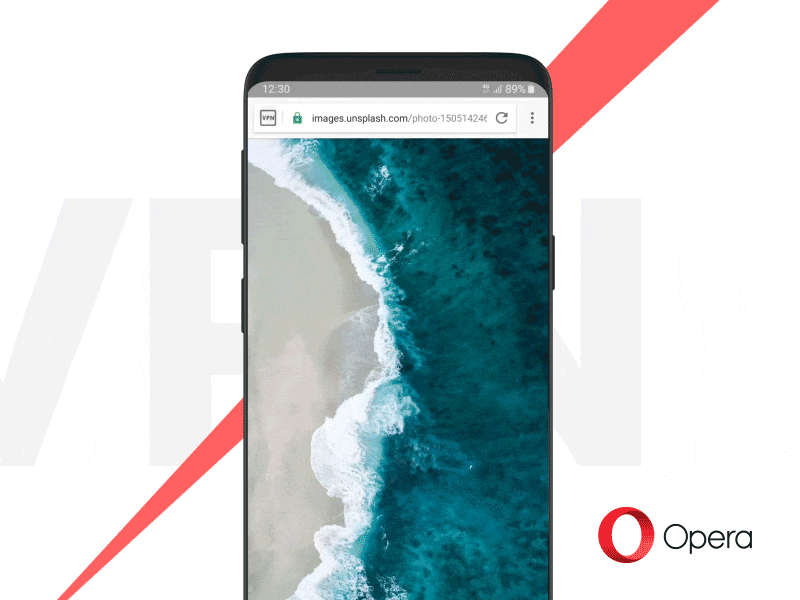 However, there are some questions on Opera's motives.
A VPN can be a very useful security tool, but it's not a solution for everything. The usual caveats apply: pushing users' traffic through a VPN means trusting Opera a lot, since it hides users traffic from anyone else except Opera.
This is because using its VPN service, users effectively makes Opera as their ISP.
While the company claims to never track users' activities and data while using its VPN, concerns have raised around Opera's Chinese ownership. The subject of Chinese government oversight over Chinese companies is one with a long history, and is the root of the troubles between Huawei and the U.S. government.
Most VPN services are either from developers based in China or have some form of Chinese ownership. This can be a concern, given how China has clamped down on VPNs.
Opera itself has Chinese owners, but it stressed out that the company is still based in Norway and operates under the country's privacy law. What this means, Opera stated that it's a very much a Norwegian company, despite being owned by a Chinese consortium.
Beyond any concern that may arise, Opera with a built-in VPN is probably a big win for anyone worried about their data on the internet.