Above rich people, there are richer people. And above them all, there is the richest one.
Microsoft co-founder Bill Gates was the richest person on Earth for many years. The first time he became the richest person in the world was back in 1995 - when he had a net worth of $12.9 billion.
Since then, Gates' wealth continued to increase. Gates became a centibillionaire for the first time in 1999, or only years after becoming a billionaire. He then lost that title for only regaining it for the second time in 2019.
Since 2008, Gates at various times had been out-earned by some others, including his friend and investor Warren Buffett, and Mexican business magnate Carlos Slim.
Read: Bill Gates Becomes Third Richest Man In The World: The First Time In 7 Years
As for Jeff Bezos, the Amazon founder had his wealth massively increased, reaching the centibillionaire status in 2017. That happened after he spent some parts of 2016 trading places with Bill Gate as the richest person on Earth.
That was until Friday November 15th, when Gates regained the throne.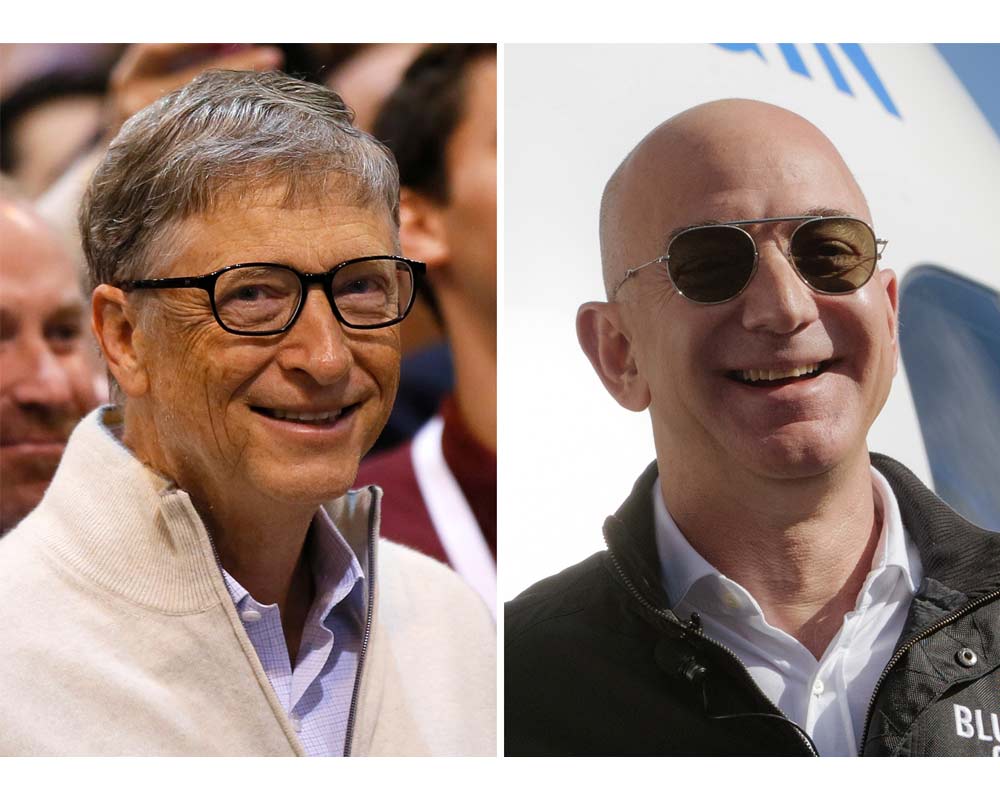 Bill Gates and Jeff Bezos, the first two 'centibillionaires' in modern history
This happened partly because Microsoft has been chosen to become the supplier of Pentagon's cloud-computing services, instead of Amazon. With the deal worth $10 billion, it prompted a 4% surge in Microsoft shares while Amazon's stock plummeted by about 2% after the announcement.
This gave Gates a boost in wealth to $110 billion, according to a report from Bloomberg. On the other hand, the declining Amazon's stock put Bezos's net worth at $108.7 billion.
While the two's wealth have increased overtime, the two should have been richer.
First of all, Bill Gates stopped working full-time at Microsoft in 2008, and stepped down as chairman in 2014. And in the course of nearly two decades, Gates has shifted his focus from being a business man to become a philanthropist.
Gates has donated more than $35 billion to the Bill & Melinda Gates Foundation since 1994.
And speaking about his thoughts on the wealth tax that's been proposed by some U.S. Democratic presidential candidates, Gates said:
You and the other candidates are having a really interesting conversation on how to solve some of the world's toughest problems like eliminating global poverty and avoiding a climate disaster (though those issues don't get talked about as much as they should).

— Bill Gates (@BillGates) November 7, 2019
"I've paid over $10 billion in taxes, I've paid more than anyone in taxes. If I had to pay $20 billion, it's fine. But when you say I should pay $100 billion, then I'm starting to do a little math over what I have left over."
Previously, Gates briefly surpassed Bezos on an intraday basis after Amazon posted its first profit drop in two years, but shares of the world's biggest online retailer pared the decline.
Overall this 2019, Microsoft has surged 48%.
While Gates only owns 1% of the company he co-founded with Paul Allen, Gates' wealth also comes from derived shares and investments he made throughout the years by his family office, Cascade.
As for Bezos, if he and MacKenzie hadn't divorced, the Amazon founder would also be far richer.
When the pair announced their split in January, the divorce was considered the most expensive of all time, since Bezos must part with a quarter of his wealth.
MacKenzie received a portion of the pair's Amazon holding, costing Bezos $35 billion.
According to Bloomberg Billionaires Index, which tracks the wealth of the richest 500 people, the third person on its list, is Europe's richest person, Bernard Arnault, with a net worth of $102.7 billion.