"What's dangerous is not to evolve."

- Jeff Bezos
With his interest in technology and natural aptitude for science and engineering projects from an early age was clear, Jeff Bezos demonstrated a passion for constructing all kinds of devices but who could have predicted Amazon.
With Amazon.com, Bezos became an e-commerce pioneer, one of the internet's first billionaires, and an iconic figure in the internet's biggest success stories. Amazon remains one of the few "dot coms" to remain consistently successful.
Early Life
Jeffrey Preston Bezos was born on January 12th, 1964, in Albuquerque, New Mexico, to Jacklyn Gise Jorgensen and Ted Jorgensen. When Bezos was born, her teenage mother's marriage to his father lasted little more than a year. When Jeff was five, she remarried, Miguel Bezos. Miguel was born in Cuba, migrated to the United States alone when he was fifteen, worked his way through the University of Albuquerque, married, and legally adopted Jeff. After the marriage, the family moved to Houston, Texas, and Miguel became an engineer for Exxon.
Bezos didn't find out that his father is not his biological father until he was 10. It didn't bother him much. "The reality, as far as I'm concerned, is that my Dad is my natural father. The only time I ever think about it, genuinely, is when a doctor asks me to fill out a form," Jeff said 1999. "It's a fine truth to have out there," he says. "I'm not embarrassed by it."
The young Bezos attended River Oaks Elementary School in Houston from fourth to sixth grade. His ancestors were settlers who lived in Texas, and over the generations acquired a 25,000 acre ranch in Cotulla. Bezos' maternal grandfather was a regional director of the U.S. Atomic Energy Commission in Albuquerque. He retired early to the ranch, where Bezos at his youth spent many summers working with his grandfather at the enormously varied tasks essential to the operation: laying pipe, vaccinating cattle and fixing windmills. His grandfather taught that "its harder to be kind then clever." He became Bezos early role model in living his life.
At an early age, Bezos displayed a striking mechanical aptitude - as a toddler, he tried dismantling his crib with a screwdriver. He also developed intense and varied scientific interests, rigging an electric alarm to keep his younger siblings out of his room and converting his parents' garage into a laboratory for his science projects. When he was a teenager, the family moved to Miami, Florida. It was when he attended Miami Palmetto High School that, Bezos first fell in love with computers. While in high school, he attended the Student Science Training Program at the University of Florida, receiving a Silver Knight Award in 1982. He was high school valedictorian. Bezos also has shown his ability in leadership. He excels his studies and was made captain in a couple weeks because he's the only kid who can remember all the plays.
He attended Princeton University, planning to study physics, but soon returned to his love of computers and graduated summa cum laude, Phi Beta Kappa, with a Bachelor of Science in electrical engineering and computer science.
Career And Business
After graduating from Princeton University in 1986, Jeff Bezos who once worked at McDonald's and created a education camp for younger kids, worked on Wall Street in the computer science field. Then he worked on building a network for international trade for Fitel where he was the 11th employee that had the job to fly between New York and London every week. He next worked at Bankers Trust, where he became vice-president. Later on he also worked in computer science for D. E. Shaw & Co..
Bezos was hired as much for his overall talent as for any particular assignment. While working at Shaw, Jeff met his wife, Mackenzie, also a Princeton graduate.
Amazon
When he was working for D. E. Shaw & Co., Jeff Bezos saw the opportunity of business on the internet. On a long walk in Central Park, Shaw tried to talk Jeff out of quitting, but Jeff couldn't get over the fact that the internet was growing 2,400% per year. He decided he'd rather try and fail at a startup than never try at all.
The company began as an offline bookstore in 1993. While the largest brick-and-mortar bookstores and mail-order catalogs might offer 200,000 titles, an online bookstore is able to sell far more. Bezos wanted a name for his company that began with "A" so that it would appear early in alphabetic order. He began looking through the dictionary and settled on "Amazon" because it was a place that was "exotic and different" and it was one of the biggest rivers in the world, as he hoped his company would be. At that time, the company wasn't prepared to switch from being an offline store to become an online store. Bezos knew the only way to seize the opportunity was to go into business for himself. It would mean sacrificing a secure position in New York, but he and his wife, Mackenzie, decided to make the leap.
Bezos reviewed the top 20 mail order businesses, and asked himself which could be conducted more efficiently over the internet than by traditional means. Books were the commodity for which no comprehensive mail order catalogue existed, because any such catalogue would be too big to mail - perfect for the internet, which could share a vast database with a virtually limitless number of people. Later, Bezos founded Amazon.com in 1994 after making a cross-country drive from New York to Seattle, writing up the Amazon business plan on the way.
Bezos and his first employee, Shel Kaplan, initially set up the company in Bezos Garage in Seattle with a potbellied stove, around the huge digital catalogs book distributors started using in the 1980s. They set up shop in a two-bedroom house, with extension cords running to the garage. Bezos set up three Sun microstations on tables he'd made out of doors from Home Depot for less than $60 each. When the test site was up and running, Jeff asked 300 friends and acquaintances to test it. The code worked seamlessly across different computer platforms. The company was then incorporated on the same year in the state of Washington.
On July 16, 1995, Bezos opened his site to the world, and told his 300 beta testers to spread the word. The company then successfully sold its first book on Amazon.com. In 30 days, with no press, Amazon had sold books in all 50 states and 45 foreign countries. Bezos and Kaplan that had set up a bell to ring every time Amazon.com made a sale, turned it off because the bell wouldn't stop ringing. By September, it had sales of $20,000 a week. Bezos and his team continued improving the site, introducing such unheard-of features as one-click shopping, customer reviews, and email order verification.
Amazon.com's popularity increased exponentially in a very small amount of time that in October 1995, the company announced itself to the public. In 1996, it was reincorporated in Delaware. Amazon issued its initial public offering of stock on May 15, 1997, trading under the NASDAQ stock exchange symbol AMZN, at a price of $18.00 per share ($1.50 after three stock splits in the late 1990s). When the company went public, skeptics wondered if an internet-based startup bookseller could maintain its position once traditional retail giants like Barnes and Noble or Borders entered the internet picture. Two years later, the market value of shares in Amazon was greater than that of its two biggest retail competitors combined, and Borders was striking a deal for Amazon to handle its internet traffic.
Amazon's initial business plan was unusual. The company did not expect a profit for four to five years. Its "slow" growth provoked stockholder complaints that the company was not reaching profitability fast enough. Jeff had told his original investors there was a 70 percent chance they would lose their entire investment, but his parents signed on for $300,000, a substantial portion of their life savings, betting on Bezos. By the end of the decade, as the six percent owners of Amazon, they were billionaires. For several years, as much as a third of the shares in the company were held by members of the Bezos family.
The business then grew faster than Bezos or anyone else had ever imagined. And Amazon moved into music CDs, videos, toys, electronics and more. Bezos continually emphasized the "Six Core Values: customer obsession, ownership, bias for action, frugality, high hiring bar and innovation" in his business. "Our vision is the world's most customer-centric company, the place where people come to find and discover anything they might want to buy online," he said.
When the dot-com bubble burst, and many e-companies went out of business, Amazon persevered. Amazon survived for two reasons: users kept coming to the site in bigger numbers, and Bezos never promised shareholders anything but a long-term vision. The company finally turned its first profit in the fourth quarter of 2001: $5 million or 1¢ per share, on revenues of more than $1 billion. The profit, although it was modest, served to demonstrate that the business model could be profitable. In 1999, Time magazine named Bezos the Person of the Year, recognizing the company's success in popularizing online shopping.
By 2009, Amazon was up 5000% since its IPO. And its logotype changed to resembles an arrow leading from A to Z, representing that they carry every product from A to Z.
Since then, Amazon.com has expanded to sell almost everything, including its own gadget, the Amazon Kindle. The device uses "E Ink" technology to render text in a print-like appearance, without the eyestrain associated with television and computer screens. Font size is adjustable for further ease in reading, and unlike earlier electronic reading devices, the Kindle incorporate wireless internet connectivity, enabling the reader to purchase, download and read complete books and other documents. Hundreds of books may be stored on the Kindle at a time.
With the introduction of the Kindle, Amazon quickly captured 95 percent of the U.S. market for books in electronic form - e-books. The first major challenge to the Kindle's supremacy in the e-book market came in 2010, when Apple introduced its iPad tablet computer, which is also designed for use as an electronic reading device. Bezos responded aggressively, cutting the Kindle's retail price and adding new features: WiFi and mobile technology, thinner and lighter than their predecessors, faster page-turning capability, longer battery life, easier to read in sunlight, and cost much less than the iPad.
"We haven't built the best tablet at a certain price. We have built the best tablet at any price," Bezos said.
By mid-2010, Kindle and e-book sales had reached $2.38 billion, and Amazon's sales of e-books topped its sales in hardcover. With e-book sales increasing by 200 percent a year, Bezos has predicted that e-books will overtake paperbacks and become the company's bestselling format within a year. Having already revolutionized the way the world buys books, Bezos is now transforming the way we read them as well.
Blue Origin
When he was young, Jeff Bezos never talked about being a spaceman. He wanted to be a space entrepreneur. And with the success of Amazon, Bezos is able to explore his lifelong interest in space travel.
He made that happened in 2000, when he founded Blue Origin, a human spaceflight startup company, partially as a result of his fascination with space travel, including an early interest in developing space hotels, amusement parks and colonies for 2 million or 3 million people orbiting the Earth.
The company is based on a 26 acre research campus outside Seattle and maintains a private rocket launching facility in West Texas. Blue Origin received funding from NASA and tested New Shepard, a multi-passenger rocket-propelled vehicle designed to travel to and from suborbital space at competitive prices. New Shepard will allow researchers to conduct more frequent experiments in a microgravity environment, as well as providing the general public with an opportunity to experience spaceflight. In its mission statement, Blue Origin identifies its ultimate goal as the establishment of an enduring human presence in outer space. The company was kept under wraps for a half dozen years and initially became publicly known only in 2006 when purchasing a sizable aggregation of land in west Texas for a launch and test facility.
In a 2011 interview, Bezos indicated that he founded the space company to help enable "anybody to go into space" and stated that the company is committed to decreasing the cost and increasing the safety of spaceflight. Blue Origin is one of several start-ups aiming to open up space travel to paying customers. Like Amazon, the company is secretive, but in September 2011, it was revealed that it had lost an unmanned prototype vehicle during a short test flight. Although this was a setback, the announcement of the loss revealed for the first time just how far Blue Origin's team had advanced. Bezos said that "the crash was 'not the outcome that any of us wanted, but we're signed up for this to be hard."
Philanthropy
Jeff Bezos is a businessman that isn't just content to make billions. His success with Amazon that made him a billionaire, has also made him a devoted philanthropist. Bezos has donated millions to charitable causes, nonprofit groups and organizations, cultural institutions, and schools. In 2009, Bezos gave 8,270 shares of Amazon.com stock, which was valued at $679,000 that day, to undisclosed nonprofit organizations. His generous offering of Amazon.com stock was followed up by a $10 million donation to the Fred Hutchinson Cancer Research Center.
In 2011, Bezos gave $10 million to Seattle's Museum of History & Industry, the largest in the museum's history, to establish a "Center for Innovation" at their new South Lake Union location. That same year, he gave $15 million to Princeton University, his alma mater, for the creation of the Bezos Center for Neural Circuit Dynamics, which will help find cures for neurological diseases.
Personal Life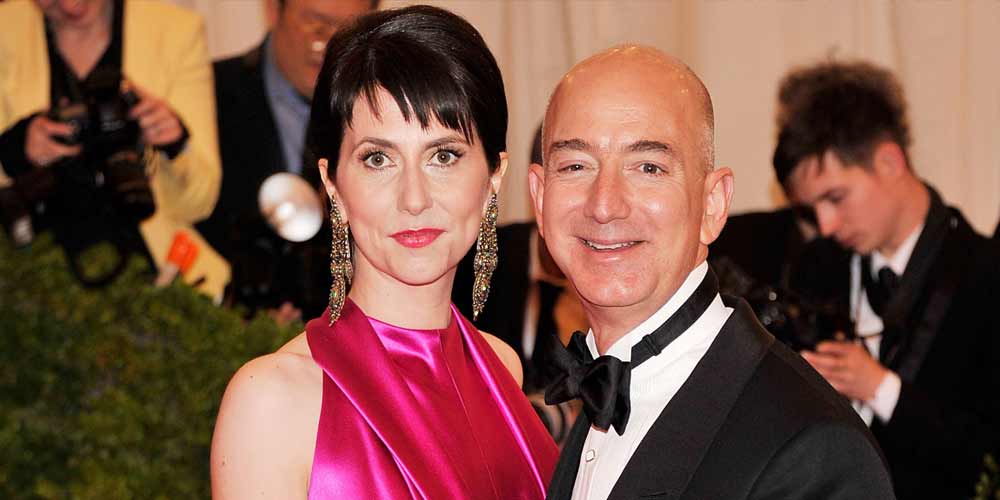 Jeff Bezos was married to an office-mate named Mackenzie. She was a fiction writer and a Princeton graduate who won the 2006 American Book Award for The Testing of Luther Albright: A Novel, and an assistant to novelist Toni Morrison at Princeton. The two didn't meet at school but years later when both ended up working for the same employer.
Prior to meeting Mackenzie, Bezos spent years in New York as "sort of a professional dater." His methodological nature extended from his work to his dating life; he developed "women flow," a riff of Wall Street bankers' "deal flow," in order to find his ideal mate. In "deal flow," bankers set limits on what they will invest in. Bezos limit when it came to women, as he told his friends helping him in his search, was that the woman must be resourceful.
The couple met each other at work. While Bezos was senior vice president, Mackenzie worked as a research associate. The two fell in love and married in 1993. The couple's wedding reception featured an outdoor playtime theme for adults. The couple have 4 children, 3 biological sons, and a daughter adopted from China.
She fully supported Bezos' decision to start Amazon.com. They flew to Texas and drove to Seattle in a 1988 Chevy Blazer, a gift from his stepfather. He typed up the business plan in the car, while his wife drove.
Early 2019, Bezos announced divorce after 25 years of marriage. One of the reasons was because Bezos was seeing former news anchor Lauren Sánchez.
The two reportedly met years ago through Sánchez's husband Patrick Whitesell, a talent agent and also a co-CEO of William Morris Endeavor. After becoming friends, Bezos hired Sánchez to work with him on a project for his Blue Origin company.
However, insiders said that their relationship eventually went from professional to romantic.
"We have decided to divorce and continue our shared lives as friends," Bezos and Mackenzie said in the statement. "If we had known we would separate after 25 years, we would do it all again."
On April 4, 2019, the divorce was finalized. Bezos keeps 75 percent of the couple's Amazon stock, while MacKenzie gets the remaining 25 percent ($35.6 billion) in Amazon stock. However, Bezos would keep all of the couple's voting rights.
Bezos almost lost his life in 2003, while seated in a helicopter flying around West Texas. He and two employees had just finished looking at a potential business site and got back in the helicopter. The helicopter, which had a full cabin and full tank of gas, didn't lift off as it should have. Instead, it skittered along the field, struck a tree with its tail, flipped, and landed in a creek. Bezos stated that the moment was "a dumb way to die."
According to Forbes, Amazon's shares have "defied gravity" in 2011, jumping 55% and adding $6.5 billion to his net worth. On March 2017, his personal fortune jumped to $75.6 billion following a rise in Amazon's stock. He stands just below Microsoft co-founder Bill Gates.
In the morning of July 27th, 2017, the stock market anticipated Amazon's earnings report after the bell. Bezos' holdings in the company briefly surpassed $90.6 billion. This made him $500 million ahead Bill Gates, making the Amazon founder the richest man in the world. But when evening came, the market sell-off took 65% of $6.80 off Amazon's shares by the time it closes. And then by the bell, Amazon reported a 77% drop in net as the company spent huge amount of money to expand Alexa, its AI assistant, The company also spent large mount of money on warehouses and data centers. While revenue did grew 25% year-over-year, Amazon tumbled down after the close by 3%. So by that time, again, Bill Gates once again lead as the richest on Earth.
Then November 24, 2017, Bezos's net worth surpassed $100 billion for the first time after Amazon's share price increased by more than 2.5%.
Bezos' career has been marked by risk-taking and learning from failure, and sheds light on what it takes to be incredibly successful.
Bezos is known for his attention to business details. He is at once a happy-go-lucky mogul and a notorious micromanager. An executive who wants to know about everything from contract minutiae to how he is quoted in all Amazon press releases.