It was only in a not-so-distant past that the term "centibillionaire" was something that only one person could ever achieve.
At that time, it was Microsoft co-founder Bill Gates who managed to earn the title, as his net worth surpassed $100 billion for the first time. While he lost that title, he regained it years later.
The status was so elite, that the term was only used briefly and very scarcely.
But in the world where the internet connects devices and people from around the world, founders of tech titans are benefiting handsomely.
Gates was then joined Jeff Bezos, when the Amazon founder's wealth exceeded $100 billion. He was then joined by Facebook co-founder Mark Zuckerberg, as he became the youngest centibillionaire.
Later, Elon Musk joined.
And this time, Larry Page and Sergey Brin as the founders of Google, finally joined this elite club, according to estimates by Bloomberg's Billionaire Index.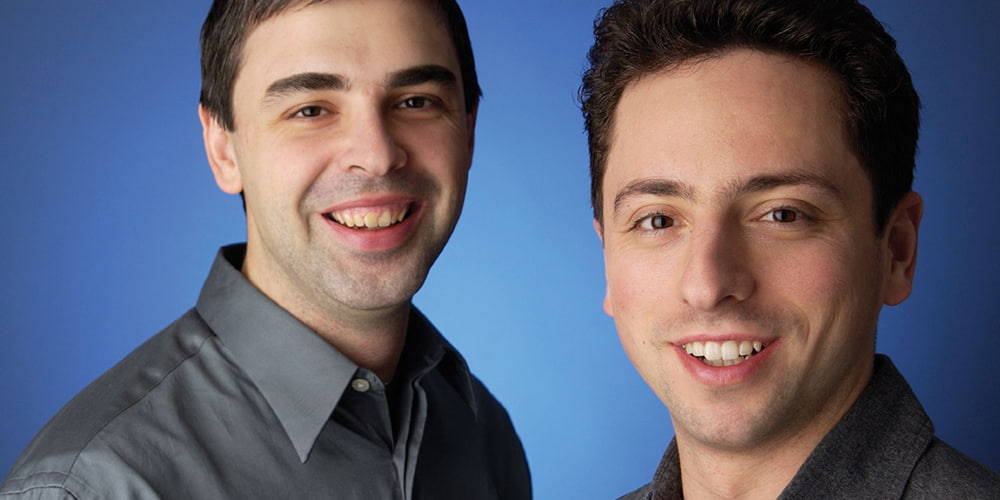 Larry Page (left) and Sergey Brin (right), during the early days of Google.
Page and Brin began working on Google in 1996, while they were Ph.D. students at Stanford University.
The domain name for Google was registered on September 15, 1997, and the company was incorporated on September 4, 1998.
At that time, Google was a very small company. At one point, the founders had to even rent a space at a garage, owned by then-CEO of YouTube, Susan Wojcicki.
After managing to raise funds, there was nothing capable of stopping Google.
In 2015, the pair founded the holding company Alphabet to manage both Google and other subsidiaries. Brin became the President of the new company, and Page became its CEO.
When Page resigned as CEO, he appointed Sundar Pichai to take over at Google.
In 2019, Page and Brin announced their plans to step back from Alphabet, taking on the role of "proud parents-providing advice and love, but not being persistent every day."
On their place, they appointed Pichai became not only the CEO of Google, but Alphabet as well.
Since then, Page and Brin live largely out of the limelight. The two have devoted some of their fortunes to charitable causes, as well as buying lots of finer things in life with their immense fortune.
Further reading: Google Co-Founder Sergey Brin Opens His Family Office In Singapore
It should be noted that billionaires' wealth that come from the performances of their companies tend to fluctuate from time to time, depending on the stock market.
Tech shares have risen rapidly since the start of the 'COVID-19' coronavirus pandemic, and those in Google's parent company, Alphabet, have seen significant grown by more than 80% over the past year.
The company brought in $46.43 billion in revenue for the fourth quarter of 2020.
Minus traffic-acquisition costs, revenue has risen sharply from $37.57 billion a year prior.
Alphabet credited this to people using YouTube and Google Search more often during the pandemic, resulting in more ads being shown and engaged with by users.
Google shares have also seen a particularly big rally after the U.S. Supreme Court ruled in favor of the tech giant in its $9 billion copyright battle with Oracle.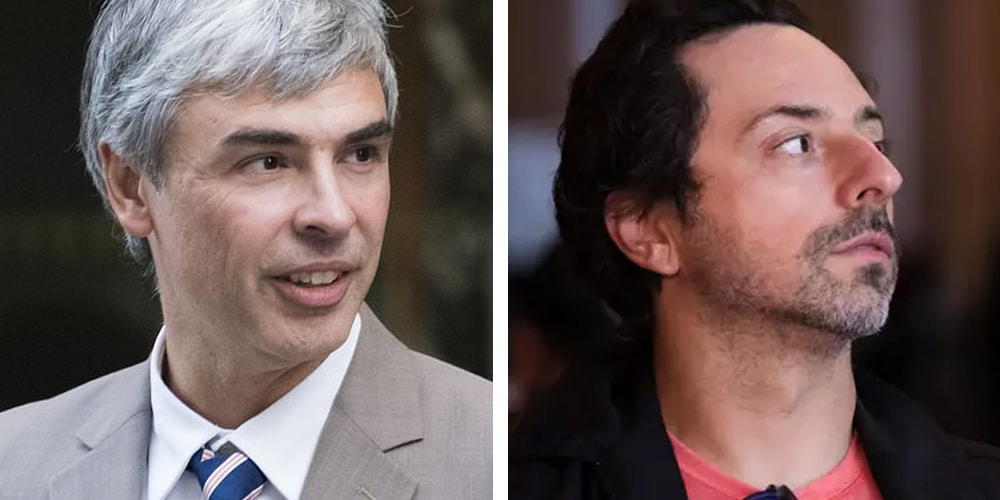 Larry Page (left) and Sergey Brin (right), in more recent times.
Page and Brin collectively own controlling shares in Alphabet.
Together, they own 51% of Alphabet's special class voting stock, allowing them to ultimately control the future direction of the company they founded.
Together, Page and Brin own a total of 11.4% of the $1.5 trillion company.
And with that, Page's fortune rose by $21.2 billion in the year to April 2021, according to Bloomberg's calculations, while Brin's grew by $20.4 billion.
And if wealth is a concern, it should also be noted that Bezos briefly surpassed the $200 billion net worth, and so did Elon Musk.
At this time, besides the tech titans, other centibillionaires include LVMH CEO Bernard Arnault and Berkshire Hathaway CEO Warren Buffett.
Bloomberg Index's update suggested that the eight centibillionaires have a combined fortune of more than $1 trillion, and have seen their wealth increased by a total of $110 billion this 2021 alone.