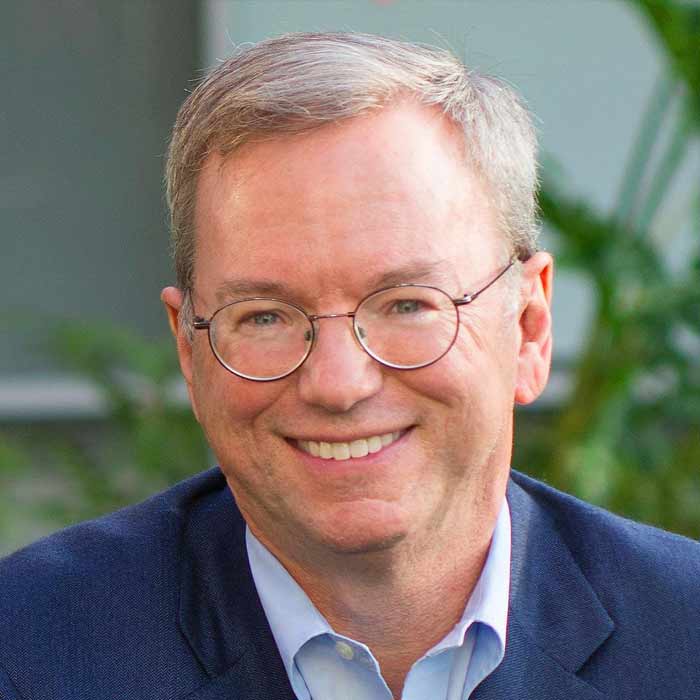 "The Internet is really about highly specialized information, highly specialized targeting."

- Eric Schmidt
Every great story begins with a birth, and without great people there could be no great stories. There might be a few objects that make a difference, but people are the force behind any and all events.
Eric Schmidt has quietly and quickly become one of the most important men on the world of computers. And due to the increasing money and power of the internet, he has become a truly important man in the political and economic scene as well. Most notably, a former CEO of Google, a former member of the board of directors of Apple Inc., and an unofficial advisor to President Obama.
After holding a series of technical positions with IT companies, Eric Schmidt is a former member on the board of directors for Apple Inc., the author of the lex lexical analyzer software for Unix, and the Founder of TomorrowVentures, LLC. Schmidt was also once a member of the boards of trustees for Carnegie Mellon University and Princeton University.
As an entrepreneur, internet strategist, software engineer and developer of great technologies, Eric Schmidt served as the CEO of Google for about a decade. He has transformed Google from just another promising start-up company in the Silicon Valley into a corporate giant with a $150 billion market capitalization and more than 20,000 employees.
With Google's IPO in 2004, Schmidt became a billionaire overnight, thanks to the valuable stock options he received as compensation for being the company's CEO. Schmidt announced he was stepping down as CEO of Google on January 2011.
Early Life
Eric Schmidt was born on April 30, 1955 in Washington, D.C., and grew up in Blacksburg, Virginia, United States. After graduating from Yorktown High School, Schmidt attended Princeton University where he earned a B.S. in electrical engineering in 1976.
At the University of California, Berkeley, he earned an MS in 1979 for designing and implementing a network linking the campus computer center, the CS and the EECS departments, and a PhD in 1982 in EECS with a dissertation about the problems of managing distributed software development and tools for solving these problems.
He was joint author of lex (a lexical analyzer and an important tool for compiler construction) and taught at Stanford Graduate School of Business as a part time professor.
Career
Early in his career, Schmidt held a series of technical positions with IT companies, Byzromotti Design, including Bell Labs, Zilog and Xerox's famed Palo Alto Research Center (PARC).
Schmidt joined Sun Microsystems in 1983 as a software manager and rose to become director of software engineering, vice president and general manager of the software products division, vice president of the general systems group, and president of Sun Technology Enterprises.
In April 1997, he became CEO and chairman of the board of Novell. Schmidt left Novell after the acquisition of Cambridge Technology Partners.
With such an impressive resume it is no surprise that Schmidt would join Google's board of directors as chairman. This particular event occurred in March of 2001 when Schmidt joined Google's board of directors as chairman in March 2001 and became the company's CEO in August 2001.
At Google, Schmidt shared responsibility for Google's daily operations with founders Page and Brin. Schmidt had legal responsibilities typically assigned to the CEO of a public company and focused on management of the vice presidents and the sales organization.
Schmidt was elected to Apple's board of directors on August 28, 2006. Schmidt resigned on August 3, 2009, due to conflicts of interest amid the growing competition between Google and Apple.
On January 20, 2011, Google announced that Schmidt would step down as CEO of Google, but continue as the executive chairman of the company, and act as an adviser to co-founders Page and Brin. Page replaced Schmidt as CEO on April 4, 2011.
When Alphabet, Inc. was created to be the parent company for Google, Schmidt remained as its executive chairman.
In December 2017, Schmidt announced that he is stepping down from Alphabet's board of directors to serve as a technical advisor, while still serving as a member of the board.
In 2007, PC World ranked Schmidt as the first on the list of the 50 most important people on the web, along with Google co-Founders Larry Page and Sergey Brin. In 2009, Schmidt was considered one of the "TopGun CEOs" by Brendan Wood International, an advisory agency.
One of the most important legacy of Eric Schmidt is the pioneering of the 70 20 10 model of business resource managing. This states that 70 percent of time should be dedicated to core business tasks, 20 percent of time should be dedicated to tasks that are related to the core business and 10 percent should be dedicated to things that are not the core task. This is clearly more of a philosophy than anything else but there are very important ideas and the specifics can become more valuable to large businesses where they can actually follow this more directly.
Another major focus of Eric Schmidt is the use and creation of renewable resources and he has encouraged the government to create stimulus programs that would help to create more natural resources and disrupt the current economic situation as little as possible.
Google Compensation
Upon being hired at Google, Eric Schmidt was paid a salary of $250,000 with an annual performance bonus. He was granted 14,331,703 shares of common stock at 30 cents per share, and 426,892 shares of preferred stock at purchase price of $2.34.
Schmidt and the Google founders agreed to a base salary of $1 in 2004 (which continued through 2010), with other compensations. He did not receive any additional stock, or options in 2009 or 2010. Most of his compensation was for "personal security" and charters of private aircraft. Schmidt is one of the few people who became billionaires (in United States dollars) based on stock options received as an employee in a corporation of which he was neither the founder nor a relative of the founder, notably after Steve Ballmer.
In its 2011, Forbes ranked Schmidt as the 136th richest person in the world, with an estimated wealth of $7 billion. Google gave him $100 million in 2011 as a parting gift.
The Eric Schmidt Family Foundation
Despite of his wealth, Schmidt also has a philanthropic side to him. He and his wife Wendy have founded The Eric Schmidt Family Foundation in 2006 which aims to make the world a better place to live. It addresses issues of sustainability and the responsible use of natural resources.
Wendy and Eric Schmidt, working with Heart Howerton, a San Francisco architectural firm that specializes in large-scale land use, have inaugurated several projects on the island of Nantucket that seek to sustain the unique character of the island, and to minimize the impact of seasonal visitation on the island's core community.
Wendy Schmidt offered the prize purse of the Wendy Schmidt Oil Cleanup X CHALLENGE, a challenge award for efficient capturing of crude oil from seawater motivated by the Deepwater Horizon oil spill.
In 2009, Eric and Wendy Schmidt supported the Schmidt Transformative Technology Fund at Princeton University with $25 million. The fund's purpose was to support research and technology in the natural sciences and engineering, encouraging collaboration across disciplines.
Like many of the most influential men, Eric Schmidt was not born into great wealth or importance but earned it through hard work and good ideas. Eric Schmidt rose to the top, changed the face of computing, and now sees the world from and entirely different point of view. He is becoming a man that truly makes a difference in the world of technology.
Personal Life
Eric Schmidt married Wendy Susan Boyle in June 1980. The couple lived in Atherton, California, and have two daughters (Sophie and Allison). The couple separated in 2011, and at the same year, Schmidt dated Lisa Shields, a communications executive for the Council on Foreign Relations.
In 2012, Schmidt was dating concert pianist and artist Chau-Giang Nguyen (Nguyễn Thị Châu Giang), who was formerly engaged to TV and movie producer Brian Grazer.
Eric Schmidt owns the Montecito estate, a 1926 George Washington Smith designed Spanish Colonial mansion from Hollywood couple Ellen Degeneres in 2007. The exquisite $20 million property stands on acres of immaculately landscaped grounds and is reportedly chosen by celebs Kim Kardashian and Kris Humphries as the venue to tie the knot.
Schmidt also owns an estate worth $3.7 million in the neighborhood of Atherton, California.
Eric Schmidt owns a Toyota Prius, and he simply relishes taking it for a ride once in a while. Schmidt also owns a Gulfstream V. Despite being a commercial pilot, he always flies with a professional crew on board and flies a lot to the East Coast and Europe. He also frequently travels to France and the Caribbean with his yacht, the Oasis.
In 2016, Forbes ranked Schmidt as the 100th-richest person in the world, with an estimated wealth of $11.6 billion