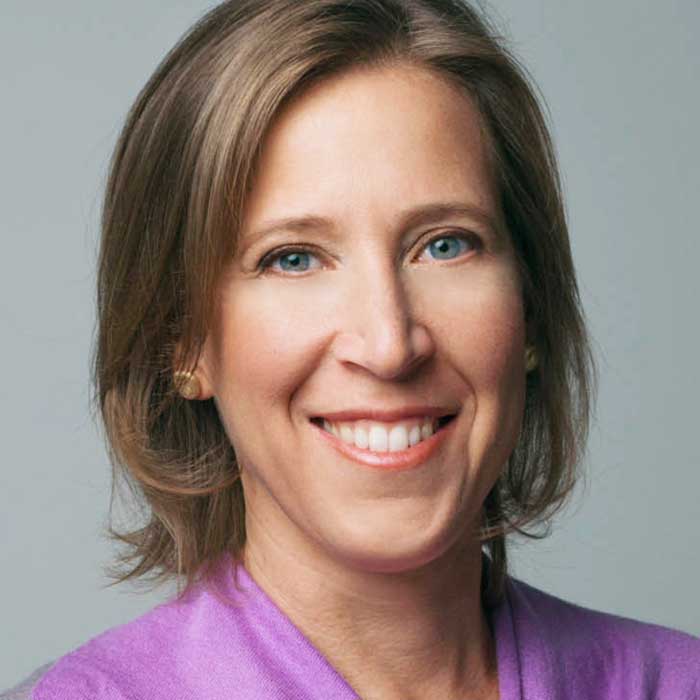 "Sometimes you have to do the right thing for you right now."

- Susan Wojcicki
An American technology executive, Susan Wojcicki is known and popular for being the CEO of YouTube. As one of the most influential women in tech and on the internet, she has proven the world the fact that a woman's potential can't be just judged from her body and measurements.
She took forward and prove that the actual ability of a woman can also be explained by her excellence and the height of success gained by talent.
With faith, dedication and knowledge, Wojcicki grew alongside Google. The early and quick rise of Google's popularity can be credited to her strategic thinking.
Early Life
Susan Diane Wojcicki was born on July 5th, 1968. She is the daughter of a Russian Jewish descent mother Esther Wojcicki and a Polish-American physics professor father Stanley Wojcicki. With American, Russian and Polish descents, she holds an American nationality after her parents.
With her two sisters, Janet and Anne, they were raised in California.
While education was a priority in the family, Wojcicki started her first business by making braided yarn spice ropes at the age of 11.
Wojcicki attended Gunn High School in Palo Alto where she was a writer for the school's newspaper. After graduating senior high, she continued her studies at Harvard University taking history and literature. She graduated with honors in 1990. She then continued her Master's study at the University of California, Santa Cruz in 1993 and then to UCLA Anderson School of Management in 1998.
When she was about to go further by studying economics pursuing her PhD, she changed her mind when she was exposed with technology. This was the turning point of her life.
Early Career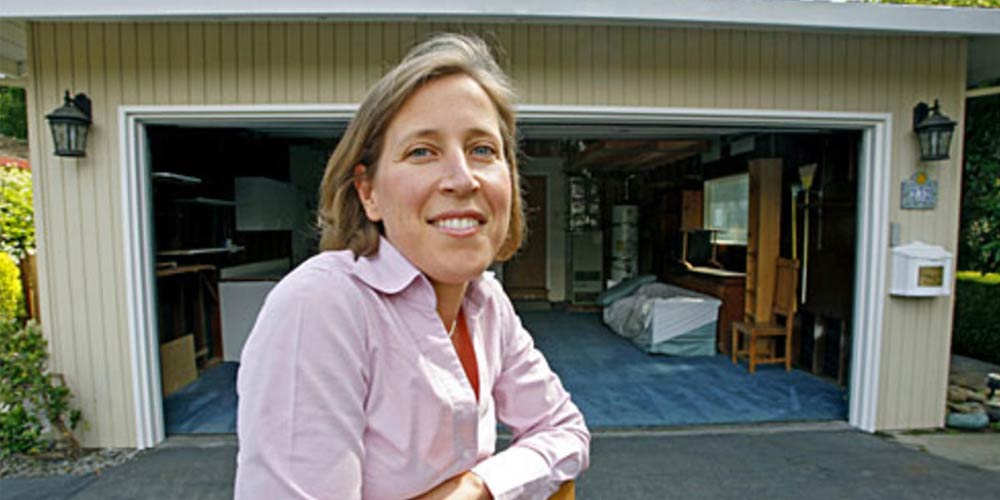 Susan Wojcicki, in front of her garage that was Google's first office
Susan Wojcicki and Google shares history together, and the company has a respect for her right from the start. In September 1998, two Ph.D students that wanted to explore the relatively new internet, rented Wojcicki's garage in Menlo Park. The two were Google's founders Larry Page and Sergey Brin.
This was the time when she thought tech was something interesting. While four months pregnant, she joined the two fellow students as their employee.
Wojcicki took her position as Google's first Marketing Manager and the company's 16th employee in 1999. Previously, she was Intel's marketing staff, and was a management consultant at Bain & Company as well as R.B. Webber & Company.
At Google, she was the one that made the decision for Google as a company, to move from her garage to Mountain View. She was first credited for marketing the company's search engine service. She marketed the product with zero dollars by partnering with universities and having them include a Google search bar on their website.
She was also responsible for marketing the company's early products including the first Google doodles. She also had a contributing role on the development of Google Images and Google Books.
Her contributions to Google continued, and there her career escalated. With Google growing with her and her growing with Google, Wojcicki then became Google's Senior Vice President of Advertising & Commerce.
She had a role in developing Google's AdWords and AdSense which then became Google's second largest source of income. It was her idea to create AdSense as a way to generate revenue for both Google and publishers. And as a way for publishers to keep track on their progress, Wojcicki was also responsible for Google Analytics.
She also led other products, and handled two of Google's largest acquisition: $1.65 billion for YouTube in 2006 and $3.1 billion for DoubleClick in 2007.
As time turned out, Wojcicki with the team turned Google from a garage project into a multi-billion dollar company.
Leading YouTube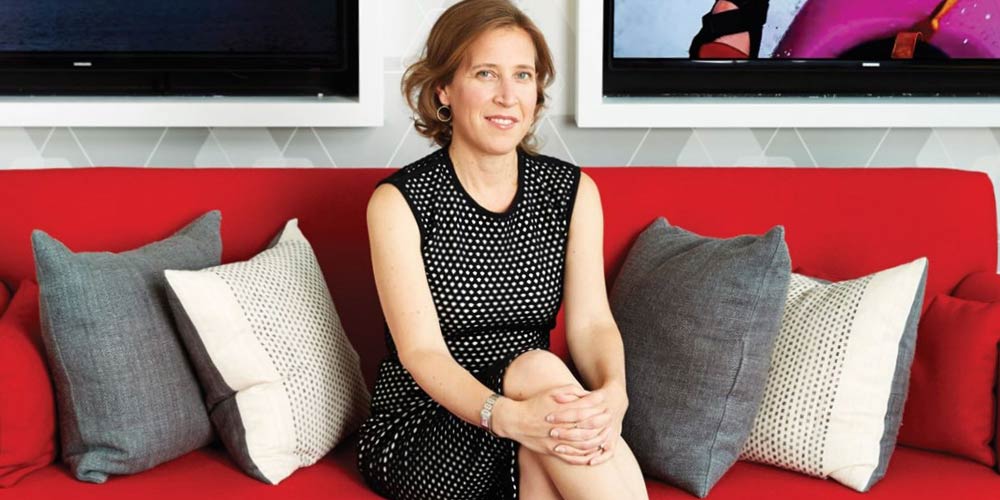 Susan Wojcicki was the one that saw the potential of Google Video, and forward the proposal for Google to acquired YouTube in the first place. This led her already bright career at Google to then become the CEO of YouTube in 2014.
With Google restructuring with Alphabet, YouTube remains as a property of Google and Wojcicki still at the helm. Her career as CEO continues as she consistently pushes the company to innovate and become the leader in delivering video contents on the internet.
Some of her works for YouTube have been praised by many content creators. They were impressed with how Wojcicki wants to understand their needs and how she engages with them to make YouTube a better platform for all people involved. Wojcicki has reached out to YouTube talents and worked with them to understand their goals. When she delivered keynotes, she addresses YouTube with industry executives and YouTube artists as well as fans. She frequently expresses her interest in the YouTube community.
Wojcicki name was the first on the Adweek 50 list in 2013. As one of the most influential person in technology, she was named several times on Fortune's 50 Most Powerful Women in Business list. She was #27 on Vanity Fair's New Establishment list in 2015. Time Magazine has also named her on its 100 most influential people and the most powerful woman on the internet.
Retiring From YouTube
In 2023, Wojcicki, considered one of the most prominent women in tech, and one of Google's earliest employees, said that she is leaving the company.
"Twenty-five years ago I made the decision to join a couple of Stanford graduate students who were building a new search engine. Their names were Larry and Sergey. I saw the potential of what they were building, which was incredibly exciting, and although the company had only a few users and no revenue, I decided to join the team," she said in a blog post.
"It would be one of the best decisions of my life."
" [...] Today, after nearly 25 years here, I've decided to step back from my role as the head of YouTube and start a new chapter focused on my family, health, and personal projects I'm passionate about," she said.
"Susan has a unique place in Google history and has made the most incredible contribution to products used by people everywhere," Page and Brin said in a statement. "We're so grateful for all she's done over the last 25 years."
Wojcicki is replaced by Neal Mohan, her number two on YouTube.
Wojcicki and Mohan have been working side-by-side since 2005.
In another blog post, dedicated to YouTube Creators, she said that "it has been the honor of my career to have a front row seat to the incredible YouTube community you have built. [...] Finally, thank you for everything over the years. Thank you for welcoming me into your studios, your homes and your lives. Thank you for letting me be a part of the incredible stories you're sharing with the world."
"Susan has built an exceptional team and has in Neal a successor who is ready to hit the ground running and lead YouTube through its next decade of success," Alphabet CEO Sundar Pichai said in a statement.
Personal Life
Susan Wojcicki is married to Dennis Troper on August 23, 1998 with the wedding ceremony held at William C. Ralston House in Belmont, California. The couple have five children.
As a mother and a wife, she is quoted for taking the importance of finding the balance between family and career. She has proven that that balance can also be achieved, even as a top executive. She devotes her time at the house for her family, and makes sure that she is always home for dinner.
"Having the sum of both of those things going on in my life makes me a better mom at the end of the day, and I think it gives me really important perspectives in the workplace as well," she said.
As Google became one of the largest internet company, it has become a friendlier place for working parents and soon-to-be parents. The office also has nursing rooms. But when Wojcicki first arrived at Google as one of its earliest employee, she didn't see any of that. At the time, she was four month pregnant and nobody at Google had ever taken parental leave. When she was pregnant with her second child, many of her colleagues assumed she would give up her job. Instead of following the advise, she continued to push her career.
To most people, it would be a difficult decision to quit a stable job to join a startup that might not go anywhere. Wojcicki did it, while being pregnant. "My smartest move was joining Google. It wasn't obvious at the time that it would be a good decision. A lot of people, many of my friends, advised me against it."
While Google was at the time weren't promising, she worked her way off to eventually became a person at the peak of her career in a company she fell in love with at her garage.
As a high-ranked executive at the company, she spoke out loud and advocates for federally mandated, paid parental leave, which she hopes will increase the number of women participating in the workforce.
As of 2016, Wojcicki has a net worth of $350 million.